Art and Design
'Making L.A.': Designers and Civic Leaders Transforming Los Angeles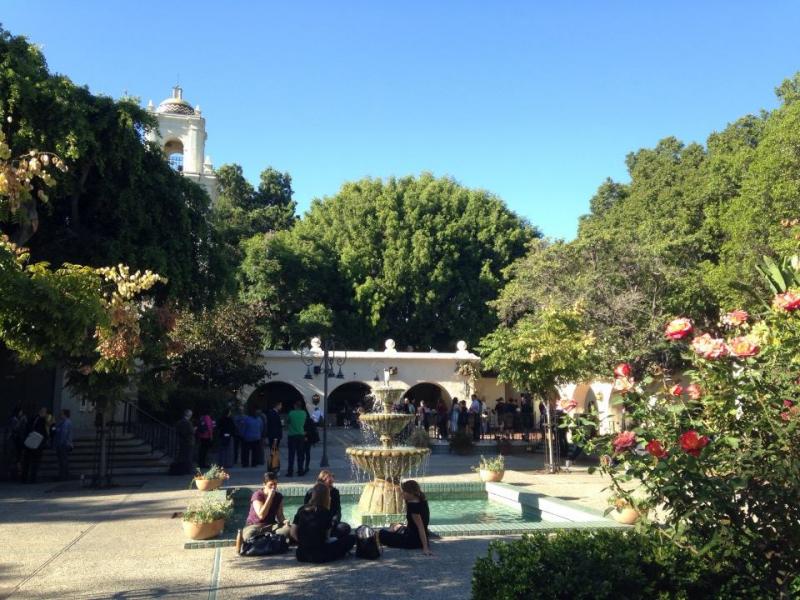 Situated only a few minutes from the hustle and bustle of downtown, the idyllic
Los Angeles River Center and Gardens
welcomed 300-plus designers, architects and civic leaders on a bright, sunny morning.
The hidden L.A. jewel with its rich history, trickling fountains, billowing ficus trees and handmade flower backdrop set the stage for the Making L.A.conference, a first-of-its-kind event gathering Los Angeles creatives last Friday to collaborate on making L.A. a more people-friendly city.
Held by nonprofit Design East of La Brea (de LaB), the conference focused on themes of community, density, water and transportation. Designers highlighted projects like putting new bike lanes in downtown streets, transforming bus benches and parks into aesthetically stunning pieces of artwork, and creating drought-resistant architecture in public spaces.
READ MORE: 7 TED Talks To Boost Your Creativity
At breakfast, Deputy Mayor Rick Cole welcomed the guests to what he described as a "revolutionary day in Los Angeles."
"There is no great secret to what makes up the perfect ingredients for a great city….Los Angeles is having a moment and we must seize that moment for the greater sake of the public," said Cole. "From the rebirth of cycling, running trains to LAX and creating a water system that is sustainable, you are the designers of Los Angeles' renewal."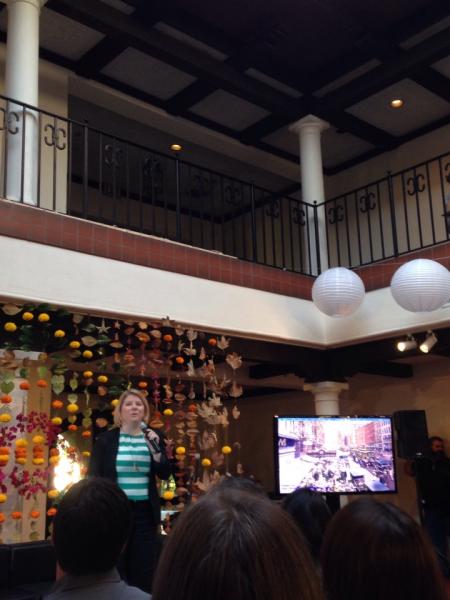 Seleta Reynolds, General Manager of the
Los Angeles Department of Transportation (LADOT
), then explained how she and her team of designers are revamping the streets of Los Angeles: by replacing street sign "totem poles" with clear and concise directions about when you can and cannot park, as well as by creating a new street design with a protected bike lane and a "cutout" area where life flows into the street.
The reccurring idea of the street cutout, mentioned by several designers at Making L.A., celebrates the idea of putting pedestrians and locals first and cars second.
"It's like an outdoor museum that doesn't end at the sidewalk," explained Reynolds. "With benches, games, and even restaurants bringing their tables out on the streets, we can create an atmosphere that thrives on the pedestrian and gives Los Angeles an identity beyond a fast-paced and cold urban environment."
READ MORE: Union Station Looking To Become A "World-Class" Hub Once Again
The day continued with inspired, innovative, and even humorous talks.
Kristina Wong, a performance artist, talked about her initiative, "Going Green the Wong Way," which focuses on environmental racism. Wong made the audience laugh hysterically as she explained how she tried to use only vegetable oil to fuel her car, which ultimately led her to not using a car for over eight years.
"What is environmental racism, you ask? You might think it's when you yell a racial slur and decide not to recycle your plastic water bottle at the same time," Wong joked. "No, it's more of an issue of global poverty. When the environment is not being addressed as the first priority, ultimately the poorer people of racial minorities are always effected first, and we must change that."
With lunch provided by Heirloom L.A., the networking continued out onto the patio lit by the 80-degree November sun. Conference hosts led field trips to the Los Angeles River to get a first look at the changes being made to make the river into a city destination with benches, new trees and drought-resistant agriculture. The speakers continued to discuss how bikes should replace cars. Projects like CivicLaVia that give bikes to poorer communities are making a difference one pedal at a time.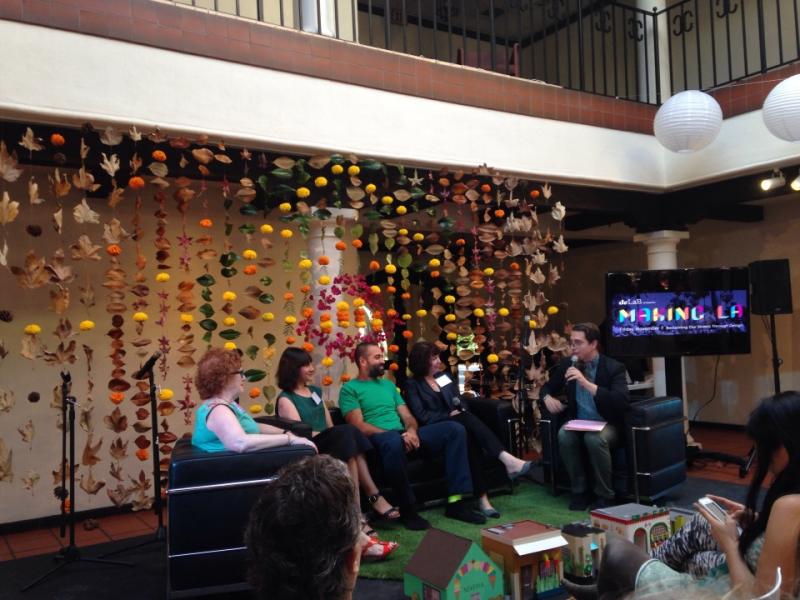 Melanie Smith, the principal and director of
Meléndrez's
urban planning and design practice, discussed a huge project in collaboration with Mayor Eric Garcetti's office,
Great Streets.
"We must reclaim our streets through design," said Smith. "By putting emphasis on parks and public spaces, we can create a community-based city that thrives on the open space."
From there, the theme switched to the topics of water and density. Evelyn Wendel, the founder of WeTap, a mobile app and website that improves access to healthy public drinking water, explained the importance of a public water supply. By reducing the using of plastic bottles, Wendel's app gives people the power to reduce their urban footprint by searching for nearby drinking fountains. Wendel is also raising funds to install new, clean water fountains in all schools and parks in the greater Los Angeles area.
Deborah Weintraub, L.A.'s chief Deputy City Engineer for the Bureau of Engineering, manages over 700 people who are working on 430 active projects, including many that will improve the Los Angeles River. Weintraub wants to create an environment at the river that is parallel to Central Park, with running paths, picnic benches and gardens thriving off succulents and drought-resistant plants.
As the sun set, the day concluded with a reception hosted by de LaB and the local Greenbar Craft Distillery. Ultimately, from the many urgent issues (and solutions) addressed at the conference, it is clear that designers in Los Angeles are on their way to "Making L.A." the sustainable and people-friendly city it should be.
This story is part of Culture For Change, a month-long Arts and Culture exploration of cultural activism in L.A. For the other stories in the collection, click here.
Contact Staff Reporter Katherine Flynn here.