Music
KROQ Almost Acoustic Christmas Lineup Puts U2 At Bottom Of List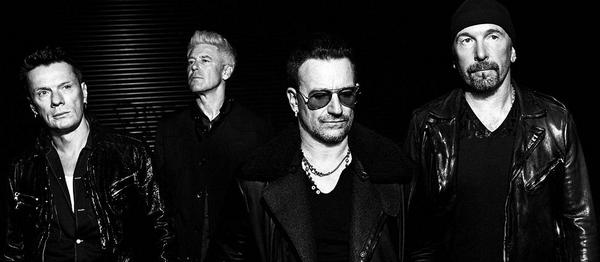 Celebrating its 25th year, KROQ's annual Almost Acoustic Christmas is back!
The two-night concert will be held on Saturday, December 13 and Sunday, December 14 at the Forum in Inglewood, California with proceeds benefitting Para Los Niños and the Al Wooten Jr. Heritage Center, two charities based in Los Angeles.
As usual, this year's Almost Acoustic Christmas boasts a star-studded lineup.
For Night One, the theme seems to be modern rock with the likes of Bush, Fall Out Boy, Incubus, Linkin Park, New Politics, Rise Against, Royal Blood, System of a Down, and Walk the Moon performing.
With the exception of Alt-J, Imagine Dragons, and Vance Joy, Night Two will be devoted to older acts like Modest Mouse, Interpol, Smashing Pumpkins, Tears for Fears, U2, and Weezer.
READ MORE: Imagine Dragons At The Forum: Review
Surprisingly, U2 is at the bottom of the lineup for Night Two... Why would that be?
Despite the fact that this year's lineup seems to be in almost alphabetical order, it's still a strange departure from previous year's lineup announcements, which are done in the traditional way of putting headliners at the top and supporting acts at the bottom.
And why is Night One's lineup in perfect alphabetic order, while Night Two's isn't? Perhaps, the lineup for Night One fell that way by chance?
Regardless, I can only guess that U2's low placement on the Almost Acoustic Christmas lineup is a direct reaction to all of the negative opinions regarding Irish rock band's partnership with Apple and rather ambitious decision to give away their latest album "Songs of Innocence" for free to all iTunes customers, forcing the record into over 500 million users' libraries.
And those customers are still bitter about that, by the way.
U2 performed at the 2014 MTV EMAs on November 9, but no one really cared. In fact, the reaction on social media was - in the words of one Kae Kurd - more along the lines of "P*ss off U2 I'm still trying to delete your album off iTunes and you're on my TV screen."
Some critics are in agreement with iTunes customers and have also blasted the band's release strategy for the record with NME's Ben Patashnik writing, "[T]he fact that it's free makes it cheap."
Fellow rockers have also mocked and criticized U2's free album giveaway. In an interview with Rolling Stone, Pink Floyd's Nick Mason said the release "devalued" music, the Foo Fighters' Taylor Hawkins called it a "fart" in an interview with TheMusic.com.au, and Everclear mocked the partnership with a video on Funny or Die.
In fact, the press and general reaction to "Songs of Innocence" got so bad that Bono had to publically apologize for the way U2 released the record and Apple had to post a How-To for removing the album from your iTunes library.
READ MORE: Oscars 2014: Performance Roundup
From being nominated for an Oscar for Best Original Song ("Ordinary Love" from "Mandela: Long Walk to Freedom") at the Academy Awards earlier this year to being bashed left and right...
Talk about falling hard!
Reach Entertainment Producer Michelle Tiu here and follow her on Twitter.