Nation and World
Haiyan Anniversary In L.A. Reminds Tragedy Is Far From Over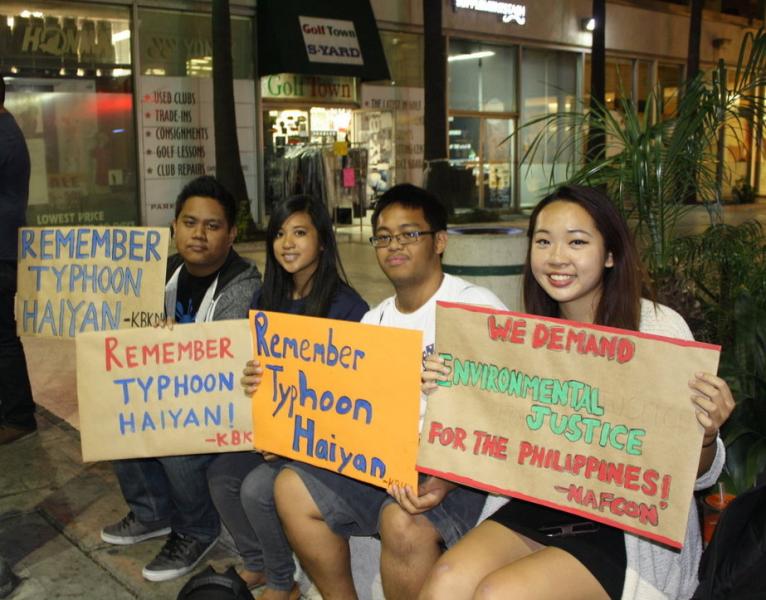 As the sky darkened over Wilshire Boulevard, a single candle glowed in front of the Philippines General Consulate. Next to it, a neon-green sign read, "We stand with Typhoon Haiyan victims."
About 40 people gathered in front of the General Consulate building in Los Angeles to commemorate the one-year anniversary of Typhoon Haiyan Saturday evening. The gathering was spearheaded by National Alliance for Filipino Concerns (NAFCON), an alliance of organizations dedicated to the welfare and rights of Filipinos, and Kapit Bisig Kabataan Network (KBKN), a youth-led network dedicated to Haiyan relief.
When the Southern California regional director of NAFCON, Alex Montances, opened the ceremony, the size of the turnout seemed small. But those who gathered represented different organizations and institutions such as the United Nurses Association, USC Troy Philippines, UCLA Samahang Pilipino and Cal State Long Beach Pilipino American Coalition.
"And we're not the only ones [standing in solidarity]," Montances told the crowd. Ceremonies were happening "all over the country," as Filipinos paused to reflect on Haiyan victims and survivors.
READ MORE: Philippines President Will Not Visit Tacloban For Typhoon Anniversary
Speakers at the ceremony were representatives of various organizations that work in the same scope of NAFCON and KBKN pointed to one recurring theme: the Aquino administration's poor handling of Haiyan relief. In Nov. 2013, for instance, the mayor of Tacloban City, Ground Zero for Haiyan devastation, criticized President Begnino Aquino III of his slow efforts to provide aid. Acquino, in return, blamed local officials in Tacloban for inadequate preparation for the typhoon. Jewelle Dela Cruz, a regional coordinator of KBKN, pointed to Acquino's decision to not visit Tacloban City, known as Ground Zero for Haiyan devastation, "Him not showing up is just further deepening his theme of not supporting and helping victims."
One year after the typhoon, recovery is still slow. Whole communities in Tacloban still reside in evacuation centers, according to a press release from KBKN. Only a small portion of the 1.5 million families affected by Haiyan are getting relief. 364 housing units, for instance, were completed in Tacloban City and Tanauan; not nearly enough for the thousands who live in these cities. "So much in international aid is currently unused," Dela Cruz says, and added that thousands more were wasted when food donations spoiled before they could be distributed.
NAFCON and KBKN members found that Typhoon-affected communities in Leyte are not receiving aid because they are not designated as "Areas of Priority," like Tacloban, according to Dela Cruz. It is unclear what exactly designates as an "Area of Priority" since conditions of poverty before Haiyan hit these provinces did not seem to be a factor.
As a result of these actions, speakers like Romeo Hebron of Anakbayan Los Angeles "demand that Aquino is held responsible [for negligence]," and expressed frustration at the lack of urgency to help Haiyan survivors. Corleone Ham, who works with KBKN and Anakbayan, implored to the crowd, "How can they just say that six-thousand people died when 20,000 perish?"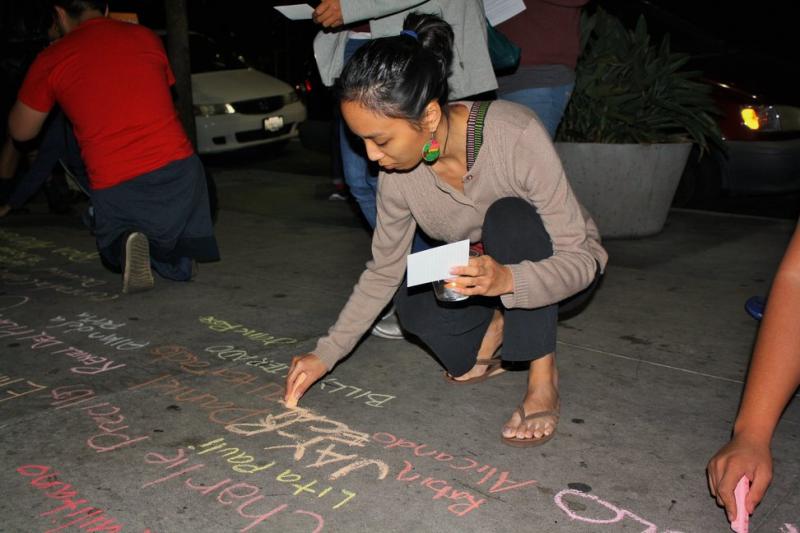 But people at the ceremony were angry beyond the inefficient distribution of aid. They were also angry at detrimental environment practices allowed in the Philippines, such as logging. If such practices were limited the magnitude of devastation in the eastern Visayas would have been significantly lower, Tony Dorono of the Filipino Migrants Center claimed at the ceremony.
READ MORE: Filipinos, It's Okay To Be 'Amerikano'
Though the ceremony was a reminder that full recovery is still a very long while to go, people did not go to only express anger at corruption in Philippines politics. Some people in the crowd, especially within the student organizations, either had family directly affected or knew someone whose family was directly affected.
"It's definitely one thing to hear [typhoon news] from the T.V. and the radio, than to hear it first-hand from someone affected," said Mikey Sarmiento, president of CSULB Pilipino American Coalition.
When the speeches were over the crowd knelt on the sidewalk, chalks in hand, to write-and honor-a fraction of the names of the dead and missing. The crowd stood silent over the candles and names on the gray sidewalk, knowing that there were thousands more that weren't written down. And yet, when most of the crowd lingered to chat and even laugh with each other, it was proof that despite sadness, frustration, and anger, the resilience and hope in the Filipino community is still very much alive a year after Haiyan.
Reach Staff Reporter Heidi Carreon here.