Film and TV
Film Review: 'Big Hero 6'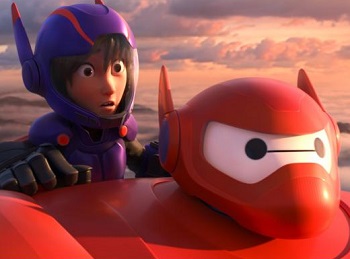 Simply put, "Big Hero 6" is too much fun.

Walt Disney Studios' latest offering revolves around boy genius Hiro Hamada (Ryan Potter) whose incredible invention – microbots – is stolen and utilized by an unknown, mysterious figure, who wears a trenchcoat and a kitsune mask. Needing to track down the villain, he utilizes his late brother's final invention – a huggably soft medical robot named Baymax (Scott Adsit) – and the help of four of his brother's classmates.

But this is the futuristic world of San Fransokyo – a vibrant, sprawling metropolis where cherry blossom trees line the streets and cutting-edge technology abounds. Yet this city maintains a uniquely San Franciscan asthetic. The (animation) production designers have performed wonderfully in crafting this dreamland of culture and tech. I want to live there.

So futuristic is San Fransokyo (that's too much fun to say) that all of its residents are proficient with it, while Hiro and his brother's colleagues have mastered it. No wonder Hiro and the gang build robotic uniforms, granting them special abilities. Baymax gets extra-durable armor, rocket-powered fists, and a software upgrade bestowing him with karate. But he was originally created for medical treatment, which makes for plenty of hilarious gags. The best part; Baymax runs low on battery, but us college kids will know he's become a walking caricature of the drunk friend you're trying to bring home.

You could call them a gang of kiddy Tony Starks in that all of their powers come from technology. But that's alright; they're equally as entertaining, and for a Disney movie, that's okay.

READ MORE: 8 Movies To Look Forward To This Fall

Perhaps the best way to describe this movie is as a kid-friendly "Avengers," where all of the action remains intact while omitting some darker, more adult themes that the "Avengers" and all of its heroes' movies are known for. The comparison becomes especially clear when Hiro and the gang receive all of their "powers," and in a climactic battle sequence that puts everything on the line. It's surprisingly intense.

If you think you're feeling a Marvel vibe, you're right; "Big Hero 6" was originally a lesser-known comic book series created and publish by - you guessed it - Marvel. Yet Disney and Marvel surmised that the comic's smaller audience would allow the studio to take more creative liberties in the name of expanding a theatrical audience, making it fit for an animated movie.

They accomplished that. Stunningly beautiful animation and riveting action highlight "Big Hero 6" and the fun quotient is high. The animators have certainly outdone themselves here. And while these are enough to keep children entertained, those of us outside the target demographic still have plenty to chew on, with a great deal of humor pandering just to us. (We love that stuff.)

But the combined strengths of "Big Hero 6" also compose its relative weakness; it hasn't done very much that's "new."

Every Disney animated feature is crafted specifically for a younger audience, while also keeping enough material for older audiences to have fun as well. "Big Hero 6" certainly fits that description, but in terms of being new and innovative, it falls short.

READ MORE: 7 Romantic Gestures That Would Be Creepy In Real Life

"Big Hero 6" may not advance the Disney movie archetype or innovate anything new, but that alone does not change the fact it's a solidly entertaining movie for audiences young and old. And for many of us, that's perfectly fine.

Preceding "Big Hero 6" is a Disney short titled "Feast" featuring an adorable Boston terrier named Winston. His owner always gives him helpings of spaghetti, bacon, and other people-only foods, that comes to a wholly uplifting and adorable conclusion. It may only be a few minutes long, but not a second is wasted; the animators paid special attention to Winston's facial expressions, so even though Winston can't talk, reading his face allows us to see the gears turning in his head. It's a uniquely innovate animated short in that a non-human character tells a greater, more coherent, and original story than most humans can with dialogue. "Feast" is a miniature masterpiece.

"Big Hero 6" is no masterpiece, but it more than gets the job done. And while we're waiting for "Avengers: Age of Ultron" this May, we'll gladly take it.

Watch the trailer below:

Reach Staff Reporter Rex J. Lindeman here, and follow him on Twitter.