Music
Electric Daisy Carnival Orlando: Review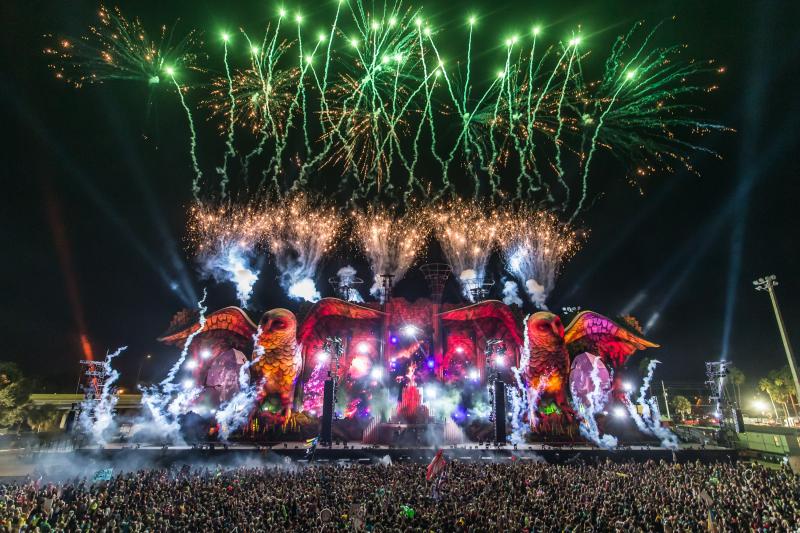 Any person that has attended one of Pasquale Rotella's Electric Daisy Carnivals would agree in saying that it is an experience unlike any other and would probably argue that everyone should experience it at least once.
And that is exactly what happened for an estimated 63,000 people this past weekend at Tinker Field in Orlando, Florida for Insomniac's fourth annual Electric Daisy Carnival Orlando. Touching down in the Sunshine State "on the road to EDC Las Vegas 2015," the two day music festival included 60 of some of the top DJs across the world along with carnival rides, fantastic food, costumed performers, and three impressive stages. In addition, this was the first time Insomniac incorporated RFID technology into the experience and provided attendees the ability to make cashless purchases using "Daisy Dollars" similar to Tomorrowland and TomorrowWorld's cashless purchase systems involving Tomorrowland and TomorrowWorld "Tokens."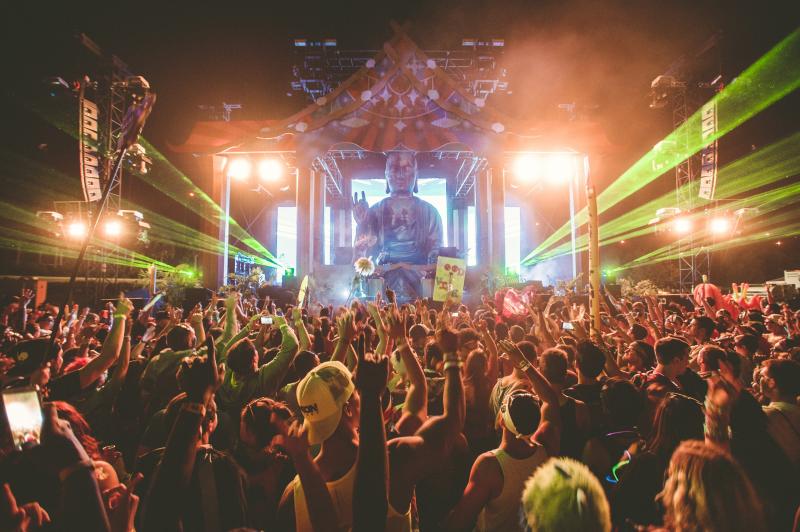 Accompanying the main stage were two new stage designs. One was a two-story tall Buddha statue that was displayed behind the DJ at the Neon Garden Stage. The statue was back-lit by LED panels and was accompanied with bamboo structures and transformed this portion of the grounds into another world. The Circuit Grounds stage which was located on the other side of the venue displayed towering LED panels spanning the entire width of the stage which easily lit up the night. Not to mention, the amount of lasers that were located at Circuit Grounds turned the sky into a colorful grid with no problem.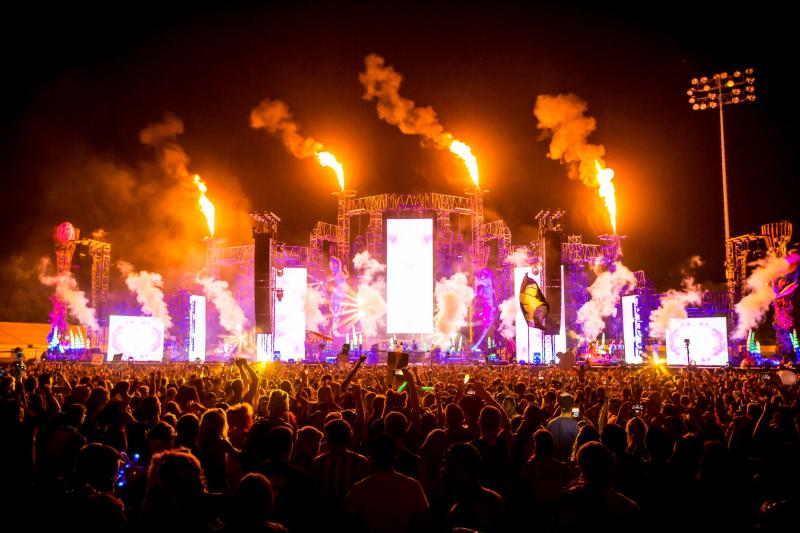 What separates Insomniac from other production companies in the game right now is the focus on the experience of the festival-goers, even referring to them as the "headliners," not the DJs that are closing out each stage at the end of the night.
In addition to making sure the fans are having an unforgettable experience, Insomniac is also concerned about safety by hiring volunteers called Ground Control. This specific group monitors the festival throughout the day making sure everyone is hydrated, safe, and having fun. All donning specific tanks, shirts, and jackets these walkie talkie carrying individuals are part of the reason that Insomniac is such a success and makes those not-so-sure attendees feel a little more at ease.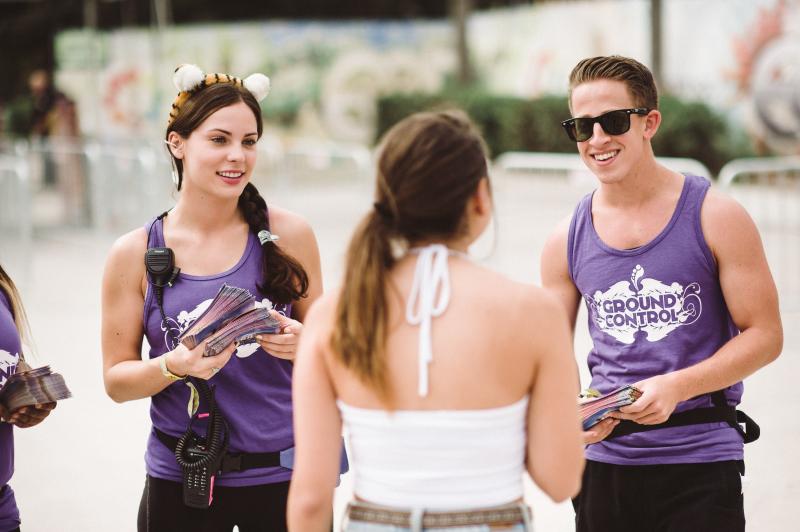 But of course what would a festival be without the music?
READ MORE: HARD Day Of The Dead: Review
DAY ONE
It was a perfect weekend for a music festival with the highs never reaching above the mid 70s with little humidity. Insomniac made sure to bring the action this year and had top talent for the weekend starting off Friday with Yellowclaw, Cosmic Gate, Aly & Fila, Dirtyphonics, Brillz, W&W, Dash Berlin, Datsik, Flosstradamus, and Alesso.
Dirtyphonics made sure to get the crowd's blood pumping with their heavy hitting drum 'n bass. They took the stage by storm and immediately had the entire crowd jumping and shuffling, making the packed stage look like a bubbling mass unseen at many festivals. They slowed the tracks down to some deep dubstep riffs and asked the crowd if they would like some more drum 'n bass to which the crowd instantenously erupted into cheers. Basically, if you happened to miss this ridiculous set I would recommend trying to find some videos online or to catch them the next time they are in your town or at a festival you're attending.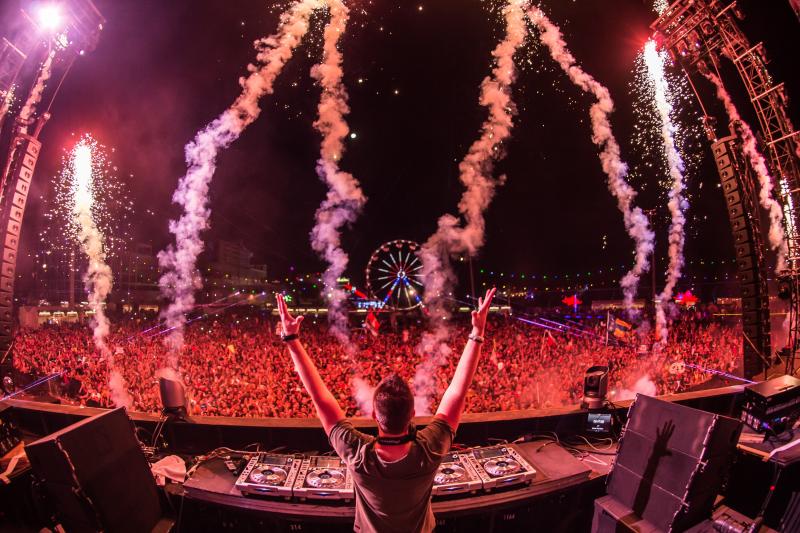 Many people think that trance can be repetitive and will not keep their attention, but if any duo could change those indiviudals' minds, it would be Cosmic Gate. Hailing from Germany and still riding the release of their album this year, they are completely killing it at every performance. I fell in love at TomorrowWorld and have not been able to stop talking about them since. They had a mix of upbeat melodies laid over hypnotic bass rhythms along with slower, lyrical segments that kept the crowd on their feet, with their hands in the air absolutely loving every second. But just like that, their set was over.
Everyone was expecting great things from Alesso with his first album being released this year, myself included. However, it was disappointing to see such a talented producer and artist deliver such a lack luster performance. It felt like it was just a promotion of his album and that he was clicking next track without any mixing really happening wihich was very disappointing. Past performances have blown me away and this left me wondering what I had just seen. There were some tracks that helped keep things somewhat interesting but overall I am hoping that in the future Alesso will add a few more mashups and transitions between songs that involve some different material. However, the visual aspects of the set more than made up for it and the ease of singing along to the easily recognizable tunes helped end the first night on a great note.
DAY TWO
As everyone arrived for the second day of EDC Orlando there was an uneasy feeling that accompanied the overcast skies and high humidity. Reminiscent of Day 2 of Ultra Music Festival 2014, Floridian storms can come out of nowhere causing torrential downpours and unhappy attendees. Everyone anxiously waited to see if there would be rain, but until it happened the headliners continued on to make the most of their last day.
Headhunterz would not be an expected artist to be at the main stage since he is a hardstyle artist but that did not seem to phase the large crowd that was gathered to see him perform. The stage was filled with attendees and not only was it full but the crowd was dancing their hearts out. It was such a great feeling to see so many people discovering, and enjoying, and artist they probably had never heard before which I think is one of the most powerful, and beautiful, things about music festivals: expanding one's own personal taste in music.
Next up: Tritonal. These two artists have been growing and expanding their EDM takeover the past couple of years and it was evident on Saturday evening. Easily filling the Circuit Grounds stage with a mass of bodies, they were playing driving rhythms that were impossible to stop yourself from dancing to. If you have the opportunity to see Tritonal soon, do it. End of story.
READ MORE: Life Is Beautiful Festival: Review
Dillon Francis was taking the stage as Tritonal was still performing and started off his eccentric set with his new remix of deadmau5's "Some Chords." Having released his new album within the last month, he made sure to throw in some tracks among his samples of dolphin noises and trap beats taking over the crowd for an hour of intense dancing and vibing. He'll be performing at The Shrine on Dec. 20 and 21 so if you've been wanting to attend a local show where you're guaranteed to have fun, make sure to buy tickets.
Throughout the day, it was obvious by people's outfits and totems that trance legends Above & Beyond were going to be a crowd favorite and that was the most packed I had seen the Circuit Grounds Stage all weekend. This was also about the time that it started raining which added an extra element to their set. Lasers in the rain create a visual experience that you have to see to believe, but if it were to be explained many would agree that it looked as if diamonds were falling through the lights being projected from the stage. The emotion that was put forth by them and also that was recirporcated from the crowd as lyrics were sung throughout the entire set made for an unforgettable unexperience that can only be understood by those that were there. Probably the most loving and accepting crowd will be at Above & Beyond and should be experienced at least once so keep an eye out for them. They will be in Los Angeles at the newly renovated Forum in February. After the performance I think it would be agreed that "[Above & Beyond Is] All We Need."
Knife Party was set to end the weekend and they absolutely brought the heat. Delivering one of the dirtiest and loudest sets I have probably experienced they definitely raised the bar from their performance at HARD Day Of The Dead that took place the weekend before. It had been raining for a few hours at this point and everyone had completely lost all cares resulting in jumping, screaming, and dancing so hard that I was suprised that the ground at the main stage was still in tact. Again, the lasers created an unbelivable site and Knife Party used this to their advantage almost making the stage look as if it were being blown up. Hands down one of the best sets of the weekend.
Overall, Electric Daisy Carnival was a fantastic experience and will only continue to get better. It was organized well and I never expereinced anything that was out of the ordinary at a festival. Any issue that I heard was usually when a festival-goer was comparing it to EDC Las Vegas; however, this is an unfair comparison due to the location of each festival and the differing lengths of each festival. They are two different experiences and they should be viewed as such. If you cannot make it to Vegas I would say that EDC Orlando is a great alternative but I would attest that Las Vegas is definitely the superior festival and that you should try to make it at least once. Tickets information for EDC Las Vegas 2015 will be released soon so pay attention to Pasquale and Insomniac's social media outlets for updates.
Reach Staff Reporter Marc Sessa here.