Style
Calvin Klein Underwear: What Is 'Plus-Size?'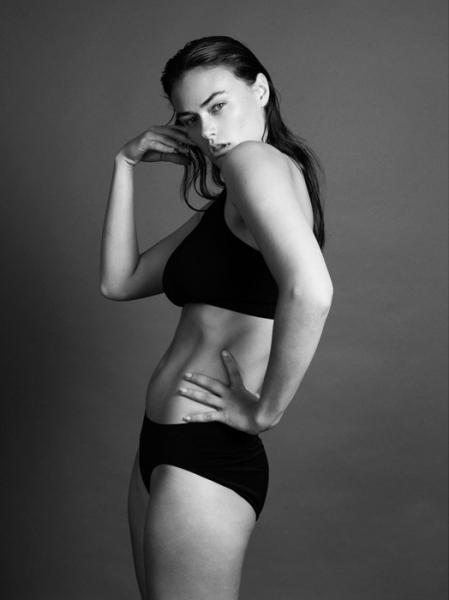 Calvin Klein recently released a new campaign featuring what the fashion industry is calling a "plus-size" model. What came as a large surprise to most people is that looking at the underwear ads, this model doesn't appear to be what most would consider "plus-size."
According to Elle Magazine, the 27-year-old model Myla Dalbesio was more excited about landing the underwear brand's "Perfectly Fit" campaign than anything else.
"It's kind of confusing because I'm a bigger girl," Dalbesio told Elle. "I'm not the biggest girl on the market, but I'm definitely bigger than all the other girls [Calvin Klein] has ever worked with, so that is really intimidating."
Younger girls have been empowered by the new ads, which are making them aware of what a "normal body" looks like. Delbasio also claims that the campaign focus was more on the fact that she was included among the other models, who are much smaller, and that there's body diversity. She's among the middle ground.
Many are pleased to know that Calvin Klein is working away from the willowy size 0 models, but the concern is that Dalbesio is said to be a size 10, yet in the ads, she appears to be smaller.
READ MORE: Target's Photoshop Flop
There are two ways to look at it, Calvin Klein is embracing the fact that there are models in all shapes and sizes and not simply on the ends of the range, but they're also coasting on what the fashion industry is calling "plus-size."
If Dalbesio is what the industry is calling plus-size, where in this campaign her body looks like a healthy, average-sized figure, what is the industry calling those who are in sizes upwards of 14 and 16? In the images the brand used, Dalbesio looks no larger than a size 4 or a size 6 along with a larger chest. Let's be honest, not all girls who fit size 10 clothing look like Dalbesio, and girls who aren't supposedly in the "plus-size" category might have bodies similar to Dalbesio's. This is what we need to bring attention to, and in the same way look at body diversity.
What does this mean for those who weren't self-conscious about their bodies before? Girls with perfectly healthy bodies are seeing Delbasio's as "plus-size," due to the fact that the industry is calling her that. But if she's considered to be on the curvier side, does that put girls with similar body types into the larger numbers now?
READ MORE: AerieREAL Isn't Quite The Real Deal (Yet)
Though she claims to be in the "in-between" of typical stick thin models and plus-size models, it seems to be that she's on the thinner side of the spectrum. Perhaps we need to change the way the fashion industry is looking at body image. Dalbesio has a healthy body, and no matter the size, that's how all models should look. Let's take away "willowy" and "plus-size" and bring our models back to this size; consider them the norm, because they're looking pretty hot.
Calvin Klein made a statement after attention came to the issue:
"The new Calvin Klein Underwear Perfectly Fit imagery features models Myla Dalbesio, Jourdan Dunn, Amanda Wellsh, Ji Hye Park and the face of the brand, Lara Stone, in several styles. The Perfectly Fit line was created to celebrate and cater to the needs of different women, and these images are intended to communicate that our new line is more inclusive and available in the several silhouettes in an extensive range of sizes."
While the intention was to be more inclusive and offer a range of styles to women of all body types, it looks like Calvin Klein might have just made the waters murkier for what we consider to be healthy, and what we consider to be overweight. We see the thin models, and now we've seen the middle ground models. That brings into question, where are the plus-size models that we can actually trust are plus-size?
Watch Dalbesio discuss body image in a video for StyleLikeU's "What's Underenath" project:
Contact Film Editor Dale Chong here. Follow her on Twitter here.