Food
Bulgogi House In La Palma: Review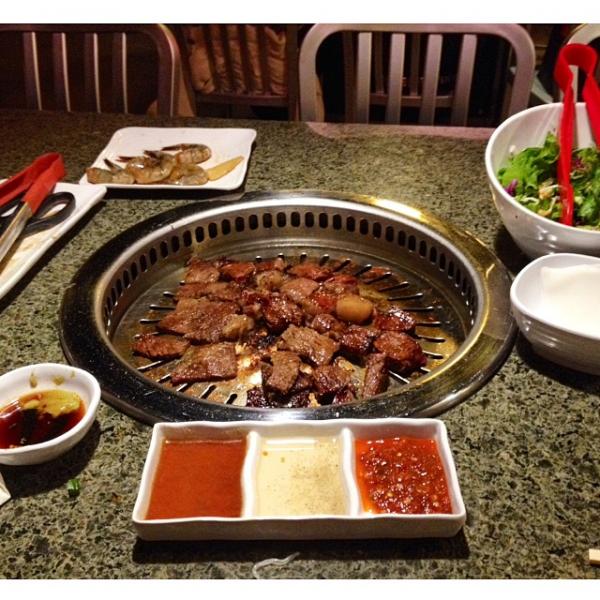 Bulgogi House has
arrived to Orange County
and launched with a bang on Sunday night. The Korean barbecue restaurant (Previously available in only Koreatown and Rowland Heights) offers all-you-can-eat (AYCE) menus for incredible prices.
Invited guests were given goodie bags upon entering the establishment, which included a bulgogi hat, bulgogi house chopsticks and a coupon for five dollars off their next visit before Nov. 30.
Guests enjoyed samples of sushi rolls and alcoholic drinks as an appetizer, like the establishment's veggie rendition of the crunch roll and Fish Bowl cocktails. Sapporo samples were also passed out around the room. Bulgogi tacos and sliders were also offered around the restaurant. A DJ played by the entrance, giving the restaurant a fresh, young vibe.
The restaurant's atmosphere is tailored to be fun and energetic. This is evident from the young waiters, 10 TV screens and patio seating. This place is tailored to be hip, not snobbishly upscale.
Once the lucky invitees were ready, servers wearing hilarious "Do you even grill, bro?" shirts seated and tended to them.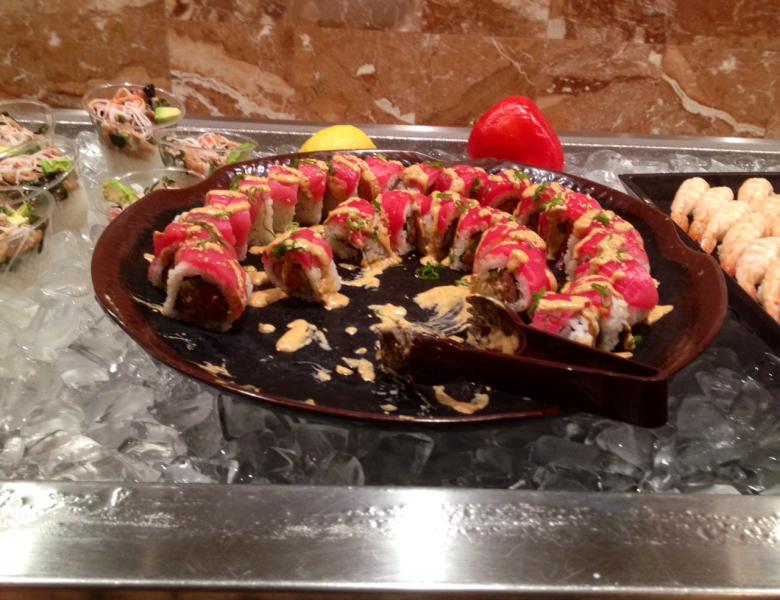 The guests were allowed to choose from the Premium menu, which features 46 different items. Additionally, guests were allowed to enjoy the complimentary buffet aisle, consisting of scrumptious apps like potato salad, even more sushi options, fried firm tofu, and poke. The poke is a surprising item because it is rarely featured on an AYCE menu like this one. No complaints, though.
A bowl of salad and three different sauces (Brisket sauce, salt and pepper in sesame oil and chili paste) were presented at the table.
This apps bar was particularly incredible for its complexity. Here, guests helped themselves to side dishes ("Banchan") as opposed to having them at the table. There were about 15 or so side dishes, including fermented cucumbers (kimchi), fermented cabbage (kimchi), angel noodle salad and potato noodles. There were about a dozen different types of sushi, an impressive amount of variety.
The Premium menu, offered for only $26.99 per person (A relatively unbeatable price for the selection), features a plethora of steak, chicken, pork and squid.
Some items include: Signature Angus Beef Bulgogi, Flat Iron Steak, Garlic Pork Belly, Citrus Marinated Chicken, Large Intestines, Hot & Spicy Squid, Beef Tofu Soup, Seaweed Tofu Soup, Sliced Roast Beef, Hot & Spicy Baby Octopus, Applewood Smoked Bacon, Marinated Jumbo Shrimp, Prime Pork Cheek and Marinated LA Kalbi Short Ribs. Clearly, there's something for everyone.
Personally, the picks of the night were the Bulgogi House Beef Brisket, Citrus Marinated Chicken, Marinated Jumbo Shrimp, Marinated LA Kalbi Short Ribs and Sesame Marinated Beef.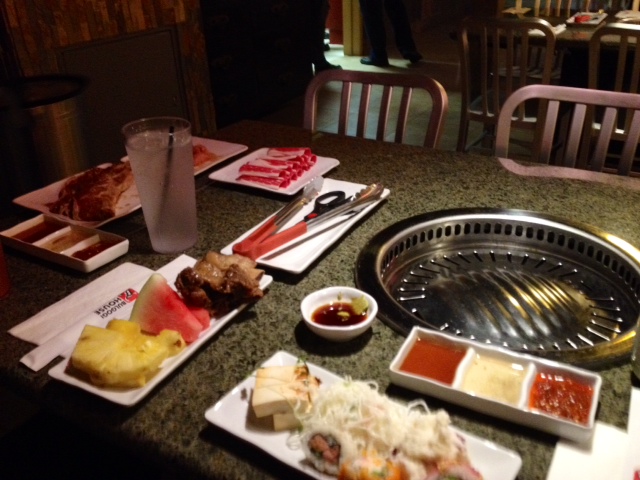 All were seasoned perfectly and delicious. The fatty meats surprisingly didn't have much fat to eat around. The portion sizes were mid-sized, definitely not much to fill up on. This is ideal for sampling a wider variety of options.
The waiter very regularly returned to the table to check on the meat's progress on the grill, which was highly appreciated. A waiter who is knowledgeable of the menu is appreciated. Meat was grilled one at a time, much better than other restaurants' habit of firing up three meats all at once. Meat was never charred on the grill, which was switched out a couple times between meats. The waiter knew to fillet the shrimp while grilling it, a noticeably underrated move by other Korean BBQ establishments.
READ MORE: Bulgogi House Coming To La Palma
On a busy night, however, one can only wonder how the restaurant would accommodate so much meat. But, considering the amount of workers (Approximately 20-30 on opening night), this should not be a problem.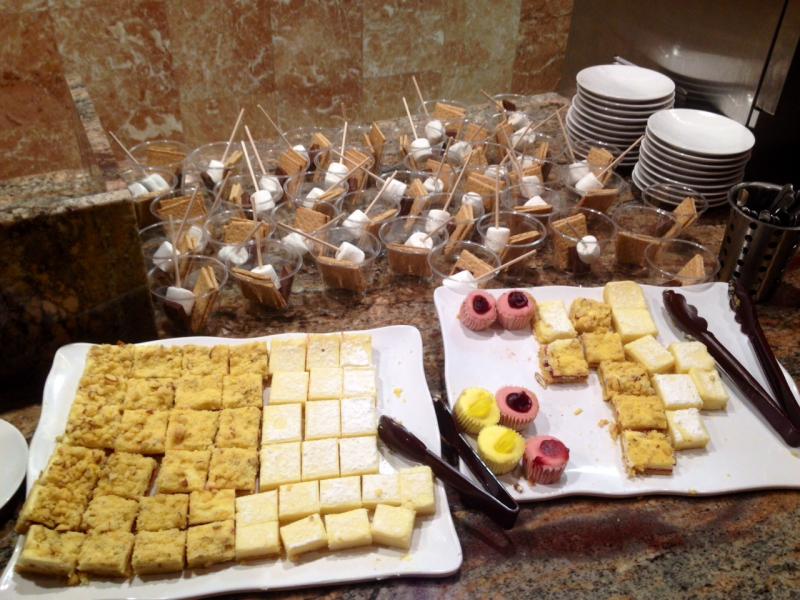 The meal concluded back at the buffet bar, where guests were treated to fruit, s'mores (Toasted at the grill, naturally), little cakes (Common in buffet restaurants) and self-serve frozen yoghurt.
Bulgogi House's prices and hours are reasonable (and slightly better) compared to other Korean BBQ eateries. Happy Hour at Bulgogi House is 3 p.m. to 7 p.m., Basic lunch is $14.99, Standard lunch is $17.99, Deluxe is $20.99 and Premium is $26.99. Compared to other AYCE restaurants in the area and in nearby Los Angeles' Koreatown, these prices are worth exploring.
Rarely does a restaurant combine AYCE Korean BBQ and a full-fledged buffet bar. This establishment will very likely become a hit in the Orange County area (Call and make a reservation!). And, yes, there's a pretty sizable parking lot.
Check out the Bulgogi House's website here. Access the restaurant's Yelp page here.
Contact Senior Entertainment Editor Kathy Zerbib here. Follow her on Twitter here.