Arts+Culture
The Black House: A New Addition to the USC Community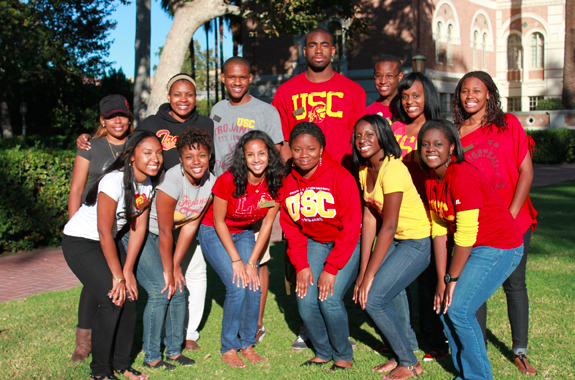 There seems to be a house near campus for every one of USC's many subgroups. The Cinematic Arts students can bond over their craft at the Delta Kappa Alpha fraternity house. The intramural rugby team has a place on Menlo Street, where they can privately mock pad-wearing football players. And of course there's The Row, with over two dozen houses for the various fraternity and sororities to engage in their bi-annual registered parties and other themed events. However, there is one group, so far left out, that's now calling for an off-campus social space of their own: the black student body.
African-Americans make up a mere 4 percent of the USC student body, according to the university website. Given the low percentage, it's easy to understand why a social house for black students has not been at the top of the administration's 'to do' list. However, members of Undergraduate Student Government and the Black Student Assembly are speaking out about the need for a cultural space for African-American students. The proposed "Black House", as dubbed by USG, will be used for studying, hosting school-sponsored events, and as an overall mingling spot for African-American trojans. Ideally, the Diversity Committee of USG would like for the house to be located on the Row for quick accessibility.
While there is currently no house specifically designated for black students, the administration has developed a few community-fostering spots where they can interact. The Center for Black Cultural and Student Affairs, located inside of the Ronald Tutor Campus Center, includes a computer lab along with a lounge for students to relax or take a break from studying. Also, incoming black freshmen can choose to stay with each other on the 5th floor of Fluor Tower residential hall. Known as Somerville Place, black freshmen have the opportunity to attend field trips around Los Angeles and spend their first year of college forming bonds and supporting each other.
However, Ama Amoafo-Yeboah, the Program Board Executive Director for the Black Student Assembly, believes that those resources are not enough to make black students feel welcomed at USC.
"We do have the CBCSA and they do a phenomenal job with the resources provided to us, however that's just an administrative space. It's only open from 9 to 5, and honestly it's pretty small. It can't possible accommodate all of the students."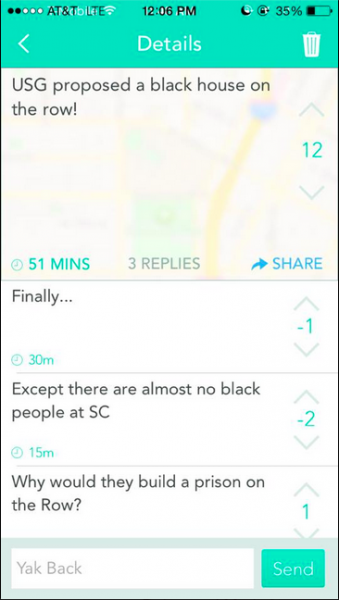 Amoafo-Yeboah also argued that although Somerville Place offers ethnically specified housing, only freshmen can enjoy the luxury. USC does not offer a similar type of housing for upperclassmen, transfers, or spring admits.
The USC student body has had mixed responses to the idea of a "Black House". Some students like John Auer express ennthusiasm for the project:
"It seems like a good idea. I don't see why anyone would have a problem with that. Everyone should have place to be able to just hang out and feel comfortable."
Other students have expressed dissaproval, even going so far as to post inflammatory remarks on Yik Yak, an anonymous social media platform.
When a user posted "USG proposed a black house on the row," another user responded with, "Why would they build a prison on the row?"
The backlash continued on the Greek Rank website forum where a user under the alias "truthsayer" thoroughly ranted on about how minorities, especially black people, were not wanted on the row. This "truthsayer" expanded beyond the Black House and suggested black people should rush black fraternities, where they will be accepted.

Levi Powell, the USG Co-Director of Diversity Affairs, expected this form of criticism, but is determined to move past it. "It's something that I anticipated," he said. "But we are going to keep the ball rolling with the positive momentum that we have."
USC has approved the proposal, and will allow USG and the BSA to make preparations for the house. USG is currently holding weekly meetings to discuss fundraising strategies and logistics, including hours of operation and social media management for the house.
This story is part of Culture For Change, a month-long Arts and Culture exploration of cultural activism in L.A. For the other stories in the collection, click here.
Reach Staff Contributor Mark Love here.