Film and TV
'American Horror Story: Freak Show' Season 4 Episode 4: 'Edward Moredrake, Part II'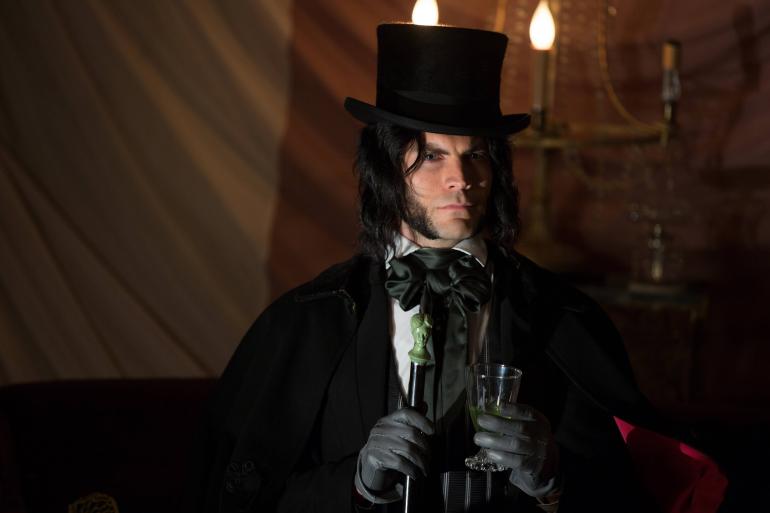 It's the second half of the "Freak Show" two-part Halloween episode, and Edward Moredrake (Wes Bentley) continues to hunt for a new addition to his motley crew of murdered freaks. Viewers learn the backstories of several colorful characters as Moredrake searches for a tragic story that strikes his fancy.
READ MORE: Definitive Ranking Of Jessica Lange's Best Characters in 'America Horror Story'
Suzi (Rose Siggins), the woman with no legs, killed a man via jealous leg-stabbing while traveling with a group of vagrants. Moredrake's neither impressed, nor sufficiently moved by Paul with the little arms (Mat Fraser), who tattooed himself everywhere but his head because he knows he's facey for a freak. And Pepper (Naomi Grossman) and Salty (Christopher Neiman) the pinheads don't even tell Moredrake a story, but he doesn't mind because they look great dancing with a couple of ribbons. He's a little tougher on Elsa – he pins her down and removes her prosthetic legs, demanding that she reveal her secrets.
Cue Elsa's backstory: she worked as a dominatrix in a brothel in the 30's until she decided on a career change and signed on to film her very own porno. But when the cameras started rolling, she was drugged and her legs were sawed off on film. Not exactly the star turn she was expecting. Moredrake decides Elsa is just his type, but he's distracted by peculiar music right before he deals the fateful blow.
The source of the music is an especially creepy private show Twisty (John Carroll Lynch) and Dandy (Finn Wittrock) are putting on for a captured Jimmy (Evan Peters) and Esmerelda (Emma Roberts), who stumbled upon the killer clowns when Jimmy's motorcycle died on a dark wooded road. They manage to escape with the bus prisoners, and Dandy gives chase as Twisty is confronted by Moredrake.
Twisty removes his mask to reveal a gaping wet wound of a mouth, and proceeds to tell his own story the best he can. Flash back to the early '40s, when Twisty is big, friendly Forrest Gump of a clown who's popular with the kids but unpopular with the other carnies. They spread lies that Twisty has done un-clownly things with the children and he's blacklisted by carnivals everywhere. He tries his luck at toymaking, but that doesn't go his way either. After a failed suicide attempt leaves him mouthless, he starts his current business: stealing children to perform for, even if it means killing parents and torturing kids.
READ MORE: 'American Horror Story: Freak Show' Season 4 Episode 3: 'Edward Moredrake Part 1'
Moredrake is impressed. All the other freaks seemed to recognize their own inner darkness, but Twisty is completely oblivious to the horror of the atrocities he's committed. So Moredrake claims him for his carnie company. Sorry, Elsa!
Tension on the fairgrounds: Jimmy and Esmerelda (who are looking a little flirty) are celebrated by the townspeople for saving the day from the ruthless Jupiter killer, but Dell (Michael Chiklis) doesn't look so happy about it. Elsa makes the pinheads the new headliners and Bette and Dot are demoted to openers. And Esmerelda's partner in crime (Denis O'Hare) shows up as a "talent scout"… hm.
Meanwhile, Dandy isn't finished with his show just yet. He takes the mask straight from Twisty's cooling corpse and puts it on his own, slightly better-looking face. This time he shows no mercy to Dora (Patti Labelle), and slits her throat with a maniacal grin.
Halloween has been eventful in Jupiter! Twisty is gone, but it looks like Dandy will make a fine successor. Who's next?
Reach Staff Reporter Jules Zucker here.