Music
5 Reasons Why 5 Seconds Of Summer Is Better Live Than One Direction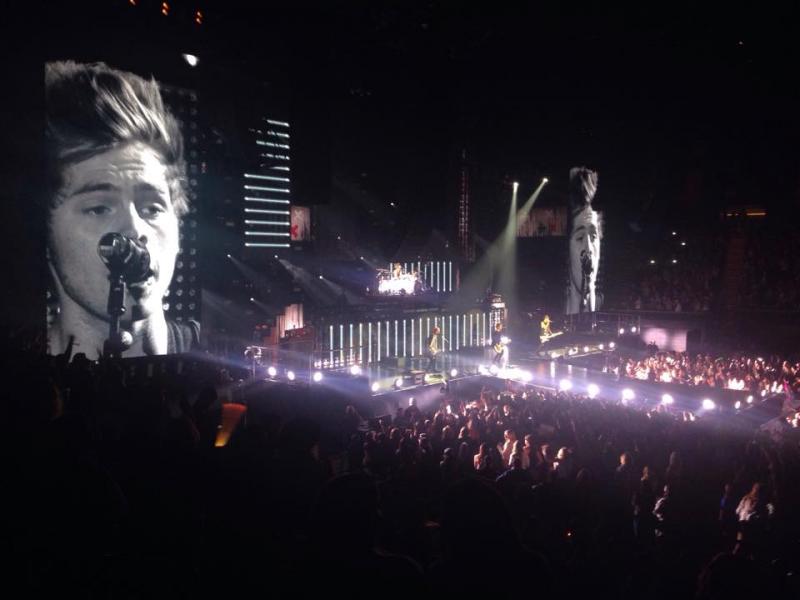 As a fan of both One Direction and 5 Seconds of Summer, and after having been to two of each band's shows, I think it's time someone came out and said it: 5SOS is better live than 1D. Here are five reasons that prove the Aussies have officially passed their British counterparts when it comes to performing.
1. Musical Instruments
Yes, each member of One Direction has a beautiful voice, but we just can't ignore the fact that only one of the five boys plays an instrument. Each member of 5 Seconds of Summer plays either the guitar, bass or drums. Michael, Calum, Luke and Ashton were the only people on stage (no backup band playing along), really adding to the intimacy and legitimacy of their show. It was great to see the boys jamming out on stage like a real rock concert.
READ MORE: 5 Seconds Of Summer At The Forum: Show Review
2. Their Shows Are More Understated
As the One Direction tours have grown, their shows have gotten more and more elaborate. But the fireworks, flashy colors and videos really took away from the concert. It felt like they were just putting on a show. The 5SOS concert felt much more authentic. Aside from a few fireworks, the show was carried solely by the boys and their music.
3. Their Personalities Shine
One Direction has been on tour for years now. 5 Seconds of Summer, on the other hand, is just getting started as headliners. And though it seems the boys of 1D are a bit tired of the fame, 5SOS seemed to be having the time of their lives on stage. Between songs the Australians, unafraid of being their weirdest selves, told stories, laughed and smiled throughout the entire night.
READ MORE: One Direction At The Rose Bowl: Review
4. Originality
I have been to two concerts on the same tour for both One Direction and 5 Seconds Of Summer, and there was one glaring difference between each tour; One Direction does not switch it up. The parts of the 1D show where the boys spoke (which were few and far between) seemed entirely scripted. Niall's introduction of "Don't Forget Where You Belong" was almost exactly the same, word for word, from night to night. The comments about each crowd being the loudest and the most fun seemed completely fake. 5 Seconds of Summer's second show, however, was completely different than the first. The boys told new stories and new jokes, and the overall experience felt much more authentic.
5. They Interact With Fans
5 Seconds of Summer called a fan onstage to play guitar with them. They asked each fan with a sign to hold them up, then read each sign out loud. They joked with audience members walking around and accused them of leaving early. They laughed along with fans as they all said odd words during many "repeat-after-me" responses. This is the kind of intimacy you just can't find at an impersonal One Direction concert.
Michael Clifford, Calum Hood, Luke Hemmings and Ashton Irwin of 5 Seconds of Summer are the real deal. The boys already have a number of awards under their belt and are nominated for the AMA's Best New Artist of the Year. You can catch them live at the American Movie Awards on November 23rd and at Jingle Ball this December.
Contact Staff Reporter Kirby Pedersen here and follow her on Twitter here.