USC Sports
USC Running Backs Earning High Praise From Coaches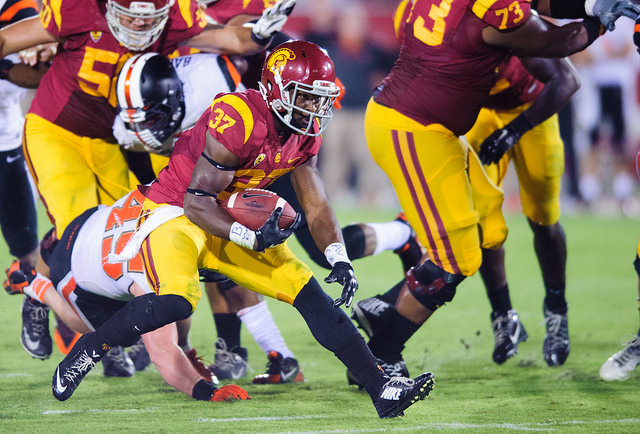 The USC Trojans sit atop the Pac-12 South with everyone's eyes are on them, and if they continue their success, they will be made a story throughout the world of college football.
Following their intense, emotion-filled 28-26 win over the Arizona Wildcats (5-1, 2-1 Pac-12), the Trojans (4-2, 3-1 Pac-12) were back on the field Tuesday morning ready to prepare for the next game.
Practice was upbeat and up-tempo. It was evident that the win's momentum was still present for the Trojans. Every player—especially those who didn't see much of the field Saturday—was working with extra effort and efficiency today.
"I was impressed, as much as anything, with the guys that didn't play Saturday," head coach Steve Sarkisian said. "They really came out competitive and pushed the guys that played a lot, and that's what's needed."
Following Saturday's exemplary game from redshirt junior tailback Javorius "Buck" Allen, assistant head coach Johnny Nansen was more than pleased.
"He's so talented," Nansen shared. "At this point, I'm fired up to see how Buck's going to finish out the season."
Additionally, Sarkisian talked about his feelings and thoughts on Allen.
"I thought he'd be a guy that would rush for over 1500 yards and be in consideration for some really cool accolades at the end of the year," Sarkisian mentioned. "And now that's what we're starting to get."
More than just a star on the field, Sarkisian shared about how Allen is "a great leader" who supports the team's message off the field.
"I see a very appreciative young man," Sarkisian revealed. "He's worked extremely hard in the classroom and on the field."
SEE MORE: Missed FG Helps USC Avoid Second Straight Collapse
With the rhythm that Allen created, Nansen commented that he still sees sophomore tailback Justin Davis getting more runs with the ball soon.
"I'm happy about the way he ran the football the last three times he had it," Nansen said.
Nansen elaborated about Davis' integration into the offense. He would like to see Davis get "in rhythm with the O-line so he can help Buck finish out the game."
"Even when you have rhythm and you're getting the flow of the game," Nansen discussed. "I had to get Justin in there to give Buck a break."
Along with Nansen, Sarkisian sees Davis' snaps increasing and would like to integrate him more in the running game.
"I've got all the faith in the world in Justin," Sarkisian mentioned. "We're going to need him the second half of the season."
Coming off last season's ankle injury, Davis himself shared about his thoughts on his season so far.
"Each week I'm progressing," Davis explained. "It's getting more comfortable each week."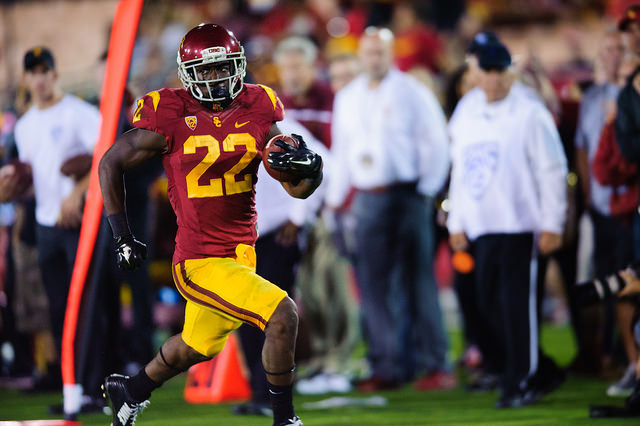 About Saturday's win, Davis reflected about the team's ability to put together explosive plays. The team really "needs to gel together" in order for the plays to happen.
"It's a testament to out defense that got in there and stopped the 2-point conversion," Davis commented about the win against Arizona.
Sitting in first for the Pac-12 South, the sophomore back discussed what it's like to be in first and how "every week is a championship game."
"It's kind of cool to control your own destiny," Davis added. "We can't let that go, so we have to play every game like it's our last."
SEE ALSO: With The Devastating Psychological Effects Of Hazing, USC Has Precautions In Place
One surprise that occurred right before kick-off was that senior kicker Andre Heidari was unable to play against the Wildcats, but redshirt sophomore kicker Alex Wood was able to step "right into that role."
"He had a great game," Nansen shared. "He was a part of the reason we won."
Nansen continued to share that he was happy that Wood "did what he did" on the field for the Trojans.
"He's starting to have more confidence in the way he's kicking the ball," Nansen commented. "I'm pleased."
Looking forward to the future, Sarkisian talked about his views on the competitiveness of the Pac-12.
"In our conference, if you don't come ready to play, you will get beat," Sarkisian said. "You have to be prepared with a great frame of mind."
Reflecting on his team, Sarkisian is looking for them "to learn from the last few weeks in general." Specifically, he discussed his team's play during "the last seven to eight minutes of the game."
"Philosophically, when we attack the game offensively and defensively we need to remain more aggressive," Sarkisian explained. "The old traditional way of playing the clock and eating up possessions is not somewhere we need to be."
However, Sarkisian remains optimistic about his team. He recognizes that the "young O-line is really improving" and that the defense will "continue to find ways to pressure the quarterback."
"I really feel like we're making progress," Sarkisian said. "I think we're getting better every week that we take the field."
The Trojans look to remain in control of their future on the top of the hill in the South—with all eyes on them—with a win in the homecoming game against the Colorado Buffaloes (2-4, 0-3 Pac-12) on Saturday at 3pm at the Coliseum.
Reach Staff Reporter Jodee Sullivan here and on Twitter here.