USC Sports
USC Practice Recap: Kessler Comfortable As Trojan Captain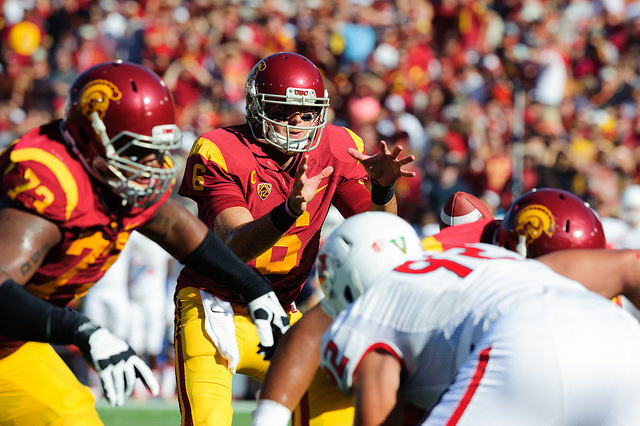 Coming off a blowout win over Colorado, the USC Trojans (5-2, 4-1 Pac-12) were preparing for the tough defense of the Utah Utes (5-1, 2-1 Pac-12) at practice Tuesday.
Redshirt junior quarterback Cody Kessler broke USC's single-game record with seven touchdown passes in the 56-28 win. After the game, Kessler received congratulations from previous USC greats Mark Sanchez, Matt Leinart, Matt Barkley
and LenDale White, who was on the field for the game. Of course, every message was appreciated, but Kessler was especially pleased with the one from Barkley, the previous record holder.
"[Barkley] was my big brother here," Kessler commented. "He taught me how to play the game here."
Head coach Steve Sarkisian shared his thoughts about his record-setting quarterback.
"The beauty of Cody is that you wouldn't know today if he threw seven TDs or didn't play great Saturday," Sarkisian mentioned. "He brings a workman-like attitude and loves being out here with his teammates."
Looking forward to Saturday, both Sarkisian and Kessler shared their thoughts about facing Utah's defense. Sarkisian talked about how in order for his team to be successful, they will have to "be creative with the play calls" and "really know what [they're] up against" with the "unique style" of the Utah defense.
"They do a really good job of hiding pressures," Kessler said. "They'll bring a pressure out of nowhere that you won't expect."
This season, Kessler has been a standout leader for his team both on and off the field. He feels that as a captain he's "a whole lot more comfortable."
"It's getting guys to trust you and believe in you," Kessler shared. "That's something I worked on this summer."
SEE ALSO: Record Day For Cody Kessler Powers USC Past Colorado
Also, sophomore tailback Justin Davis reflected about Saturday's fumble. He attributes the error "a mind thing" and he's frustrated that "he did all that and lost the ball."
"Coming off the injury, I feel like I have to go in there and do something spectacular," Davis said.
Sarkisian noted that his fumbles came on "extra-effort" plays; ones where he fumbled the ball after the second hit. He sees Davis "raising his level of awareness" during practice to fix the errors.
"If you work on something and practice it and preach it," Sarkisian said. "You get results."
Wide receivers coach Tee Martin compared junior wide receiver Nelson Agholor and true freshman wide receiver JuJu Smith to Marqise Lee as he reflected on their season so far.
"Those guys are cut out of the same cloth," Martin said. "They want to help affect the game."
Martin also shared about the events that led to Smith playing as a wide receiver instead of a safety. He recalled when Smith came up to him during camp and told him that he wanted to play wide receiver—Martin thought that he was joking because of his talent as a safety. After one spectacular play at receiver, Martin told Smith that he "might never go back to defense" because he'll "be a really great wide receiver."
"He has that mentality where he's the kind of kid that can get it done," Martin said.
Also, Coach Sarkisian announced that the team will be wearing the new metallic helmets once again. If you're a Trojan fan who doesn't like them, don't be incredibly alarmed, Sarkisian said it's be on a "game-by-game basis" whether or not the wear the helmets.
Catch the stadium lights shine off the Trojans' helmets this Saturday as they take on the defense powerhouse of Utah at 7pm in Salt Lake City, Utah.
Reach Staff Reporter Jodee Sullivan here and on Twitter here.