Arts+Culture
On The Road With Amtrak's Residency Program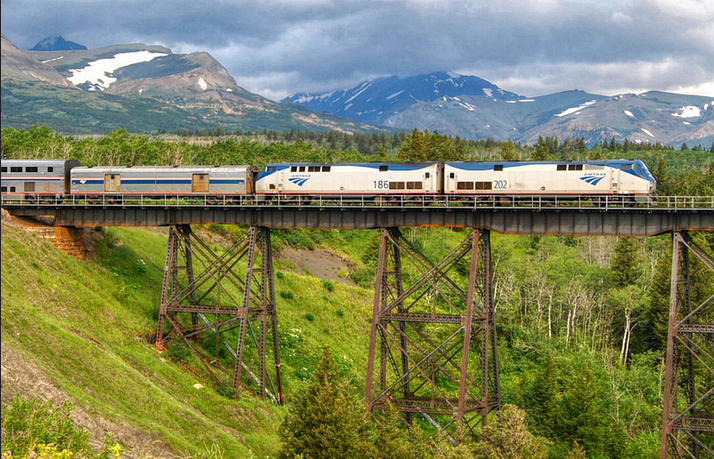 "I still like a train best for [writing]. I wish Amtrak had residencies for writers."
When Alexander Chee said this in an interview last December, the last thing he imagined to happen was for Amtrak to actually create a residency program—but that's exactly what they did.
After Chee's interview got the ball rolling, Amtrak received tens of thousands of responses on Twitter showing interest in a potential residency program. Amtrak even responded to one writer, Jessica Gross, "We'd need a test run. You two up for a trip to Chicago and back?" From there, Amtrak gave Gross a round-trip ticket from New York to Chicago, and the trip ended in a story in The Paris Review.
"I'm only here for the journey," Gross wrote in her story 'Writing the Lake Shore Limited.' "Soon after I get to Chicago, I'll board a train and come right back to New York: thirty-nine hours in transit, forty-four, with delays. And I'm here to write."
The program picked up speed pretty quickly, and after releasing a formal application on March 17, Amtrak had over 16,000 applications to sort through.
The main part of the application involved a sample piece of writing ten pages or fewer. For one of his sample pieces, finalist Jeffrey Stanley said on his blog that he submitted his Washington Post story about a commuter train headed to Philadelphia. "This does not mean that residents are required to write about trains," Stanley noted.
After narrowing down the pool of applicants to 115 semi-finalists, Amtrak chose 24 final writers last week to hop aboard a long distance train and become a part of the very first residency program.
SEE ALSO: Visionary Women: Inspiration From Artists, Icons And Activists
Karen Karbo, USC alumna and author of The Diamond Lane, noted that this is not her first time writing on the road, and she is excited to go at it again.
"Several years ago when I was researching my book on Georgia O'Keeffe, my husband and I spent six weeks driving around the southwest in his parents' RV," said Karbo. "He would drive, and I would seatbelt myself in at the table and write as I cruised along. I called it my Mobile Writers Colony."
Another selected writer, Ksenia Anske, already has plans for what she intends to write on the train. Since she is a fantasy writer, her plans for the train are a bit less orthodox than what the other writers might have in mind.
"It's a flesh-eating train," Anske wrote on her blog. "I grew up with trains, all kinds of trains, metro trains, trams, passenger trains, sleeper trains, and I both love them and am creeped out by them." Anske continued, "The book will be about a troupe of Bolshoi Theatre ballerinas going on tour in US, and strangely disappearing one by one in the car number 5. Or something."
Other writers selected to join Anske and Karbo include Gothamist deputy editor Jen Carlson, Buzzfeed editor Katie Heaney and former CIA officer Lindsay Moran.
For most of the writers, the Amtrak residency will be a nice break from the pressure of office life.
In an interview with The Wire, Carlson said, "There is no pressure to write on the train as part of the program, it can just be about inspiring you to write or allowing yourself this time to focus on your thoughts and ideas, which is kind of a luxury for anyone working on constant deadlines."
While the program has received a lot of backlash for "exploiting the romance of the railways to endear itself to a demographic that likely can't afford its prices," Amtrak has assured both the writers and the public that the residents are not required to promote their content nor are they required to produce content at all during the trip.
Every month, Amtrak will send out two writers on a long distance train, not necessarily the same one. Karbo plans to take the Empire Builder from Portland to Chicago. Other writers, like Jeffrey Stanley, have "no idea when I'm leaving, where I'll be going, or what I'll be working on."
Contact Staff Reporter Morgan Greenwald here.