Arts+Culture
Visionary Women: Inspirations from Artists, Icons and Activists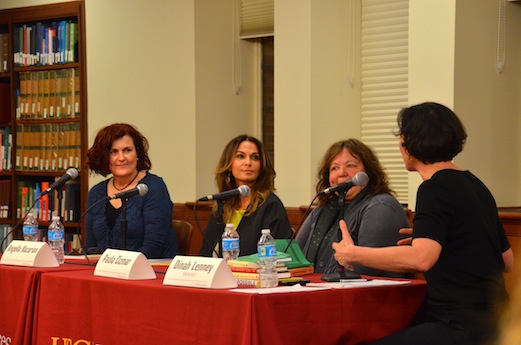 Last night USC Visions and Voices hosted Visionary Women: Inspirations from Artists, Icons and Activists, an even where three esteemed female writers who are using their power of words to inspire and educate readers about extraordinary women across the globe. In honor of International Women's Day, USC Professor Dinah Lenney led a panel with Angella Nazarian, Karen Karbo, and Paula Cizmar in which each of the three women shared her own story with the audience and provided insight into the incredible optimism and determination of women whose stories they tell.
Psychologist-turned-author, Angella Nazarian spoke about her second book, "Pioneers of the Possible: Celebrating Visionary Women of the World," an anthology about twenty women who made groundbreaking contributions politically, artistically, and spiritually. She decided to try writing without having any formal training as a writer because as she said, "I'm a firm believer in following one's bliss." Nazarian's gift for writing is evident in that she was able to attain every aspiring writer's dream: having her story idea picked up by editors within a month of its conception. She views writing as a personal joy as well as a way to educate and inspire other women. In her latest book, Nazarian made an effort to explore influential women from all over the world, not just American women who inherently have greater socio-economic freedom than women in other parts of the world.
Karen Karbo, an established author and magazine contributor talked about her series of three-soon to be four-books in what she likes to call her "kick ass women trilogy." She read an excerpt from her latest work, Julia Child Rules, which will debut later this year to join the other three books in the series, "How Georgia Became O'Keefe," "How to Hepburn," and "The Gospel According to Coco Chanel." Karbo explained that her motivation for starting the series was actually to help recover from the emotional taxation of her father's death-a type of self-therapy if you will. There's nothing like fully immersing yourself in the life of a powerful, strong, awe-inspiring woman to make death seem light-years away!
Award-winning playwright and adjunct faculty member for USC's School of Performing Arts, Paula Cizmar also spoke about her documentary play, Seven. She explained the very interesting conception of this unusual play in which she and six other writers each worked with a female human rights activist to help the women tell their own stories in a series of monologues. Part of what makes this play so unique is that the "writers" did not write any of it. Instead, Cizmar and her fellow playwrights coaxed the words out of the women themselves, and then they merely condensed the many hours of interviews (close to 70 in Cizmar's case) into a series of verbatim monologues.
When asked to explain what made the women they write about "visionary," all three women essentially said that changing the world was almost an accident for the women; they were all just passionate and unwilling to let injustices continue. Karbo put it perfectly when she said that the women she wrote about seemed to have an "inner heart light" that led them to defy rules and live according to their own desires. She added that she mainly chose older women who had multiple chapters in their lives because they kept pushing the limits of their field by merely following their hearts. Nazarian added on to this idea, explaining that the women made groundbreaking leaps in their respective fields merely because they were passionate enough to follow their visions through in their entirety. She views one of the keys to success to be building a supporting network to "magnify your voice" and help "inspire and ignite the will" of others. Cizmar commented that she saw empathy, stubbornness, and optimism as the keys to success for the grassroots social justice movements started by each of the women of SEVEN. All three women were in agreement with Lenney's overarching observation that "visionary is something that defines you after the fact."
This panel was a wonderful reminder of the drive and passion that motivate ordinary women to do extraordinary things. To see learn about more inspiring women, check out the new documentary Girl Rising. It's narrated by Meryl Streep, what more can you ask for!
Reach Staff Reporter Sara here.