Los Angeles
Not Your Typical Food Truck
Once a week, parked across the street from the University of Southern California is a food truck called Pyngle's. It sells freshly juiced fruits and vegetables and vegan smoothies.
They allow customers to name their own price. Around 10:30 a.m., people trickled by, and no one really stopped. Closer to 11, one woman, Deanna Martinez, decided to stop by Pyngle's her way to class because she skipped breakfast. That's when she realized what separated this food truck from the others.
Ryan Trainor and Ariel Oxman are co-owners of the food truck. Trainor has taken the main role while Oxman attends law school in New York.
Trainor believes most fresh juice businesses in Los Angeles are priced so high that for some people, they simply cannot afford it.
SEE ALSO: Your Truck-Made Burger May Be More Sanitary Than Its Restaurant-Made Counterpart
At Pyngle's, Trainor said the average amount that people pay for their juice or smoothie is between $4-$8.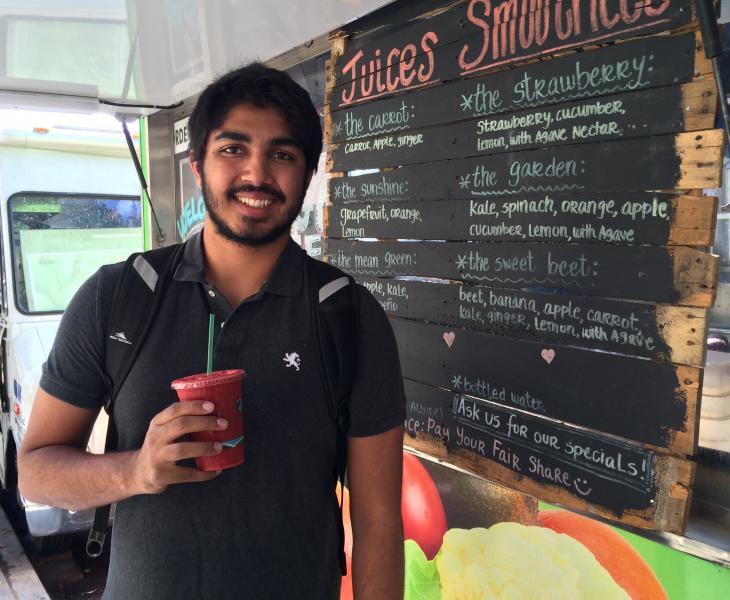 "It allows us to take something that's usually reserved as a luxury item for people who can afford to take that amount of their spending that day, and bring it to the masses," said Trainor. "For the most part a general faith in humanity and faith in our customers and faith in people, is the reason why we're still open today."
Noel Trivedi stopped by Pyngle's while it was parked near USC. He said he stopped in because he didn't think he ate healthy enough in college, and this is a cheap way for him to get some of his fruit and vegetables. He'd been to Pyngle's before and said he liked the name your price idea.
"If you can't afford to pay for fruits and vegetables because sometimes they can be expensive, you can pay what you want and still afford to be healthy," said Trivedi.
He paid $5 for his juice.
Leah Takele also stopped at Pyngle's she just left the dental school after having a cavity filled. She stopped because her mouth was still numb, but also because she is vegan. It was her first time and she paid $6 for her drink.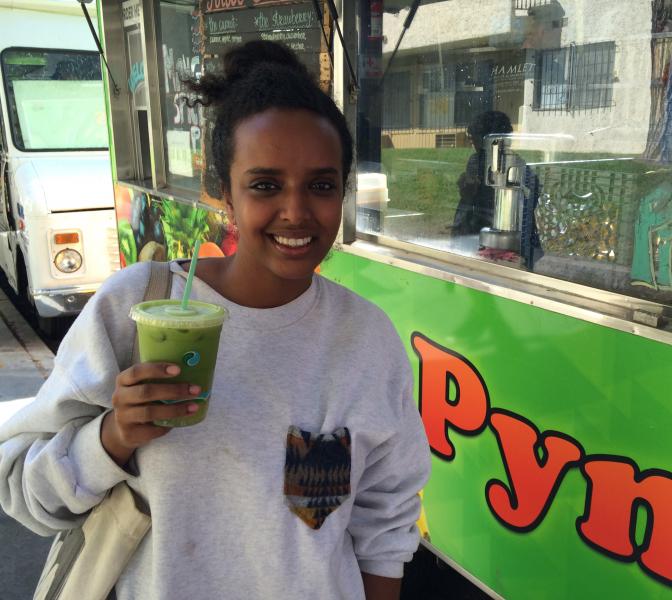 "I compared [the price] to another place that I get juices from. I gave them another dollar though, because they let us pick," Takele said.
Born and raised in Minnesota, Trainor didn't always want to be a food truck owner. When he was little, he wanted to be an astrophysicist.
After graduating from high school in 2002, Trainor became a hairstylist.
He said, at the time, he did not want to continue his education.
"I wanted a career where I could demonstrate success and be creative and social at the same time," he said.
After five years of hairstyling, Trainor decided he was ready to get a college degree. He went back to Minnesota and attended community college before transferring to the University of California, Berkeley in 2009.
He has been in California ever since.
After graduating from UC Berkeley, he worked for awhile as a salesman for a software company in the Bay Area, "but I knew I wanted to do something myself. I knew I wanted to create my own thing and do my own project," said Trainor.
One day while he was talking to Oxman, he mentioned that he wanted to open up a food truck. Oxman agreed to get involved and told Trainor to start looking into it.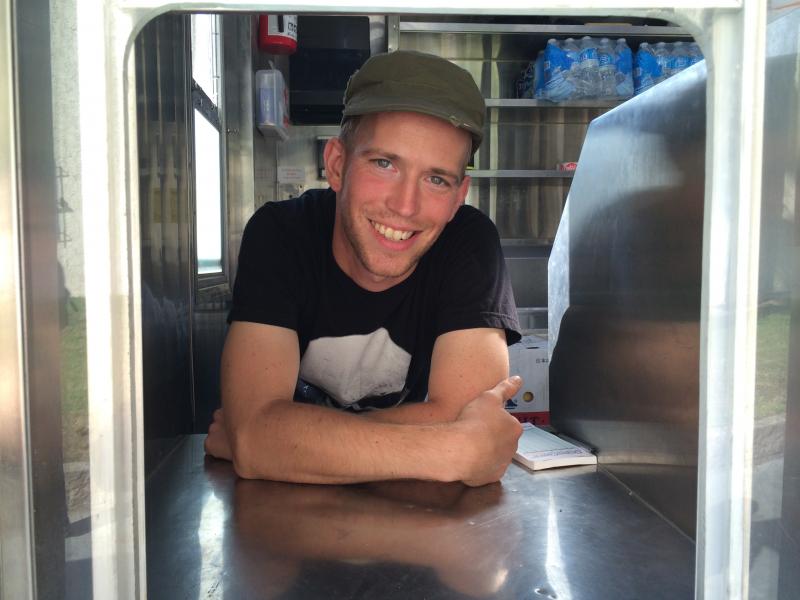 Without any food or beverage training, except what they taught themselves in their own kitchens, Trainor and Oxman started to pursue their food truck dream.
SEE ALSO: 10 Trendy Food Mashups
Coming up with a name wasn't easy for Trainor, so he started looking at other café's.
"The possessive is a really big thing, in the sense that you look at Joe's or Norma's or Sally's, or something along those lines. I didn't necessarily want to name the truck Ryan's because I didn't want it to be about myself," said Trainor.
Instead, he said he wanted to come up with a fictitious name that would belong to the community. Thus, Pyngle's was created.
Their mission was to get fruits and vegetables to people in the form of a fresh juice, part of that was allowing those customers to pay their fair share.
Trainor said day-to-day is a constant struggle to make sure that bills are paid on time, but overall, they've done well.
"You learn to cut costs, and you learn to kind of adapt and if you're smart with the revenue you have coming in, you can be successful," Trainor said.
SEE ALSO: LAX Will Soon Have A Permanent Food Truck
Since Pyngle's doesn't sell any food items, they depend on parking where there is heavy foot traffic.
However, the food truck business is competitive. Sometimes, finding a spot to park creates a major challenge.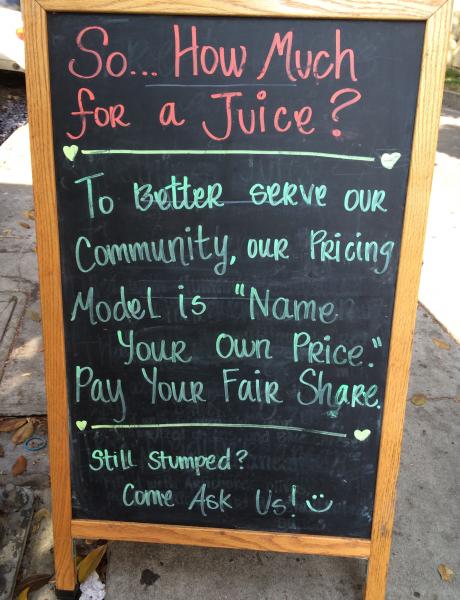 Trainor said he typically shows up to a location around six in the morning, and even then, he doesn't always secure a spot for Pyngle's.
"It can jeopardize your whole day, if you don't have back ups in place or somewhere else that you can show up a little bit later," he said, "It's kind of do or die, you get that spot or you don't get that spot and you go home."'
When a spot is secured in a good location, such as Santa Monica on the weekend, Trainor said they can end up serving up to 200 people a day. On a slower day, the average is between 50 and 100.
As for the future, Trainor said he hopes to one day have Pyngle's in a permanent location, but he's not planning on changing the concept.
"I want to kind of keep the movement going and kind of keep the idea that we can put the financial decision in the hands of our customers," he said.
Contact Staff Reporter Jessica Harrington here and follow her on Twitter here.