Music
The Pretty Reckless At The Wiltern: Review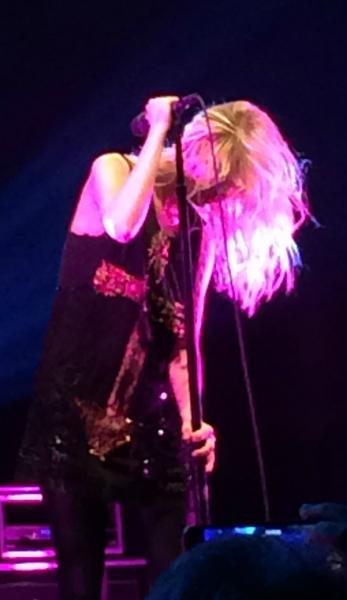 Stepping inside the Wiltern Friday night would give you no confusion as to who was performing.
Though Pretty Reckless fans here in LA have wide ranges of age and gender, every person in the crowd was ready for a real, gritty rock show- something not as widely demanded nowadays. As lead singer Taylor Momsen mentioned earlier this week, rock 'n' roll is currently in a transitional phase; you're not going to find the same widespread love of rock as you did in the 90's.
But as I left the venue today almost deaf, it reminded me that rock (and leather jackets) never die. Spoiler alert: This show was a true gem.
As soon as Momsen (and her luscious blonde hair) stepped out on stage, the band started with their first track on "Going to Hell," "Follow me Down." Immeditaley, I knew I was going to enjoy a sonically perfect show. Just like the album, the sound was immediatley crisp and Taylor's vocals were as spectacular as ever, especially considering she's been sick since the start of the tour.
READ MORE: Interview: Taylor Momsen Of The Pretty Reckless
Regardless, she came out on stage like a trooper and was nothing short of dynamic. Her physical presence can be described as sultry, as she performs the songs through her entire being- we can see her feel the music, instead of simply sing it.
The stage was Momsen's playground, as she utilized the space with grace and pizzazz. Fans got their fair share of Momsen facetime, as she made a point to kneel down and interact with the audience during songs. Even during their performance of "Going to Hell" and "Make Me Wanna Die," Momsen would extend her mic to the crowd during the songs- I always like it when artists pay homage to the fans in that way. "It was fucking written so you guys could sing along to the chorus," Taylor reminded everyone.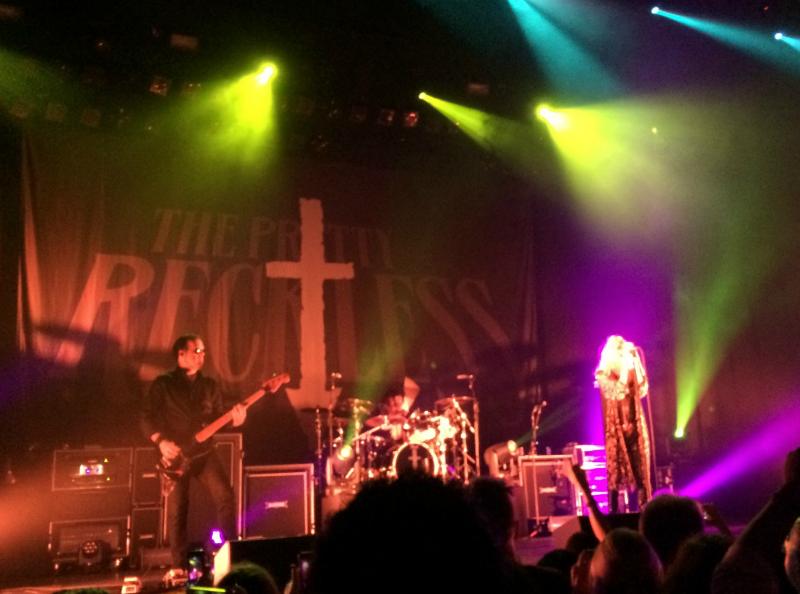 The band chose a satisfying, varied playlist, as their focus was on the new album while playing hits from "
Light Me Up
" as well as some even older songs diehard fans would appreciate. In fact, there is a plethora of unreleased Pretty Reckless songs and covers found on youtube-- I would give "Cold Blooded" a listen (they gave an amazing performance of it on Friday).
The band fed off their fans' energies, as every introduction of a song was welcomed with overwhelming applause. The band followed their first crowd pleaser with their second song of the night, "Since You're Gone." This is possibly the best breakup song ever, as Taylor Momsen sings about reminding an ex that her life "is moving on quite nicely, actually."
Following that was "Sweet Things," an eerie fairytale-esque song about tempting a girl with candy and sin. Momsen is against telling listeners exactly what each song means/why it was written, but I gather this piece fits in with the whole theme of "Going to Hell" in the sense that evil sin and the rejection of innocense play a part in the imagery of the album.
Speaking of the themes of the new album, Taylor's outfits and the stage design played perfectly with the tone of the album. With the symbol of a warped cross everywhere to be seen, the songs felt much more visceral- you could see songs through images and theatrics. They later performed "Dear Sister," immediatley followed by "Absolution." The titles of these songs alone should give you a sense of what type of topics we're dealing with here.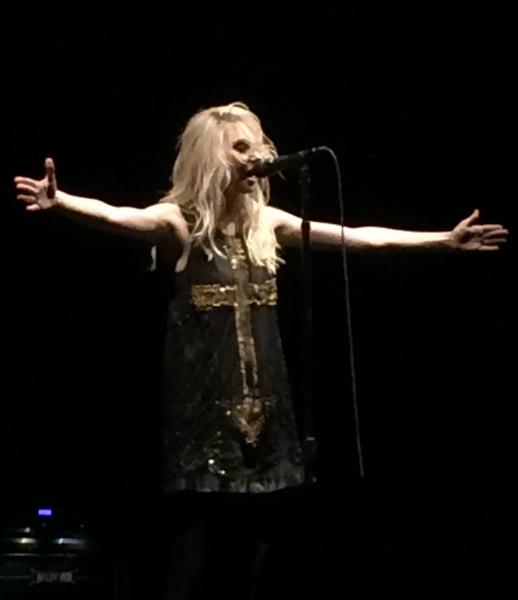 If the setlist of the night lacked anything, it would be an opportunity to play an acoustic version of a song. There was a part of me that was hoping for a performance of "Waiting for a Friend" or "You." Don't get me wrong- every song was successfully picked but a little variety in sound during the show would have been nice-- a guitar solo never hurt anybody.
And who could forget the drum solo and tambourine-filled encore? Between the band's closing song, "Going to Hell," and the extravagant performance of "Fucked Up World," Pretty Reckless fans spent waiting period showing their appreciation for the band. Several chants and screams later, the band came back on stage for their final number. In the middle of the song, Jamie Perkins gave the audence a one-man drum show that was like any other. When the rest of the band came back, they created a party on stage. With a tambourine in her hands, Taylor raised her hands in the air and reminded us what an interesting world full of sex, love, and guns we live in.
The Pretty Reckless blew the crowd away and reminded this music lover that rock is more than just an excuse for headbanging- it's a venue to explore any issues and stimulate thought through the art form.
"Rock 'n' roll is freedom. It's the freedom to fucking say whatever you want and there's nothing better than that," Momsen said.
Reach Staff Reporter Sonia Gumuchian here. Follow her on Twitter here.