MLB
The Los Angeles Angels: A Postmortem Report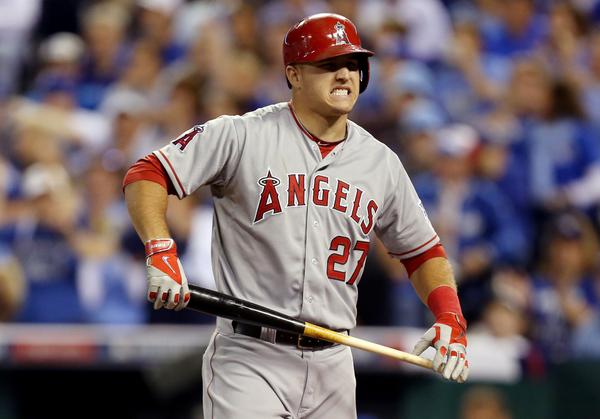 Here lie the Los Angeles Angels.
Here lie the American League West champs, who are now going home after only a three-game stint in October.
Here lies the team that owned the best record in the majors, the best offensive player in the game and one of the best hitters of his generation—all for naught. A team that was eliminated Sunday night after an 8-2 loss to the Kansas City Royals.
Here lie the Angels. A team that scored the most runs during the season and was outscored 15-6 during this short series. Whose usually powerful offense never showed up, and it's most powerful player in Mike Trout showed up with too little too late. Whose "power hitters" had two hits in 25 at-bats and whose whole lineup went 2-for-25 with runners in scoring position.
Here lie the Angels. Whose pitching injuries—one in particular—were more serious than they thought to be. Whose ace Jered Weaver gave up three runs and was defeated, whose second pitcher Matt Shoemaker gave up only one run but it did not suffice, and whose third pitcher C.J. Wilson lasted less than an inning. A team whose supposedly deep bullpen never had a chance to close games out, but rather when their job was to keep them tied, they failed. Twice.
Here lie the Angels. Whose opponent grinded them out with steals, bunts and everything associated with small ball in between, while simultaneously beating them at their own game, hitting home runs when they mattered most.
Here lie the Angels. A team that could never get going, and when it neared a break out or found a small glimmer of hope, it could only shake its head as they were stalled by plays like this. And this. And this:
Here lie the Angels. A team opposite a force of destiny called the Royals. Victims of an underdog movement, perhaps even a casualty of fate. At least the city of Kansas City certainly seems to think so.
Here lie the Angels. Whose early qualification brought the first hope of an October run since 2009 to Anaheim, and whose fans hoped would bring back the magic of 2002.
Here lie the Angels. Stuck somewhere between the future in Mike Trout and Garrett Richards, and the past in Albert Pujols and Mike Scioscia. A team with plenty of talent, but a team with a seemingly nonexistent identity.
Here lie the Angels. Whose regular season brought great optimism, yet whose limited postseason will only bring tough questions.
Above all here lie the Angels. They came, they saw, and they failed to win, much less conquer. A team whose playoff performance was surprisingly inept, and now leaves them swiftly swept.
Reach Staff Reporter/Web Producer Paolo Uggetti here or follow him on Twitter.