Nation and World
L.A. Kurds Bring Fight Against ISIL To Southern California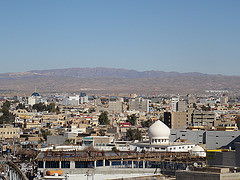 "I have family in the besieged town of Kobane. I know people that are fighting, and am worried about them."
"I had family in Erbil, which was only 20 miles away from ISIS at one point…We were constantly calling them."
"A few times when I went back to Kurdistan, I saw how it was a small haven. We don't feel safe anymore."
These are the voices of Kurds living in Southern California. For many of them, the conflict with ISIL is not merely a question of politics and polemics, but of phone calls, demonstrations, and online petitions. They're fully invested in the fight, and don't plan on losing.
As Americans and their allies discuss boots on the ground, Kurds are engaged in street-to-street fighting in the city of Kobane, in northern Syria. The city has been besieged since the 15th of September, driving more than 160,000 Syrians, mainly Kurds, across the border into Turkey. Crowds of Kurds have gathered along the border to watch the battle, and some Turkish Kurds have even broken down sections of the border fence and joined fighters in the city.
SEE ALSO: President Obama Promises To 'Degrade And Destroy' ISIL
Nyma Ardalan, a secretary at the Kurdish Community of Southern California and a board member of the Kurdish National Congress of North America noted that while global attention has turned to the Kurds in the last few weeks, they've been fighting for months. "Even before they went into Iraq, the IS was fighting [the Kurds]".
For Ardalan, the question is not whether he should act, but how he can most effectively bring attention to the crisis. He says the community held demonstrations in front of the Turkish embassy and the Syrian Consulate office, but these are only a first reaction.
"We are lobbying. We have online petitions, getting signatures to persuade governments to help the Kurds. We are in process of getting financial support, of receiving donations to get medical help." One of his personal projects is soliciting manufacturers and shipping companies to help get supplies to the region at a reduced cost.
Soraya Fallah, a cofounder of the Voice of Kurdish American Radio, notes that it has been difficult for the community to get media attention in the past, largely, she claims, because "Turkish lobbying is powerful in the United States". She noted that the relatively small number of Kurds in the state was another factor. "We have a lot in San Diego, but here in LA I think we have less than 100 families".
SEE ALSO: The Islamic State Adds The Pope To Enemies List
Until a recent move to San Jose, another member of the Los Angeles community was Ranj Zuhdi, who helped lead a chapter of the Kurdish Youth of Greater LA County. Though he was born and raised in Saudi Arabia and his immediate family is out of harm's way, he has played an active role in email awareness campaigns, and mentioned efforts to contact state representatives. "I feel like a lot of Americans have shut their eyes to foreign policy", Zuhdi said.
Despite the tragedies of the conflict, many Kurds see a silver lining. "Kurds are more or less recognized as a separate people", noted Ardalan. For a people group that has been dispersed across Iraq, Turkey and Syria, that's a significant step toward an autonomous nation, their ultimate goal. "Iraq is a dysfunctional country, and short term actions won't save it, unfortunately", said Zuhdi.
The result of the current conflict won't happen in a vacuum. The Kurds of California are fully invested in their people - for better or worse.
Reach Staff Reporter Timothy Vernon here or follow him on twitter.