Music
G-Eazy At The Observatory: Review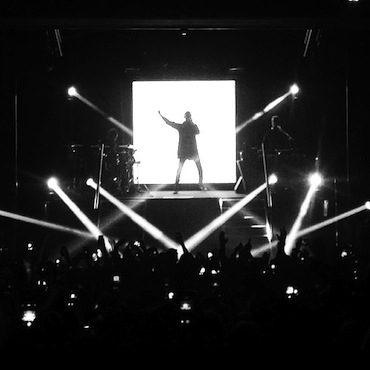 With G-Eazy's ever-growing fanbase, it's a surprise he opted for a restricted venue like The Observatory in Santa Ana, Calif. The Bay area rapper's night was further plagued by delays between sets, but ultimately his electrifying performance redeemed the night for fans - old and new alike.
The Bay to the Universe Tour is made up of HBK's very own Jay Ant, newcomer KR, Bay veteran E-40 and G-Eazy himself. KR started the evening with a few tracks as the crowd started to pour in. Power 106's DJ Carisma played sets in between acts (one of approximately four DJs killing time with sets that night). Jay Ant followed, performing several songs like "Crazy," "What's Hatnin?" and "Ask Yo B*tch." During his time onstage, he smoked with the crowd and encouraged a "middle fingers in the air" movement.
After more time killing came E-40. G-Eazy said E-40 was his idol when the former was just taking on his music career. E-40 certainly proved he had accumulated years in the industry, performing songs the baby-faced crowd didn't know well enough to sing along to. Concertgoers did, however, know the lyrics to "White Gurl," "I Got Five On It," "My Sh*t Bang," "Snap Ya Fingaz," "Function" and his most recent feature "IDFWU." He ended with "Tell Me When To Go," a wise choice that left the people pumped.
Unfortunately, the tiresome delay between E-40 and G-Eazy destroyed the vibe. Anticipation certainly heightened, but so did anxiety. The crowd chanted his name in hopes of a reaction, a dramatic entrance of some sort. But still fans waited. Was there a technical issue? Is G-Eazy okay to perform? Over 40 minutes passed before we got sight of him. In the meantime, two DJs performed. Thankfully, the song choice ("Pop That," "Tuesday," and other dance-worthy tunes) helped keep everyone at least swaying in their spot.
READ MORE: Charli XCX At The Mayan Theatre: Review
Perhaps the most distracting part of the night, besides the absurd delays, is the venue itself. Another band played in the next room over on a different stage and vibrations from their songs were felt in G-Eazy's room. For someone standing in the back of the room close to the bar, the two sounds clashed and overlapped at times. G-Eazy opened for Lil Wayne during the latter's America's Most Wanted Tour… He deserves at least the El Rey or the Wiltern to perform at. This cramped venue in the corner of a parking lot is undeserving of G-Eazy's eager fans. The stage was small. The room could not hold all the Los Angeles County and Orange County fans who undoubtably would have wanted to attend. Of course this show was sold out.
The setting aside, G-Eazy worked well with what he had. He took the stage on a little lofted rise before making his way down the steps to the equally small lower half. A screen behind him flashed what appeared to be screensaver imagery you would find on a Windows computer. It helps provide life to the show, but it does little to add to the experience and cheapens his stage presence. Another nuisance is the bright lights, which are oh so inconveniently aimed and flashed at the crowd. How incredibly painful for someone who would find a flashlight aimed in the eyes to be offensive.
Still, the crowd forgave everything once G-Eazy took the stage and chanted his name between songs. He appeared dressed in a dark-colored trench coat and the same colored pants to match. He kicked off the night with "Downtown Love," followed by known hits like "Monica Lewinsky," "Lotta' That," "Must Be Nice," and his own rendition of Genuwine's "Differences" entitled "Complete."
G-Eazy is compared to the likes of T. Mills, though the former is more dapper in appearance while the latter strives for a rougher persona. Perhaps G-Eazy embraces the similarities between him and T. Mills, considering G-Eazy brought out Blackbear (For their song "Remember You") and gave a shoutout to Mod Sun (For their song "Stay High") - both of whom toured with Mills last year. Also like at T. Mills' show, bras were flung onstage for G-Eazy to scoop up.
READ MORE: T. Mills At The El Rey: Review
After a quick break (Of course!), the show picked up. He performed more hits - old and new - such as "Lady Killers," "Hot Box" (For which he actually brought out Bobby Brackins and Mila J, both originally on the track) and "Almost Famous." At some point, his screen flashed mock magazine covers appropriately named like Ezquire, Rolling Stonez and Forbez. He brought out E-40 and Jay Ant for a "Far Alone" performance.
As good as G-Eazy made the night, simply picking a different venue may have helped immensely. This was his second time playing at this venue and fans don't need a third. Get this man the proper theatre, he deserves it.
Reach Film Editor Kathy Zerbib here. Follow her on Twitter here.