Film and TV
Film Review: 'Fury'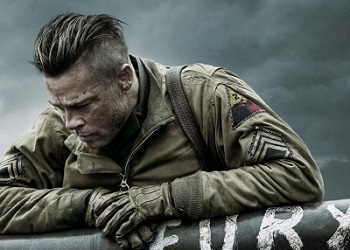 Brad Pitt is back in the killin' Nazi business.
Equally as rugged, equally as savvy. But armed with only four other men in the heart of Nazi Germany, he's going to need a lot more fury. And it sure shows.
Pitt helms "Fury," a World War II drama directed by David Ayer. Ayer has a relatively small but impressive pool of writing and directing credits, including "End of Watch," "Sabotage," "Training Day," and "The Fast and the Furious." He's arguably the most suited filmmaker to have us confront the bitter realities of war, especially one with men that are impossibly outnumbered and outgunned.
READ MORE: Film Review: 'Birdman'
Now thrust Norman Ellison (Logan Lerman) into the fray, a trained typewriter sent to fight in Don "Wardaddy" Collier's (Brad Pitt) crew and his Sherman tank, aptly named "Fury." A young, scrawny guy, he's far too clean in an environment where men's faces are stained with blood, gunpowder, sweat, and mud. And he's to replace the best gunner Wardaddy's ever known; poor Norman finds half the man's face inside the tank, and vomits on sight.
In his own words, "I'm only trained to type eighty words per minute!" And he flinches when he touches a gun. But as Wardaddy forcibly shows him, either he fights, or their crew will die at the hands of Germany. Norman is left sobbing uncontrollably in the mud.
It is through Norman's eyes that we experience war, with Wardaddy a rugged anchor in Fury and her crew: Trini 'Gordo' Garcia (Michael Peña), a determined yet humorous gunner; Boyd 'Bible' Swan (Shia LaBeouf), a cannon-launching man of faith; Grady 'Coon-Ass' Travis (Jon Bernthal), a belligerent engineer.
Five men, one tank. They experience life and death together, on and off the battlefield. Though they are rarely off.
As a result, battle sequences are not so much frequent as they are sudden; a moment of peace could last from a couple minutes to a couple hours, right until the next mortal shell hits. Tension and uncertainty is laced throughout the movie, making for suspenseful scenes and cathartic action.
READ MORE: 'Nightcrawler' Film Review And Interview With Director Dan Gilroy
Violence is by no means excessive in the film. But what the movie's violence lacks in frequency (although not a bad thing), it makes up for in realism. Perhaps too realistic. Nauseatingly realistic.
"Fury" relentlessly pursues realism; it's the right way to portray the hell that is war. So go ahead and throw up at the sight of the violence here. The intention works disturbingly well.
Working equally as well is the movie's cast, all delivering strong performances (although you should clap for them, not throw up for them). Pitt makes a fine leading man as usual, and Peña and Bernthal turn in memorable characters. For these two, there's even a few funny moments thrown in, and they never fall flat. For a semi-leading man, Lerman does his job well.
And making an impact is LaBeouf himself, who is attempting to revive a derailed film career after several public and personal issues. There is no trace of a troubled actor here; only the bloodied, battle-scarred figure of a religious cannon launcher. LaBeouf does not merely play his part; he becomes it.
Memorable characters, a violently disheveled atmosphere, and sharp writing by Ayer coalesce into what should be one of 2014's most favored movies. Romance too emerges in this war story, but the foundation of "Fury" is so strong that it perfectly fits in as a memorably loveable reprieve.
But war is hell. Running away from it all solves nothing. And as Ellison must learn, having the guts to shoot a man dead takes more than a trigger finger. It requires something hanging in the balance.
And when that something is lost, there is nothing left within. Only fury.
Reach Staff Reporter Rex J. Lindeman here, and follow him on Twitter.