Film and TV
'Nightcrawler': Film Review And Interview With Director Dan Gilroy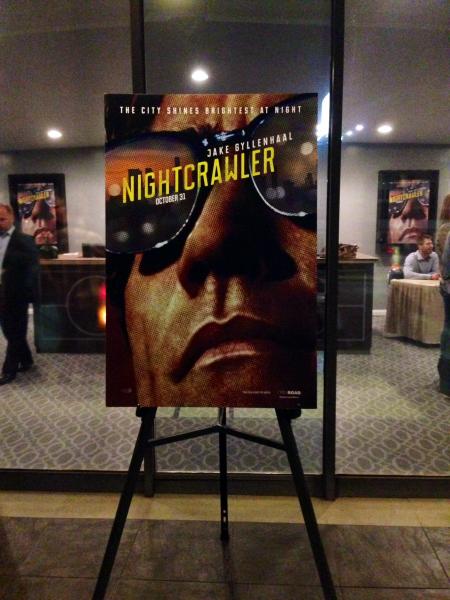 Jake Gyllenhaal plays this decade's "Hannibal the Cannibal" in Dan Gilroy's "Nightcrawler."
Lou Bloom (Gyllenhaal) lives as an Angeleno bottom feeder, scouring for jobs to do in the most non-kosher way possible. After striking out during his latest attempt at money-grubbing, Bloom stumbles across a bloody car accident on the freeway, and his eyes – much like they do in the entirety of the film – bulge with sadistic excitement. He lurks in a statuesque manner as the action unfolds: the victim being bandaged up and a freelance camera crew butting their lenses in to capture the gore.
READ MORE: Film Review: 'Gone Girl'
These camera guys, known colloquially as "nightcrawlers," fascinate Bloom, and he immediately tries to join the ranks of the great news sensationalists. Slithering his way into buying a new camera, Bloom commits one questionable act after another to plot his way to the top. As the film progresses, viewers come to understand that this guy is sicker than they had previously imagined, though he still has an odd likeability to him.
Director of the film Dan Gilroy told Neon Tommy, "[Bloom] would be a sociopath, but we were always very careful not to make him look [like] that's all he was. We wanted to sort of say, 'Ok he has these tendencies, but there's another side to him.' So [Gyllenhaal] was always looking for the humanity of the character, like the loneliness, the desire to have a job, and to want a relationship, so that the audience always connected with him beyond that simple label. That was really important."
READ MORE: Film Review: 'The Judge'
The intricately written script pairs beautifully with the visuals of the film, due, in large part, to the backdrop of Los Angeles. The film is shot in radiant color with a vintage feel and constantly lets viewers take in the city atmosphere through landscape shots and strategic backgrounds. Capturing these scenes, however, was not an easy task. "Every night we were leapfrogging ahead, trying to find a location that hadn't fallen through to shoot," Gilroy said. "We were making our nights by minutes every night. It was a miracle that we stayed on budget and schedule. It was a testament to people who worked on the film, to be honest."
"Nightcrawler" has dynamic roles with talented actors to fill them, including Rene Russo as Nina and Riz Ahmed as Rick. It is the first movie in a long time that, ironically, does not use sensationalized action to capture the audience's attention, but rather the more sophisticated Hitchcockian method of mind-tinkering suspense.
"Donnie Darko" fans will love the film. So, too, will anyone wanting a little thrill on Halloween night, the date of the film's opening. The movie depicts everything that's wrong with sensational news, and does so in a cynically humorous way. "Nightcrawler" is highly anticipated, already with a nomination for Location Team of the Year.
"I'm very fortunate that I love the film we made," said Gilroy. "I really do. I love it."
Contact Reporter Sarah Collins here. Follow her on Twitter here.