California
California High-Speed Rail On Track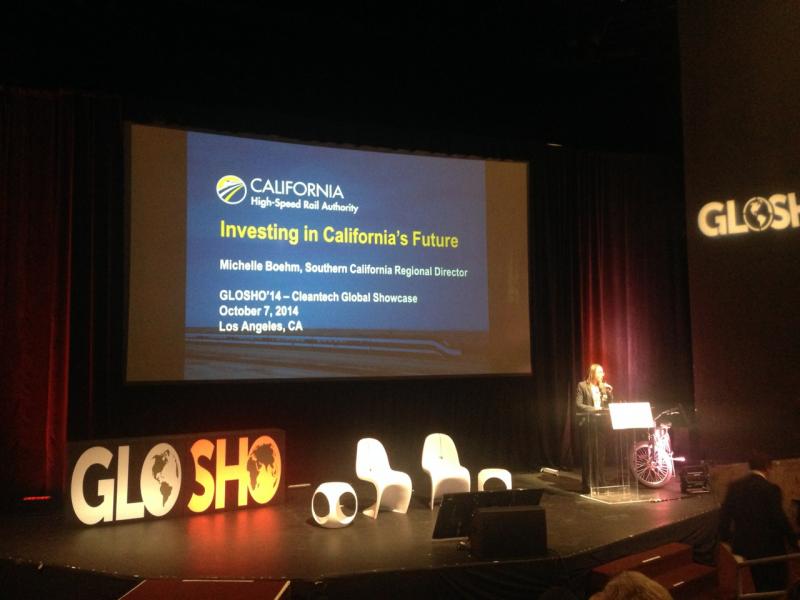 As one of the featured presentations at the LACI Cleantech Global Showcase
Tuesday
, the California High-Speed Rail
Authority
outlined what lies ahead for the high-speed, all-electric rail system.
The presentation was part of GloSho 2014, where investors and entrepreneurs gathered at the Los Angeles Theatre Center to network and trade ideas.
"This planned system will connect 8 of the ten largest cities in California and provide ease of movement across the state," said Michelle Boehm, Southern California Regional Director, California High-Speed Rail Authority. "We can connect the best and brightest and smartest people that we have and transport them to where they need to be to foster types of industries and services that we want to grow here in California."
The rail system will span over 800 miles, with the Phase 1 construction stage including a 500-mile section from the San Francisco Bay Area down to Anaheim. The Phase 2 system will reach from Merced to Sacramento, then from Los Angeles to San Diego through the Inland Empire.
"One of our biggest challenges is how we move people and goods across the state and it is critical that we improve the efficiency of that movement," said Boehm. "High speed rail delivers, we have choice, mobility, reduced congestion, and we connect communities and workforces across the state."
SEE ALSO: L.A. Cleantech Global Showcase Kicks Off
According to current plans, there will be two major transportation hubs in the Los Angeles area.
The first will be in Burbank, where the high-speed rail will run near the Burbank Airport and create a central transportation area that combines air, high-speed train and Metrolink travel.
The second major transportation hub in L.A. will be located at the Los Angeles Union Station and will include bus, light rail, bike, subway, Metrolink, Amtrack and high-speed rail transportation options.
"LACI is located downtown, and we're located just a few blocks south of Union Station, so we are particularly interested in the high-speed rail," said Michael Swords, Vice President Partnerships, Los Angeles Cleantech Incubator.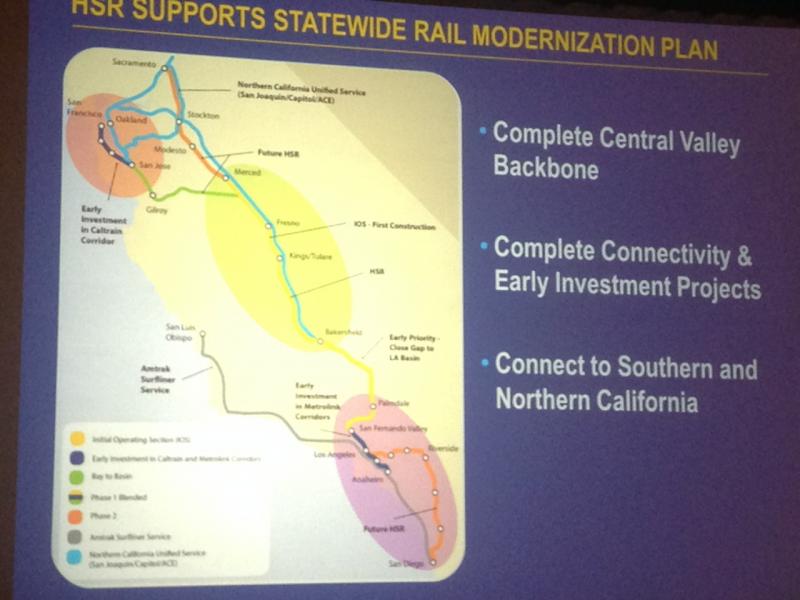 High-speed rail construction is currently underway in the Central Valley and the California High-Speed Rail Authority has awarded their first construction contract for an amount just shy of $1 billion.
The high-speed rail project will receive future funding, in part, by California carbon cap-and-trade sales.
"We now have a long term source of funding to build the system for California and we are looking to start construction in Southern California while we continue construction in the Central Valley," said Boehm.
In the context of green technology, the high-speed rail project has the potential to encourage growth in the green tech sector due to the project's local construction parameters.
"We have a robust small business goal and a 30 percent small business contracting goal for all of our work on high-speed," said Boehm. "We are supporting small and medium businesses that are really the backbone of California right now."
READ MORE: Brown Signs Electric Car Bill
One of the main arguments for constructing the high-speed rail is the environmental benefits of a statewide, all-electric transportation system.
"We have a strong sustainability platform, we are net-zero in terms of emissions," said Boehm. "When this mode of transportation goes live we are reducing greenhouse gas emissions across the state and our partnerships also reduce emissions in the shorter term."
The first high-speed rail system will be operational in Southern California in 2022, with the rest of the phase online in 2029.
Ticket prices have not yet been set, but consumers can expect a price that is between 50-75 percent of the cost of an airline ticket and will have a travel time of 2 hours and 40 minutes or less.
"Make no mistake about this, it is a fast, fast train and that is what makes some of our work very hard," said Boehn.
Reach Editor-at-Large Michael Nystrom here. Follow him on Twitter here.