USC Sports
Bricio Dominant For Women Of Troy In Straight Set Victory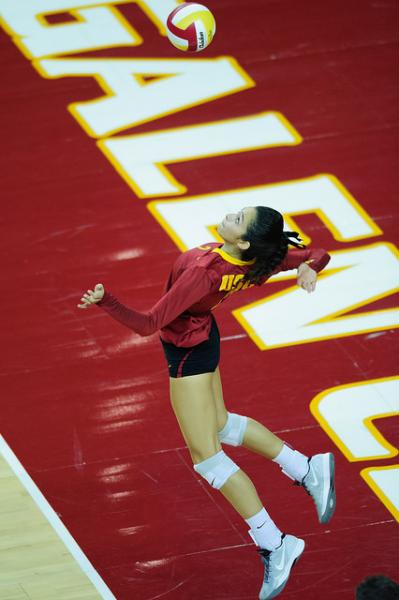 The Women of Troy finally earned their first match victory of the season in stunning fashion against the Buffaloes from Colorado University (10-7, 2-3 Pac-12). USC (9-6, 2-3 Pac-12) was more than ready to earn their first home win.
USC took all three sets—25-20, 25-18, 25-19—with determination, leadership and control.
The first set went back and forth between the Buffs and the Women of Troy. A huge kill from junior outside hitter Samantha Bricio early on set the momentum for her and the rest of her team.
An ace from Bricio about midway through the first set was more than just another point: Bricio became the all-time service ace record leader for USC and second in the Pac-12. This is the 23rd time she has recorded at least three aces in a match. Bricio also lead the Women in Troy with 14 kills. To say that she had a successful game would be an understatement.
"She was almost unstoppable," head coach Mick Haley said about Bricio after the match. "I don't think they had an answer for her at all."
In the second set, Bricio continued to dominate both at the net on the attack and at the back line with her serves. Both freshman outside hitter Lauryn Gillis and junior middle blocker Alicia Ogoms dominated at the net, each recording three kills on three attempts in the second set.
During the third set, senior outside hitter Emily Young and sophomore setter Alice Pizzasegola fell into a great attacking groove. Young recorded four monster kills during the set, seven on the night.
"I though Emily stepped up big time tonight," Haley shared after the game. "Alice had almost mental telepathy with her."
SEE ALSO: Women Of Troy Fall To UCLA In Straight Sets
Senior setter Hayley Crone had a bit of an issue with a nosebleed after a direct shot in the third set. After it first happened, she jogged off to the sidelines to get it taken care of quickly so that she could get back out on the court. Crone went back out again for a couple serves, but eventually had to be taken out when the bleeding wouldn't stop.
"She stayed right in there and fought," Haley said after the match. "I was proud of her."
In fitting fashion, Bricio recorded a kill to end the night for the team's first win at home.
"She really pounded a couple of balls," Haley said of Bricio afterwards. "I would not have wanted to be in the way of those."
Overall, the Women of Troy seriously stepped up their play this match. Together the girls were focused, cleaner and stronger in comparison to their previous home matches. Both their explosiveness at the net and their dedication on defensive improved tenfold, putting up 42 kills and 42 digs.
Sophomore libero Taylor Whittingham had a solid performance defensively. After shaking off a slightly skittish start, Whittingham locked into focus.
All around, the Women of Troy were elated to finally win at home.
"We missed that feeling from last year," Bricio shared. "So we had to do it."
"Most importantly, we owe it to our fans," Young said. "We really owed it to them to get that 3-0 win tonight."
On their performance tonight, Young shared a bit about what they worked on during practice to prepare for tonight's match.
"We made it a point in practice to expand our volleyball IQ and the style that we play," Young discussed. "That way if there's not a hard hit available we can see all our other options and choose the best one."
SEE ALSO: USC Women's Volleyball Falls To Florida
Previously, Haley spoke about the team's lack of leadership. This match, he was more than impressed with how Bricio settled into a leadership role this match.
"She just got stronger," Haley shared. "She gave everybody a lot of self-confidence."
Haley also noted that Whittingham really stepped up for the team. He was proud of the leadership roles that both Bricio and Whittingham took control over.
"When [Whittingham and Bricio] step up," Haley commented. "Everybody follows."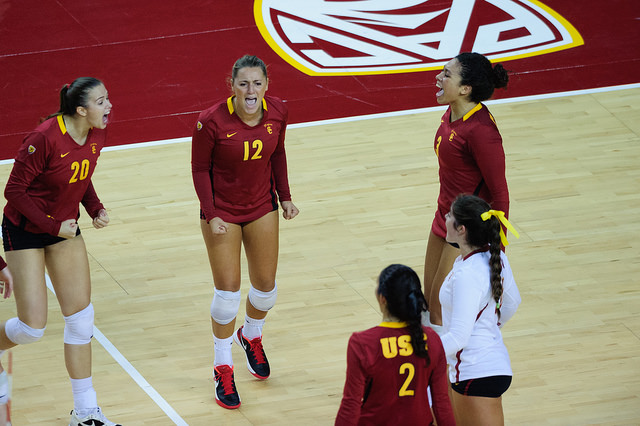 Following their success, Haley was incredibly pleased with his team, but he also is looking towards Saturday's match.
"We have to leave this match behind and not let people pat us on the back too much," Haley mentioned. "We have to go right to the next match, which is Utah."
Along with Haley, Young also is looking forward to the match against Utah.
"We owe it to ourselves to get another 3-0 win," Young said. "Just keep climbing up the mountain and just keep taking teams off one-by-one."
Haley is optimistic about the next couple of games and the success his team can achieve.
"You haven't even seen our real team yet," Haley proudly commented. "Wait until they really get focused and start playing."
The Women of Troy look to record another win against Utah (11-5, 1-4 Pac-12) on Saturday at 7 pm at the Galen Center.
Reach Staff Reporter Jodee Sullivan here or follow on Twitter here.