USC Sports
Women of Troy Fall To UCLA In Straight Sets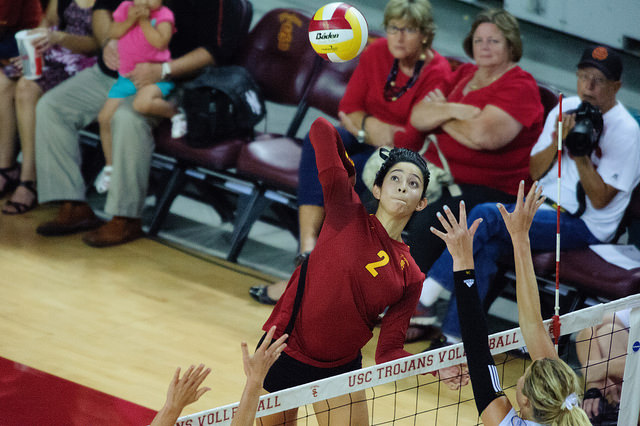 For their first Pac-12 Conference game, the ninth-ranked Women of Troy faced none other than the UCLA Bruins, but lost to their crosstown rivals in three sets (25-23, 25-13, 27-25).
From the start, the intensity was high in the Galen Center. Fans from both schools supported their teams dressed proudly in their respective school colors.
To start the first set off, freshman outside hitter Lauryn Gillis came in with a huge block for the Women of Troy. Sophomore Ebony Nwanebu completely stuffed the Bruins' attack with a monster block. The beginning of the set consisted of back and forth points for both teams. There were a total of 16 tie scores in the set and six lead changes. Starting with such intensity, one would only expect for it to increase throughout the match.
Junior outside hitter Samantha Bricio lead her team with 12 kills in the set. She once again exhibited her offensive dominance at the net. Senior outside hitter Emily Young came in late in the set to aid in the Women of Troy's attack and gain the lead at 18-17.
Down 20-23, USC called a timeout to reset. Following a Bricio kill and some errors by UCLA, the Women of Troy were within one, at 23-24. UCLA decided to call a timeout to regroup for set point. Once play resumed, senior outside hitter Karsta Lowe got a kill, winning the set 25-23 for UCLA.
Heading into the second set, the Women of Troy started off strong with a huge kill by Bricio. In the beginning, the set went back and forth, just like the first set; however, some errors by USC compounded with some kills from Lowe—who began to look unstoppable—UCLA started to pull ahead. A much-needed kill by Bricio got the side out for USC as they were behind 8-16.
USC started to comeback, but UCLA continued to pull ahead and rack up points. Ending with errors by the Women of Troy, UCLA took the second set 25-13.
Going into the break, USC needed to clean up their errors and come back out on the court with a renewed sense of determination to win the third set.
SEE MORE: USC Women's Volleyball Falls To Florida
At the start of the third set, the Women of Troy looked ready to capture some momentum. UCLA took the first couple of points, but a huge kill from Gillis earned USC their first point. Some miscommunications by USC lead to errors that turned into momentum for the Bruins. Trailing 12-19, USC called a timeout to try and regroup together. The Spirit of Troy kept the energy high and lively in the stands.
Coming out of the timeout, Gillis recorded some big kills for the Women of Troy. With some attacking errors by UCLA, USC was now within four, at 16-20. The Women of Troy continued to fight with great serving from sophomore libero Anne Marie Schmidt and freshman outside hitter Taylor Wheatley, and now only trailed 20-22, sending UCLA to call another timeout.
A spectacular spike from Young put the Women of Troy within one. The Galen Center was rocking as it looked like USC would win the set over UCLA. A huge kill from Bricio tied the set at 23, and then a great block from Bricio and junior middle blocker Alicia Ogoms tied it at 24. A kill by Lowe tied it at 25. With extreme intensity on the court, it was obvious everyone's emotions were high.
Unfortunately for the Women of Troy, two consecutive kills by the Bruins earned them the set and the match.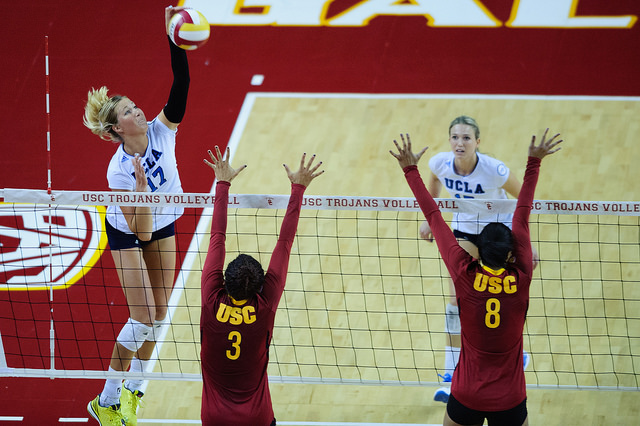 Following the loss, head coach Mick Haley was worried about his team's unforced mistakes. "If we correct [errors]," Haley said. "Then we're ok."
Conversely, Bricio claimed that the team "needs to create energy" to be victorious.
Haley expanded on Bricio's leadership role on the team and how he's already asking a lot of her. "She's taking it on," Haley said about Bricio. "She's not flinching."
In the face of recent losses, the volleyball skipper touched upon UCLA legend John Wooden's perception on wins as future motivation following his club's rough start.
"Wooden never talked about winning," Haley shared. "He talked about executing."
Haley is optimistic that his team will execute sooner rather than later and believes that, with their talent, the Women of Troy will battle back from their rough start.
"This is a great opportunity," Haley stated. "We just have to let these kids grow."
The Women of Troy (7-4, 0-1 Pac-12) look to take down ASU on Friday at 6pm at the Galen Center.
Reach Staff Reporter Jodee Sullivan here and on Twitter here.