NBA
Are Jabari Parker And Andrew Wiggins The Next Carmelo And LeBron?
Eleven years ago, the National Basketball Association was blessed with one of the deepest and most talented draft classes in the history of league. Led by the world's premiere player in LeBron James, the 2003 Draft Class still boasts some of the world's premiere players in the world: most notably, LeBron (the first overall selection), Carmelo Anthony (third), Chris Bosh (fourth) and Dwayne Wade (fifth). The draft also featured many of today's consummate veterans, including Chris Kaman (sixth), Kirk Hinrich (seventh), Nick Collison (12th), Luke Ridnour (14th), David West (18th), Boris Diaw (21st), Kendrick Perkins (27th), Leandro Barbosa (28th), Josh Howard (29th), Steve Blake (38th), Zaza Pachulia (42nd), Keith Bogans (43rd), Mo Williams (47th), James Jones (49th) and Kyle Korver (51st).
Headlining that draft class in the eyes of talent scouts and GM's were three players: James, Anthony and now-colossal NBA bust Darko Milicic. LeBron was arguably (and still to this day) the most publicized high school player ever in the history of the sport, having signed a $100 million dollar contract with Nike—including an immediate $10 million bonus check—two weeks before he even graduated high school. Carmelo, who was a year above James, had just led Syracuse to an NCAA National Championship as just a freshman.
Darko, on the other hand, should forever feel gratitude toward Dirk Nowitzki and Yao Ming for helping spark a "foreigner frenzy" among NBA general managers and owners alike in which European and foreign prospects began to be heavily scouted and lusted after.
James and Anthony had been familiar with one another since 2001, when they partook in a USA Basketball development camp together. James, who became the youngest player ever to do so, came home from the camp raving about Carmelo, who had impressed him immensely.
SEE ALSO: 2014-15 NBA Preview: The Dumpster Awards
The narrative grew when their respective high school teams faced off in 2002 in a nationally promoted game in front of more than 11,000 spectators in Trenton, New Jersey. Anthony, the top-ranked senior in the nation for Oak Hill Academy, scored 34 points while grabbing 11 rebounds and dishing out 2 assists. James, the top-ranked junior in the nation, led his team, St. Vincent-St. Mary, with 36 points, 8 rebounds, 5 assists, and 6 steals. In the end, Anthony's Oak Hill team edged LeBron's St. Vincent-St. Mary team 72-66. However, the eyes and hearts of the nation were captivated by the two most exciting players in the country.
The next year, the hype doubled. Now a high school senior, James was featured on multiple magazine covers and led his team to his third state championship in his four year high school career. Anthony, now a freshman at Syracuse, led the Orangement to their first-ever national championship, winning the NCAA Tournament's Most Outstanding Player award following his 33-point effort in 'Cuse's Final Four matchup with Texas and a 20-point, 10-rebound performance in the national championship game.
Following their seasons, each player declared for the 2003 NBA Draft, with LeBron opting to forgo college, and Anthony deciding to leave after just one season despite originally planning to stay at Syracuse for multiple seasons. James, a 6'8" 240-pound forward, was touted as an all-around player and physically elite specimen who would impact the game on both ends of the floor. However, Anthony, standing 6'8" as well and weighing in at 233 lbs, was seen as the better scorer and the (slightly) more NBA-ready player coming out of the draft between the two, despite needing some work on his defense and physical shape. And so the narrative continued.
Largely thanks to the excitement surrounding James and Anthony, the 2003 NBA Draft Lottery—where the draft order is determined via a random system of envelope opening—became the first in NBA history to be broadcast in prime time as its own individual show. The Cleveland Cavaliers received the number-one overall pick, and shortly after, declared that they would take home-town hero James. Many people felt that Anthony should be selected immediately after, as the second overall pick.
However, the Detroit Pistons, who were incredibly fortunate to land the second-overall pick in the first place from the Memphis Grizzlies (had the Grizzlies received the number-one overall selection, they would have kept the rights to their draft pick. This was the result of a unfortunate 1997 trade with Detroit), already had SF Tayshaun Prince, and were looking for a big man. Hence, they selected Darko with the 2nd overall pick. Whoops.
With James and foreign wonder-boy Milicic off the board, the Denver Nuggets had an easy decision in selecting Carmelo third. The rest is history.
It is hard to believe that it has been over a decade since LeBron, 'Melo, and the rest of the 2003 draft class entered the NBA. There hasn't been a class as deep or talented since. At least, not until this year (potentially): the incoming 2014 class of NBA rookies has widely been billed as the deepest since that '03 draft. The new young players entering the league this season are expected to make a profound and lengthy impact on the league. However, despite this expected wide-ranging talent, a la 2003, there is once again a spotlight shining brightly on two small-forwards headlining the draft class: Andrew Wiggins and Jabari Parker.
SEE ALSO: 2014-15 NBA Preview: Over/Under Win Totals
***
The comparison of Wiggins and Parker to LeBron and Carmelo dates back to Wiggins' and Parker's high school days. Wiggins, who is Canadian, transferred to Huntington Prep, a basketball-focused college-preparatory high school in West Virginia to play his sophomore and senior years of high school (he reclassified from the class of 2014 to the class of 2013, thus foregoing his junior season). In his senior season, Wiggins won Mr. Basketball USA, the Gatorade National Player Of The Year award, the Naismith Prep Play of the Year Award, and was a McDonald's All-American. Heading into college, Wiggins was the number one ranked prospect in the country. At 6'8" 200 lbs, Wiggins was labeled as a proficient offensive player, though needing work on his jump shot, and an elite defender, with athleticism to match any player in the country.
Between his playing style, his size, and his high school success, it's no wonder he was drawing comparisons to LeBron: their high school scouting reports were nearly identical. In his lone season of collegiate basketball at Kansas, Wiggins averaged 17.1 ppg and 5.9 rbg, and was named a consensus second-team All-American.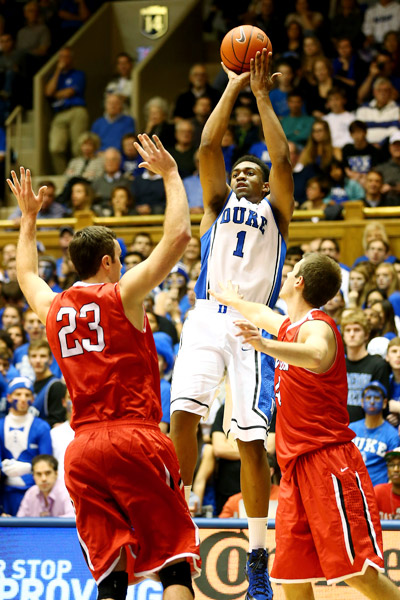 Parker, raised in Chicago, IL, attended Simeon High School in Chicago (Derrick Rose's alma mater), where he started on the varsity team for all four seasons, leading the program to four consecutive state championships. As a junior he won the Gatorade National Player of the Year, and heading into his senior year was the top-ranked player in the country for his class. However, Wiggins' reclassification and a foot injury caused Parker to fall from that top spot by the end of his senior year. Nonetheless, when he returned to action, Parker was able to accrue prestigious awards as a senior, including being a McDonald's All-American, a first-team all USA award from USA Today, and a roster spot on USA Basketball's Junior National Select team.
At 6'8," 236 lbs, Parker is a very similar build to that of Carmelo Anthony, and has been blessed with a similar offensive skill-set: Parker has a smooth, well-elevated jumper, a quick first step, a solid low post game, and has a talent for rebounding, at least for his position. As a freshman for the Duke Blue Devils, he averaged 19.1 ppg and 8.7 rpg, and was a consensus first-team All-American after being the first freshman in Duke history to lead the team in both scoring and rebounding average.
After declaring for the NBA Draft, Wiggins was selected number one overall by the Cleveland Cavaliers. Many people were excited to see Wiggins, possibly "the next LeBron," develop and play alongside the real LeBron. However, thanks to one of the more exciting off-seasons in recent memory, he will begin his career playing for the Minnesota Timberwolves, after he was exchanged for former Wolves' All-Star power forward Kevin Love. Parker, not surprisingly, was selected immediately after Wiggins by the Milwaukee Bucks.
Much like LeBron was tasked with reviving the Cavaliers and Carmelo the Nuggets, Wiggins and Parker each are now tasked with turning around two lottery franchises desperate for a quick turn-around. This is especially the case for the Timberwolves, who just parted ways with their former superstar in Love, and who have not made the playoffs since LeBron and Carmelo were rookies. Feel free to reread that last part again, for the maximum Minnesota-winter ice-cold shock.
Given the circumstances—their style of play, physical attributes, past successes, and the face-of-a-rebuilding-franchise role they each find themselves in—it would seem like a given that Wiggins and Parker are the second coming of LeBron James and Carmelo Anthony. However, to label them as such would be an injustice: as talented as Wiggins and Parker are, it is hard to imagine them being as accomplished in eleven years as LeBron and Melo are.
Over the course of their careers, James and Anthony have combined for 17 All-Star game appearances, eight All-NBA First Team selections, five All-Defensive First Team award selections, four regular season Most Valuable Player awards, four All-NBA Second Team selections, four All-NBA Third Team selections, two NBA scoring titles, and finally, two NBA Championships and subsequent NBA Finals Most Valuable Player awards.
SEE ALSO: 2014-15 Preview: Sleepers And Underachievers
In the case of Wiggins, for all the physical athleticism he possesses, he will probably never be able to match the physicality that LeBron James possesses. Much of James' dominance is the result of having a point-guard's quickness and agility combined with a 6'8" 240+ pound frame that allows him to bully most players at his position. While Wiggins has the quickness, the agility, and the height, there is one thing he sorely lacks: the weight. Depending on the source of the measurement, Wiggins doesn't even eclipse the 200-pound mark: ESPN has him listed at 199 lbs. And while there is certainly room for muscle-gain, it is clear that Wiggins' body type just isn't the same as LeBron's, and that will likely factor into his "potential for dominance," especially in the case of offensive and defensive post-up situations.
It also remains to be seen as to what kind of offensive production Wiggins will be capable of at the NBA level. His jump-shot has been questioned (he shot just 44.8% from the field at Kansas), as has his ability to shake defenders off the dribble. However, considering it was his first-ever action in an NBA uniform, Wiggins shot a respectable 41% from the field in his four preseason games (including 3-5 from three-point range) while only committing two combined turnovers. Though it was just the preseason, early indications suggest Wiggins may be more offensively polished than originally thought, which would be a step in the right direction for the LeBron comparison. However, at this point, it seems unlikely that Wiggins will ever reach LeBron's 11-year career average of 27.5 points per game.
Parker, on the other hand, very well could put up some freakish offensive stats. Much like Carmelo, Jabari has a knack for pouring in buckets. However, Jabari has also been compared to Carmelo in two ways that are not so flattering. Parker's physical shape has been questioned, as he enters the season around 235 lbs, a little heavy for someone who can not quite match the freak-athleticism of a Wiggins or LeBron. Perhaps as a result of his physical shape, Jabari has also been criticized as being a rather lackluster defender. This is not unlike criticism Carmelo has taken throughout the course of his career.
Parker enters the league on a hapless Bucks team that finished with just 15 victories last season. This is similar to Anthony's rookie season, when he was handed the reigns of a Nuggets team that had only won 17 games the year before. Anthony, however, was able to turn almost that same Nuggets team around in just one season, leading the team to a 43-39 record and a playoff berth. And although Carmelo has never won (or been in) an NBA Championship, his teams made the playoffs for ten straight years before the his 2013-2014 New York Knicks team imploded last year and he was sent home after the regular season for the first time in his career. Unfortunately, in the case of Parker, it is hard to imagine Milwaukee turning things around in the near future, even with the addition of Jabari to the roster. At least he will be scoring a lot of points, as he will undoubtedly have an ever-constant green-light to shoot being the new heart and soul of Milwaukee basketball.
Ultimately, it is unfair to compare Andrew Wiggins and Jabari Parker to LeBron James and Carmelo Anthony. Sure, there are a lot of similarities between the two rookies and the 2003 rookie versions of James and Anthony. But the incredible hype and expectations that accompany such a serious comparison could very likely lead to disappointment. There is little doubt that Wiggins and Parker will be studs in the NBA for years to come, but if we analyze their careers by constantly placing them side-by-side with some of the best players of the recent era, it becomes too easy to focus on the things they aren't doing, rather than the things they are doing.
If all works out, there very well will probably be a time when Wiggins-to-LeBron and Parker-to-Carmelo comparisons are appropriate and relevant. However, that time is not now: presently, all parties are served better if fans take the remarkable skill-sets of the two players at face value and let Wiggins and Parker develop free from the hyperbole of hype.
Follow Staff Reporter Ben Albert on Twitter.