Film and TV
'American Horror Story: Freak Show' Season 4, Episode 3: 'Edward Moredrake, Part I'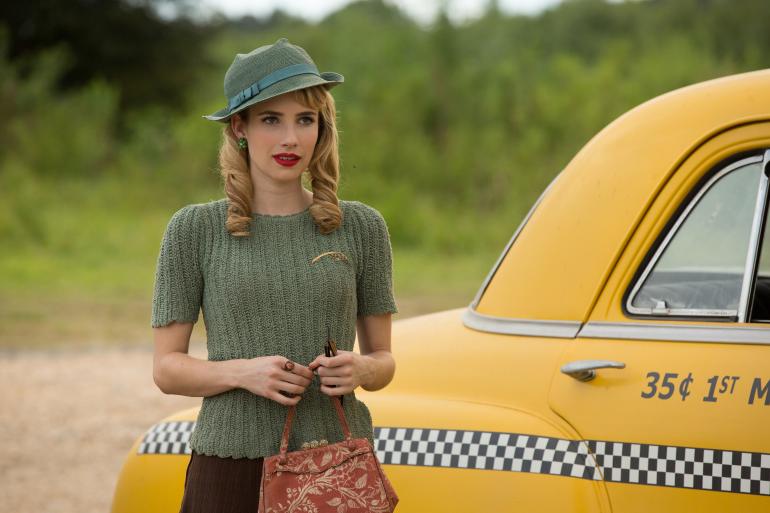 "American Horror Story: Freak Show" celebrates its favorite holiday this week with the first installment of a two-part Halloween story arc, trick-or-treating viewers to a supernatural twist.
ICYMI: 'American Horror Story: Freak Show' Season 4, Episode 2: 'Massacres and Matinees'
The episode begins with the introduction of "Dr. Mansfield" (Denis O'Hare) and "Ms. Rothschild" (Emma Roberts), who are trying to sell fake specimens to the American Morbidity Museum. It doesn't really fly, but the proprietor of the museum hints that freak shows have an abundance of valuable oddities that she would pay top dollar for, and off the pair goes.
It's Halloween in Jupiter, so Twisty is having a field day. But there's a new clown in town – aspiring psychopath Dandy (Finn Wittrock), who crafts his own clown costume and almost kills his sassy maid Dora before he chickens out and sulks away. He heads to the abandoned bus to have some fun with the captives, but he's interrupted by Twisty himself, who brings with him a new prisoner for his collection.
Elsa's show won't be performing today because of an old carnie superstition: any circus or freak show that performs on Halloween will be visited by the murderous spirit of Edward Mordrake, a literally two-faced British noble who went crazy and joined a freak show only to murder all the freaks before hanging himself. Each Halloween he stalks around in search of another carnie for his gruesome crew.
Ethel (Kathy Bates) takes the day off to go to the doctor's, where they tell her she's dying of cirrhosis of the liver from all that alcohol and has only got around six months to live. She cries because the doctor treats her like a human being, and then she goes home and drinks. A lot. Not exactly what the doctor ordered.
Ms. Rothschild arrives in Jupiter in the guise of "Maggie Esmerelda," a fortune teller. The freaks don't trust a normal, attractive person with all her limbs intact, but an opium-smoking Elsa falls for the act and hires Esmerelda on the spot.
Meanwhile, strongman Dell (Michael Chiklis) and Desiree (Angela Bassett) are suffering from some domestic issues (Dell's having a little trouble getting in the mood). He stalks out of the trailer only to run into a binge-drinking Ethel, who tells him to look after Jimmy (Evan Peters), who is apparently his son.
Bette and Dot (Sarah Paulson) aren't getting along so well either: Dot tells Bette straight up that she's going to save up her money to find a doctor who can separate them, even though it means one of them will die. Yes, Dot's getting a bit of a big head about things – she even mouths off to Elsa (Jessica Lange), saying they should negotiate the twins' salary now that they're the stars of the show. Elsa's not about to let anyone steal her spotlight, of course, so she takes the stage and sings… a Lana Del Ray number. The anachronisms continue.
SEE MORE: Angela Bassett, Kathy Bates Dish On 'American Horror Story: Freak Show'
Apparently even a rehearsal is enough to summon the spirit of Moredrake (Wes Bentley), who comes in a haze of green fog and checks out Elsa before visiting Ethel's trailer. Ethel tearfully tells her story, which involves a failed attempt at Shakespeare and a live birth in a field. She's ready for Moredrake to take her, but he (or the demon face on the back of his head Voldemort-style) decides she's not the one.
What will the dynamic clown duo do next? Who will Moredrake choose to be America's Next Top Murdered Carnie? To be continued…
Reach Staff Reporter Jules Zucker here.