Film and TV
'American Horror Story: Freak Show' Premiere Recap: Monsters Among Us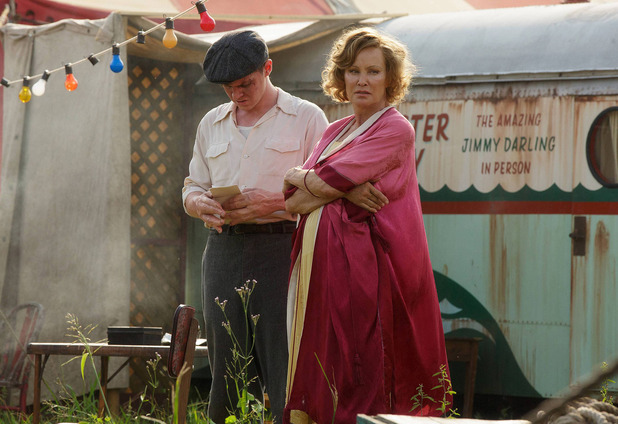 Fans who were underwhelmed by last year's relatively tame Coven are in for a pleasant surprise: FX's American Horror Story is back for a fourth season, and it's not for the faint at heart.
The mercilessly creepy "AHS: Freak Show" introduces audiences to Fraulein Elsa's Cabinet of Curiosities, a freak show on its last legs in Jupiter, Florida, in 1952. The colorful characters inside are more or less what you'd expect: the world's smallest woman, a guy who swallows knives, and a legless woman who drags herself around on her arms because I guess a wheelchair would ruin her star power.
SEE ALSO: Angela Bassett, Kathy Bates Dish On 'American Horror Story: Freak Show'
In the frenzy of exposition that is "AHS" season premieres, viewers meet Bette and Dot Tattler (Sarah Paulson), a pair of conjoined twins who've joined the show after just barely getting away with murdering their overprotective mother. Naturally, the twins are polar opposites: spirited and curious Bette smokes, experiments sexually and is excited by the glamour her new habitat seems to offer. Reserved and cautious Dot, on the other hand, is highly wary of the show and almost everyone involved in it.
She does seem to take a liking to "Lobster Boy" Jimmy Darling (Evan Peters), a deformed man who murders the cop on Bette and Dot's trail. He asks his fellow freaks (and the audience) to question who the real monsters are, and viewers everywhere wonder how Peters still manages to look so good with what look like root vegetables for hands. Bonus points: Jimmy's mother is the resident bearded lady (Kathy Bates, clearly), and the only thing more mangled than his fingers is Bates' attempt at an Irish accent.
SEE ALSO: 'American Horror Story' Announces Season 4 Title
The woman behind it all is the Bowie-singing, candy-striper-kidnapping Fraulein Elsa (Jessica Lange). While she is fiercely protective of her freaky family, she admits to the bearded Bates that she took in Dot and Bette mostly to generate buzz so she could launch her own career. In a truly pity-inducing scene, Elsa speculates that it may be "too late" for her and cries away some of her violently blue eye shadow. Then she removes the two prosthetic legs that apparently she had been wearing the whole time.
As viewers become acquainted with the Cabinet of Curiosities, they also meet what's sure to be the talking (or hysterical crying) point of the season: Twisty the Clown (John Caroll Lynch). His interests include violently stabbing picnicking couples, riding empty carousels at night, and holding women and children hostage in an old bus. His murder spree across Jupiter is making headlines, and he seems to have taken a liking to the freak show after witnessing the crew having at a corpse with meat cleavers. Family bonding at its finest!
Enhance your nightmares and tune in to "American Horror Story: Freak Show" on Wednesdays at 10/9c on FX.
Reach Staff Reporter Jules Zucker here.