MLB
2014 Los Angeles Angels Playoff Preview Q&A
After a four-year hiatus, the Los Angeles Angels are back in the playoffs. Following a rough 2013 campaign that resulted in their first losing record since 2010, the Angels bounced back this year and earned themselves the best record in all of baseball and a subsequent postseason ticket. Having home-field advantage throughout the playoffs pins the Angels as the American League favorites, and though their days in the city of Anaheim may be numbered, their fans are hoping the Halos can bring back the 2002 playoff magic to the Big A.
That all begins on Thursday night, when they'll face the Kansas City Royals, fresh off their thrilling comeback win over the A's in the Wild Card play-in game. We're getting you ready for what could be a deep playoff run by talking to Pedro Moura, who covers the team for the Orange County Register, and asking him about this team's outlook heading into October.
Neon Tommy: What has been the biggest difference between last year's struggles and this year's success?
Pedro Moura: The biggest difference between the two teams is their pitching. The 2013 Angels had a below-average starting rotation and a below-average bullpen. For much of the season, the 2014 Angels had an above-average rotation and an above-average bullpen. Their offense got a little bit better, surely, with full seasons from Kole Calhoun and Albert Pujols helping considerably, but I think the biggest improvement came in their pitching staff. Their offense was already good last year. And, truthfully, the 2013 team got a little unlucky. They were probably about a .500 ballclub.
NT: With Garrett Richards out for the season, what do you predict the team's rotation will look like in the playoffs?
PM: Jered Weaver is the Game 1 starter for the ALDS. I expect the Angels will start C.J. Wilson in Game 2 and Matt Shoemaker in Game 3, assuming his strained oblique is relatively healthy.
Where they go beyond that is hard to predict. It could be Weaver on short rest in Game 4 and Wilson on regular rest in Game 5, assuming it gets that far; or it could be Hector Santiago starting Game 4 and Weaver following in the finale. If the Angels don't have Shoemaker healthy, though, they'll be in rough shape.
SEE ALSO: MLB Postseason: Playoff Pitchers To Watch
NT:This team seems to have plenty of offense, but with their lack of starting pitching depth, how do you think Jered Weaver will deal with the pressure that's on him to basically win every game he pitches in?
PM: Weaver has handled playoff pressure before, and he's not the type of pitcher that gets rattled particularly easy. That said, if he's scored on a few times, I don't think it'll necessarily be because he got nervous or the pressure got to him or anything. He's a good pitcher, but for much of this season he's been just that, not great. He has a great track record, and if he can return to that, it'll be huge for the team's chances.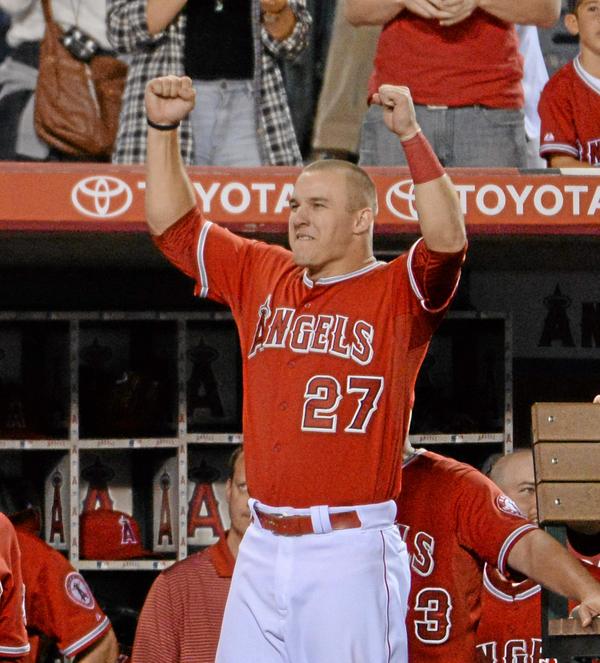 NT: How important has the midseason trade for Huston Street been?
PM: The narrative around the Angels is that they re-built their bullpen midseason through outside acquisitions, but Street is really the only one of the acquisitions that had any real impact on the team. Left-hander Joe Thatcher was hurt and barely pitched. Right-hander Jason Grilli posted a 3.48 ERA in 33 2/3 innings – not bad ball, but just about average from a reliever.
Street settled the back end of the bullpen and allowed them to move Joe Smith into the eighth inning, where he's been dominant. But, to me, Street isn't often a dominant closer. He doesn't throw hard at all for a ninth-inning guy. His control is good, but if you're going to use him three times in a short series, I think there's a very good chance he gets victimized one of those times.
SEE ALSO: 2014 Kansas City Royals Playoff Preview Q&A
NT: Everyone wants to talk Mike Trout or Albert Pujols, but Howie Kendrick is leading this team in batting average and hits. How valuable is he to this team going forward?
PM: Kendrick had a great regular season. Since he was coming up the Angels' minor-league system a decade ago, he has had the reputation as a potential batting-title winner. He's never lived up to that expectation, but this was probably his best all-around year as a major-leaguer. He hit well, walked more than ever before, and played steady defense at second base – and did it for a full year. He and shortstop Erick Aybar formed the game's most valuable double-play combination.
NT: With the Angels set to play the Royals, winners of the Wild Card play-in game over the A's, how do you see them matching up?
PM: Now that they're facing the Royals, we know Kansas City's speed will be a factor. Angel catchers' throwing is going to be important, with Ned Yost's team taking any and all opportunities to steal bases in the wild Wild-Card game Tuesday. The good thing for the Angels is the Royals don't have a dominant starting staff to throw out like A's do. So that probably favors the Anaheim team to some degree. The Angels will be considered favorites to move on.