USC Sports
USC's Defense: How Has It Stacked Up To Last Year's Unit?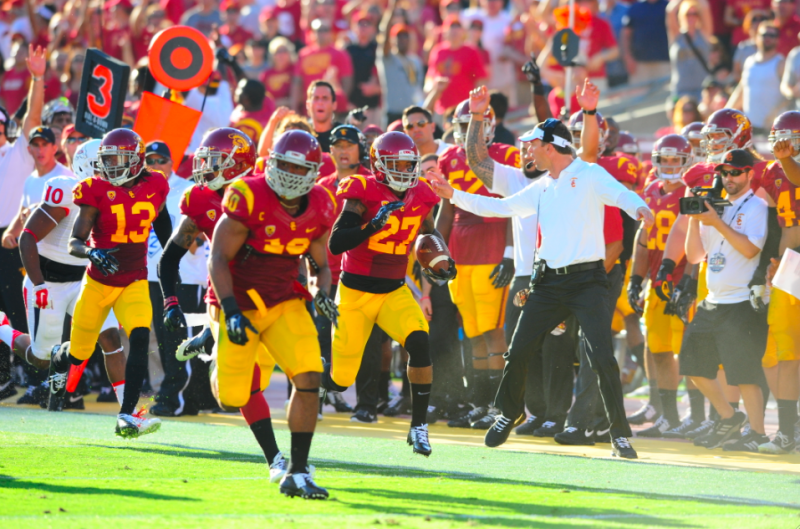 When USC brought in its new coaching staff led by Steve Sarkisian, the revitalization of the offense was the primary focus. But make no mistake, the Trojans' defense, led by stars Leonard Williams and Hayes Pullard, was also expected to be one of college football's best.
In 2013, first-year defensive coordinator Clancy Pendergast helped lead a major resurgence from USC's defense. Pendergast was brought in from Cal after it was apparent that Monte Kiffin's dinosaur defense couldn't survive in today's modern college football. After historically bad performances under Kiffin, including giving up 62 points in a 2012 loss to Oregon, USC's defense finished in the top-15 in many defensive categories with Pendergast at the helm.
Justin Wilcox, who was Sarkisian's right-hand man at Washington, followed Sark to USC and replaced Pendergast as defensive coordinator. Wilcox is a highly touted defensive mind, but many felt that Pendergast, who is currently unemployed got the short end of the stick. Those whispers have become a little louder now after USC's perceived lackluster start on defense.
How has Wilcox's first three games stacked up with Pendergast's? And has USC's defense really fallen off that much from last year?
USC's first three games last season were against Hawaii, Washington State and Boston College. While the three offenses overall were mediocre (their offensive rankings were 75, 51 and 84 respectively), they excelled in one facet. Washington State and Hawaii both had very good passing attacks (ranked fourth and 28th in passing yards per game last year), while Boston College was the 24th-best rushing team.
The offenses faced in Wilcox's first three games were better, but none of them are ranked in the top-20 overall in total offense. Yet, there were some major discrepancies between this year's defense and last year's version.
SEE MORE: Age And Travel Historically Non-Factors In USC Football
One of the more obvious ones has been pressure generated. In Pendergast's first three games, USC tallied 12 sacks and 28 tackles for a loss. Wilcox's unit, on the other hand, only has four sacks and 13 tackles for a loss. Pendergast's 5-2 scheme allowed for more players to be positioned closer to the line of scrimmage, which allowed for many plays that resulted in USC tackling opposing players for a loss of yardage.
Wilcox's 3-4 defense though includes two outside linebackers (mostly J.R. Tavai and Scott Felix) to rush the edge to generate pressure. The defense has faced 23 fewer pass plays over the first three games compared to 2013 (103 to 80), so the change in sack number from last season's first three games isn't too worrisome.
The 15 tackles for loss difference is. The Trojans have faced 46 more rushing plays over their first three games and 23 more total plays, yet the defense has had a lot of trouble creating negative yardage plays.
Yards per first down play is an important statistic because it often dictates how long drives are. Giving up fewer yards on first down can result in a more difficult third down for the opposition, and then defenses can afford to blitz. In its first three games, USC is giving up 6.6 yards per first down play, which is more than triple what the defense gave up in its first three games last year (1.9). Giving an opposing offense shorter second and third downs vastly opens up their playbook and leaves the defense susceptible to a greater variety of plays.
Based on that logic, it's not a surprise that USC's defense has given up a lot more big plays. In fact, this year's unit has given up twice as many plays for 20 or more yards (14) in its first three games than last year's. Nine of those 14 big plays have come on the ground, which makes sense since this defense is much more apt at defending second and long compared to second and short. Tavai and Felix are much better at pressuring the quarterback than defending the run. USC only has three defensive linemen in its base defense compared to five last season. Additionally, with the lack of depth along the defensive front, USC can be worn out if the opposition establishes a running attack early and often.
It hasn't just been the run defense though. USC's pass defense through three games has also been worse. In the first three games last season, USC gave up 4.9 yards per passing play. This year, it's up to 6.2. Since the defense is also giving up 5.9 yards per carry (way up from 1.7 last year), the Trojans have had to focus more on the run than intended, and it's opened up the passing game. Teams haven't been throwing much against USC, but when they have, it's clearly been effective. By giving up more yards per play on first down, opposing teams don't have to rely on forcing longer throws to move the chains. By having to defend shorter routes, it's been more difficult to pressure the quarterback since he's getting rid of the ball quicker.
There are some similarities between the defenses though. Wilcox's defense has been stingy on third-down, only allowing conversions 28.9 percent of the time, while Pendergast's third-down defense had a similar 28.2 percent conversion rate. The average yards to go on third down is comparable as well (8.2 for Pendergast, 7.6 for Wilcox).
The big difference though is the amount of third downs each defense has faced. Pendergast's defense faced almost three more third-down attempts per game than Wilcox's. With second down being a lot more manageable against Wilcox's defense than Pendergast's thanks to a much higher yards per first down play average, opposing offenses pick up more first downs and do so more often on first and second down. USC gave up only 39 first downs in its first three games in 2013, yet its given up 57 first downs so far this season.
So really, the key for Wilcox's defense the rest of the season is defending first down plays. Last game against Boston College, the unit gave up an unacceptable 9.5 yards per first down play. Boston College only had to pass the ball 14 times, so USC wasn't able to capitalize on facing a one-dimensional offense because of their struggles defending on first down. Then again, even if you take out the BC game, USC is still allowing 4.9 yards per first down play.
Maybe learning a third defensive scheme in three years has been too draining for USC. Maybe the injuries to Jabari Ruffin, Kenny Bigelow and Josh Shaw were more important than this defense thought. Nonetheless, Wilcox and his defense need to step up from here on out or else BC won't be the last time that the Trojans are run out of the building.
Reach Senior Sports Editor Max Meyer by email.