Sports
USC Practice Report: Veterans Keep Their Blinders Up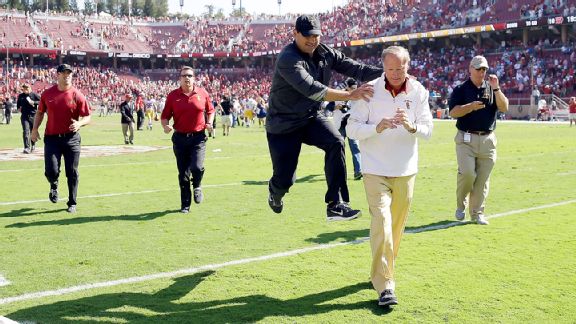 It was business as usual on Howard Jones Field Tuesday as the Trojans returned to practice after a victorius 13-10 win over Stanford on Saturday.
Unfortunately, much of the media attention zeroed in on the Pat Haden debacle and his decision to run onto the field in the third quarter at The Farm. Not only does it steal the spotlight from the players' momentous and hard-earned win, but it threatens to tarnish the reputation a football program determined to keep its name in good standing.
The scrutiny was on Steve Sarkisian, who stood by his relationship with Haden. "Pat and I have a great relationship. [It] goes back many years. We count on one another, we trust one another, and that's exactly the type of relationship you like to have with your athletic director."
Despite the extra press surrounding his team, Sark assured everyone his players were focused and diligent during practice. "I think they're just so accustomed to not listening to what's going on outside, which is a great trait. The goal for us, and what we preach, is that we'll never be motivated by outside factors," he said.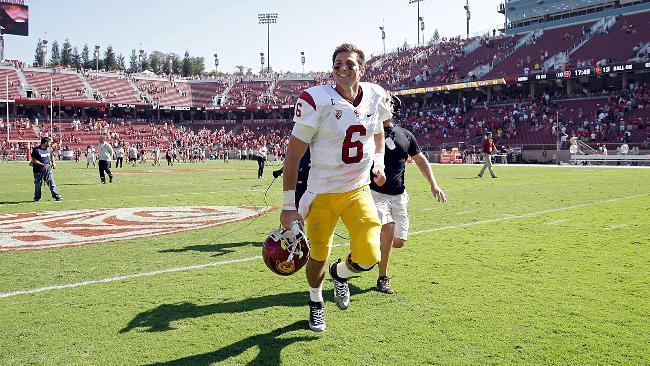 SEE MORE: Penn State's Sanctions Lifted Due To Progress, Why Not USC's?
Cody Kessler affirms he's got his mind on football and nothing else. He quiets the noise by fixing his attention on the game against Boston College at Alumni Stadium this weekend, the latter half of a back-to-back road game schedule.
Kessler threw for 237 yards and 3 touchdowns in the meetup against the Eagles last season, nearly shutting them out 35-7. But he is well aware they cannot be complacent.
They plan to explore the play-action run game early on, and TB Javorius Allen should be a huge part of it, locking in a career high of 154 rushing yards against Stanford on Saturday.
Sophomore LB Michael Hutchings will start in place of senior LB Hayes Pullard, who Sarkisian targets will play in the second half. Though he isn't 100 percent, they want to slowly get him ready for Oregon State in two weeks. However, there's no pushing it.
"I'd like to get [him] fully recovered and get him back going because we're going to need him here for conference play," he said.
And concerning their No. 9 rank in the AP poll? Kessler decides it's meaningless.
"I don't really look into it," he said. "It is something that is kind of just a number in front of your team's name."
Other than the task at hand, look for the Trojans to be paying no attention.
Reach Sports Writer Mary Grace Montemayor here. Follow her on Twitter here.