Los Angeles
Proposition 2 May Help State Debt But Hurt State Schools
Proposition 2, the state budget and budget stabilization account amendment, proposes to rapidly pay off state debt and save money to prepare for a crisis in California.
Each fiscal year, the government will take out 1.5 percent of the general fund and put half into the Budget Stabilization Account. The other half will go to paying off state debt, according to the California General Election Voter Information Guide for November 2014.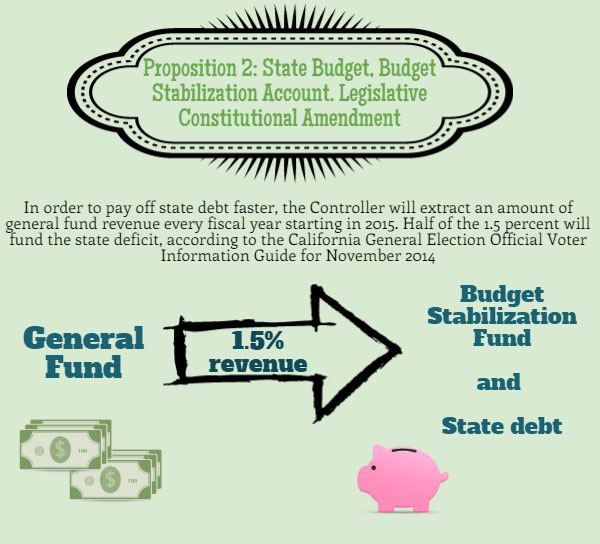 "The point of Proposition 2 is to improve the system we have to set aside money and reserve during the high tax revenue time so that when the tax revenues go down in bad economic times, it will help push it against the fact that tax revenues are going down," said Thomas Carson, President of the League of Women Voters of Glendale and Burbank.
The Stabilization Account is capped: Once the account reaches 10 percent of the general fund, the proceeds will go to infrastructure. There have been propositions like this in the past, but according to Carson, they have not worked. In 2004, voters passed Proposition 58, which allowed the governor to decide to put three percent of general fund revenue in a reserve named BSA.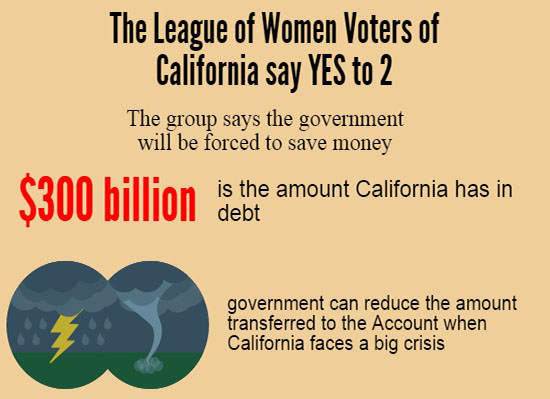 Carson believes that the Proposition is a "sound financial practice."
"It's sort of like what individuals do, when we're doing well, we should set aside some money just in case we get unemployed or get sick," said Carson.
Although it presents a solution to California's current debt problem, it also caps the minimum reserves of public school districts to five percent statewide, according to Jennifer Bestor, research director at Educate Our State.
SEE MORE: Proposition 36 Could Fix Several California Problems
"That was the most ludacris things we've ever seen, there was no explanation why they had to do this," said Bestor. "There had never been any government documentation saying that local school fund carry-over was an issue."
The California Department of Education says for districts to keep at least 15 percent of their annual budget, explained Bestor. This fund reduction can cause harm for schools who lack property taxes.
"What's supposed to be replacing property tax was state aide, but the problem was the state wasn't paying state aid on time," Bestor said.
SEE MORE: California Proposition: Proposition 26
Educate Our State, a parent run non-profit organization based in Oakland, Ca. opposes the proposition. The Stabilization Account would not prioritize the well being of California school districts, according to Bestor.
"It goes all against my idea of a rainy day fund buffering schools in the state," she said.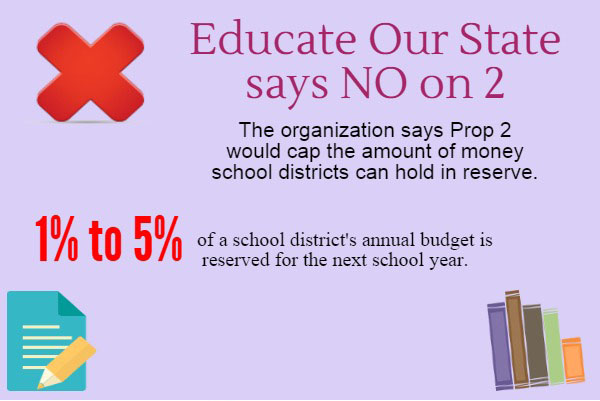 Carson believes that Prop 2 will be successful quickly if the economy has ample tax revenue.
"If the economy has been some what improving over the next three to five years, then we will build back up our rainy day fund, still be able to maintain generally our ongoing programs, but be able to set some money aside for future use," said Carson in regards to short term benefits of Prop 2.
Prop 2 along with other propositions for will be on the ballot for the General Election on Nov. 4, 2014.
Follow Staff Reporter Amanda Scurlock on Twitter.