California
Proposition 36 Could Fix Several California Problems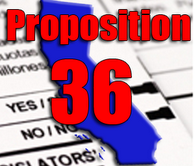 Pedro Rosado, campaign manager for Proposition 36, which would reform California's "Three Strikes" law, gets a lot of calls from families asking how the proposition might help their son's/daughter's/father's/mother's/brother's/sister's sentence.
He always has to refrain from the personal discussions and stick to the campaign points: the law will become more just for those who have received long sentences for minor crimes; the state will be able to save $100 million a year and revamp tax dollars to other areas like education; prisons will be less overcrowded; and the original intent of the Three Strikes law will be instated--violent people will be kept in prison.
Since 1994, when the Three Strikes law was voted in with a rash of support, repeat offenders have been handled with a heavy fist in California.
According to 2005 data from the Legislative Analyst's Office, about 26 percent of the prison population was made up of second or third strikers, with a very sharp increase in the first years of the law.
The same data shows that 56 percent of "strikers" in prison were guilty of non serious or nonviolent offenses, including, in the case of William Bell, a Southern California father of five serving 27 years to life for accessory to check fraud.
Bell's wife, Tenille, has been left to raise their five children, five boys and one girl, and has been reliant on the state to keep her family afloat.
"There are days when I don't know how I'm gonna put food on the table, clothes on their backs, shoes on their feet or pay the bills," Mrs. Bell said, through email.
William Bell has been in prison for 12 years already, and Mrs. Bell has started a blog as a means to raise awareness about their story, hoping that Prop 36 will be passed so her husband may possibly get re-sentenced.
Otherwise, nothing can be done for him until 2027.
In 2004, the campaign for Proposition 66 wanted to change the Three Strikes law so only those whose third felony charge involved a violent or serious crime would face sentences of 25 years to life.
Like Prop 36, Prop 66 carried a heavy lead going into the last legs of the campaign, but lost after the opposition launched a large media onslaught at the last minute.
Then-Governor Arnold Schwarzenegger organized a last-minute movement against the Prop, and even gained support from former Democratic governors Gray Davis and Jerry Brown (who is now, as you know, Governor again).
Attack ads featured Schwarzenegger sauntering in front of superimposed images of the most daunting mug shots of California's murderers, rapists and child molesters, warning against the proposition that would release "26,000 dangerous criminals" from prison.
According to Dan Newman, one of the strategists for the Prop 36 campaign, there are several key differences in what Prop 66 wanted to do from what Prop 36 will do if it's passed.
Prop 36 would not benefit any criminal who has ever been convicted of a violent crime such as Schwarzenegger's big three: murder, rape or child molestation.
Nor would it automatically re-sentence prisoners who have not been convicted of violent crime, like Prop 66 would have.
Under Prop 36, a judge must decide whether a shorter sentence would pose a risk to public safety.
Prop 36 also promises not to redefine the definition of serious or violent crime or change the Three Strikes law's effect on second strikers.
The campaign linked to a Aug. 2 poll estimation that said their cause has won at least 70 percent of the vote.
Those few who still support the Three Strikes law as it stands, who oppose the Prop 36 campaign, say that the Three Strikes law does its job.
They point to the decrease of crime in California that supposedly came on the heels of the 1994 law.
The Three Strikes law was voted during the aftermath of the murder of Polly Klaas, a 12-year-old girl who was abducted from a slumber party from her home in Petaluma and strangled by Richard Allen Davis, a career violent criminal.
"I knew the day that they caught that fucking scumbag that killed Polly Klaas that it was gonna be used to do something to the legal system. I felt the temperature of the public reaction to the horror of the crime. The moment they began talking about Three Strikes I knew that I was facing life in prison every day from then on in, even for a felony possession [charge]," said A. Razor, a renowned outlaw poet who was himself a "career criminal" before and after the law hit the California legal system.
When A. Razor (an alias) was arrested in 2004 in Marin County, a wealthy and conservative place across the Golden Gate Bridge, in possession of two loaded weapons and five different types of drugs, he was driving on a suspended license and had evidence of involvement in manufacturing, cultivating and distributing controlled substances.
For almost ten years, San Francisco District Attorney Terence Hallinan and then-Assistant District Attorney Kamala Harris had been trying to prosecute A. Razor in San Francisco, with task forces following him wherever he went.
Hallinan, a notoriously left-wing lawyer, had opposed the Three Strikes law from the beginning.
In 2004, when A. Razor was arrested, Harris beat out Hallinan in the election, and became the next D.A. (she is now the state Attorney General).
With his regular lawyer busy with a high-profile murder case, A. Razor asked Hallinan to take him on as his first private criminal client in nearly 20 years.
Seeing it as an opportunity to take action against the Three Strikes law, Hallinan agreed.
A. Razor had two strikes to his name already and faced being convicted of nine "strikable" offenses in his new case, making it likely that he'd "die in Pelican Bay," he said.
Hallinan was able to destroy "the D.A.'s attempts to portray me as a criminal with no redeemable aspects to my character," A. Razor said, and got one of his strikes unstruck after A. Razor pleaded guilty.
From there, A. Razor was cleared to serve 10 years and eight months in prison with the opportunity to have the sentence suspended if he finished a treatment program for his drug addiction.
And with that, A. Razor is back in society, writing poetry, clean and sober, and working with outreach programs for the homeless and addicted.
But many of his friends who received long-term sentences for crimes related to drug offenses, A. Razor said, have gone to prison and joined "some of the most vicious and violent criminal organizations" and become "psychotic savages" in prison.
"All because they got harder sentences because they were repeats and the guidelines enabled the Three Strikes deal," A. Razor said.
This, according to Newman and Rosado, is not just theory.
The Prop 36 campaign hopes to make another change to the Three Strikes law by making the same rules apply to every county statewide.
Under the current rules, each California county can decide for itself how it should enact the law.
According to Newman and Rosado, the counties who had the least strict interpretations of the law saw greater decreases in crime rates, specifically serious and violent crime rates.
Inversely, the ones with stricter interpretations saw an increase.
For example, Solano County Sheriff Gary Stanton wrote an editorial on Aug. 23 asking voters to vote no on Prop 36, citing the decreases in crime rates since 1994.
Commenters on the article pointed out that Solano County has in fact seen a decreasing amount of Three Strikes arrests since 1994.
In 2010, it almost reached the same level it was in 1994 when the law was just passed.
"Crime dropped across the country since '94, but in California it dropped more sharply in counties that have voluntarily implemented Three Strikes reform," Newman, the Prop 36 strategist, said.
Therefore, according to Rosado, the campaign manager, the deterrent for crime is not the Three Strikes law.
Nonviolent criminals, he said over the phone, "are not going to commit violent crimes if they're let out."
Voters are also now more acutely aware of California's prison overcrowding issue.
In May 2011, the U.S. Supreme Court ordered California to address this problem, and 79 percent of those surveyed by the Sacramento Bee at the time said that they considered the problem a serious one.
Several convincing people, including L.A. District Attorney Steve Cooley, LAPD Chief Charlie Beck and San Francisco District Attorney George Gascon, are supporting Prop 36.
Twenty-four states have some form of the Three Strikes law.
"And if [Prop 36] passes, California will still have the toughest Three Strikes law of any of them," Rosado said.
Click here for full Proposition coverage.
Read more of Neon Tommy's coverage of the 2012 election at our blog Politically Correct.
Reach Assistant News Editor Michael Juliani here. Follow him on Twitter here.