Style
New York Fashion Week: BCBGMAXAZRIA Review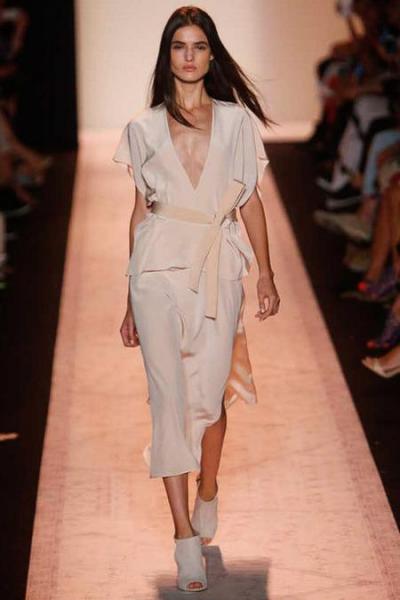 It wouldn't be fashion week without a fashionably late start.
New York Fashion Week's second show, BCBGMAXAZRIA fluttered on to the split runway thirty minutes late, but the late start delay was quickly forgotten as hues of spring pastels approached the eager crowd.
The show opened with a series of blush ensembles that included wrap dresses, gowns and a sprinkling of pants. All the models were fresh-faced and wore their hair down and straight. The Spring/Summer '15 line showcased lightweight fabrics that were as ethereal as the coming of spring after a long winter.
Many of the dresses featured a cinched-waist detail with a tied belted that framed each look, and each one was paired with nude sandals or booties. While some looks were monochromatic in nature, others stood out with a bright or even patterned belt. The monochromatic looks were an extended projection of looks we've already seen emerge this summer on celebrities like Kim Kardashian, who donned a blush-and-white skirt and fitted blazer just last week.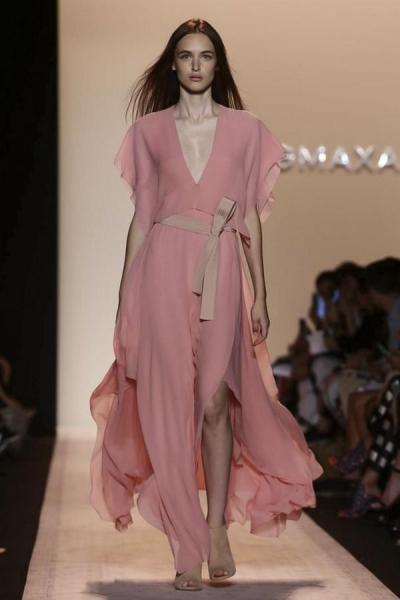 Some dresses featured slight ruffle detailing, while others showcased high-neck halter straps. Plunging necklines and wrapped waists were just sexy enough to take these soft pieces from day to night.
From blush to baby blue, the line's soft palette and simplicity set it apart from its previous spring looks. While last year showed a mix of edgy and sweet, BCBGMAXAZRIA's Spring/Summer '15 left us with no trace of black, or any dark colors. The starkest pattern was the floral-print detailing on just a few of the dresses shown.
Azria did well to not overwhelm us with floral however. The spring staple was more of an accent on the dresses as opposed to an overall pattern. The same went for the stripes that were featured on both belts and tops. The pattern, kept in the pastel color scheme, showed blue, yellow and light red stripes.
READ MORE: NYFW Fall 2014: The Best of the Runway
The feminine line also showcased light jackets and structured vests that were worn over dresses.Metallic embellishments, embroidery and even some sheer panel detailing made a statement on the runway. The attention to detail, whether in the placement of a ruffle or the splash of a floral print, elevated the otherwise simple pieces and made us long for spring.
BCBGMAXAZRIA is taking their runway looks and making them instantly accessible to the social media crowd. Users can wear the very looks they see on this week's runway in three easy steps:
1. Sign up at www.LIKEtoKNOW.IT
2. Like Instagram photos with www.liketk.it
3. Get an email with ready-to-shop product details
This hot trend is instant gratification for social media-savvy fashion fans and is already popular amongst celebs. Fashionista and "Pretty Little Liar"'s actress Shay Mitchell attended the BCBGMAXAZRIA show this morning and took to Instagram to promote the website for fans and fashion-lovers alike.
Missed the show? Get a recap and watch live streaming of New York Fashion Week Spring 2015 here.
You can reach Staff Reporter Mona Khalifeh here.