Los Angeles and Region
Los Angeles Gets A Raise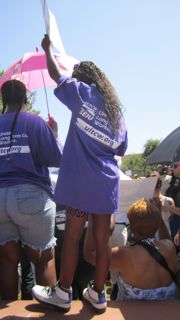 Hundreds of Angelenos gathered in Martin Luther King Jr. Park this Monday for a Labor Day present: Mayor Eric Garcetti announced plans to raise the minimum wage in Los Angeles, from $9.00 to $13.25 per hour by 2017.
SEE ALSO: The Consequences Of Raising The Wage
While L.A.'s current minimum wage is already above the current federal minimum wage, Garcetti says it is not enough for families, who struggle to live in America's most expensive housing market.
As crowds cheered and celebratory music filled the air, I talked to one council member about how this would affect his constituents, and met with a young man who has known minimum wage living since he was a child.
Reach Staff Reporter Carrie Poppy here.
You may need: Adobe Flash Player.