Film and TV
Q&A: A Look At 'Sideways'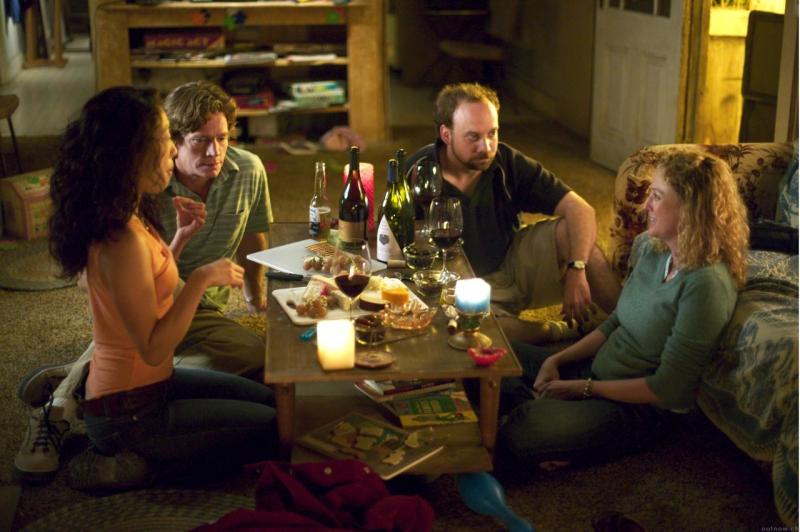 "One of the critiques of this movie is that nothing ever happens in the story." Wait, what? I could not believe I had just heard that. A young man was asking a question at the Q&A session after the 10th Anniversary screening of "Sideways" (
2004
), director and writer
Alexander Payne
's masterpiece that won him an Oscar for the Best Adapted Screenplay. Payne himself was present at the session, alongside the writer of the original novel that shares the same title,
Rex Pickett
, and one of the lead actresses,
Virginia Madsen
.
READ MORE: Film Review: 'The Giver'
"Sideways" is not your average blockbuster—no cars that magically transform into a giant robot, no spider bite that gives you superpowers, no Gotham city for our protagonist to protect. Yet saying that "nothing ever happens" in this story is an outrageous statement. In the story, Miles (Paul Giamatti), a divorced and depressed eighth grade English teacher, takes his best friend, Jack (Thomas Haden Church), on a road trip to California's famous Wine Country before Jack gets married. However, they embark on the journey with completely different expectations and conflicts arise along the way. Miles wants to share his love for wine and spend a quality time relaxing with his best buddy from college before he takes the big step; Jack, on the other hand, seeks a spontaneous and juvenile adventure with women before he is "imprisoned" by marriage. On the road, they meet two women, who complicate their conflicts even further. It is both a comedy featuring a bachelor party between two best friends that goes ridiculously wrong and a moving melodrama about a two men who are helplessly overwhelmed by their disappointments in life. In his defense to the ludicrous comment, Pickett replies, "I think a lot happens in this movie."
If the movie itself is exciting, the production process is even more like a rollercoaster ride. First, Pickett's original novel, which sparked Payne's Oscar-winning screenplay, was created under extreme circumstances. Pickett was writing mystery novels before "Sideways," but they never sold. He then took his overwhelming frustrations with his life and wrote "Sideways," which was "hated by the publishing world." His ex-wife, whom he always collaborated with in producing films, bluntly told him to "burn [the book]." However, the film world richly adored the piece, which was said to read more like a screenplay than a novel. Upon reading the unpublished manuscript of the novel, Payne was "the most excited he had been." He was so fascinated by it because one of the reasons was that the book was "incredibly personal" and Pickett went "somewhere deep" with the audience. In fact, Pickett draws a great deal from his own life to write this novel, which caused him to say, "Watching Miles in the movie is like watching himself." At one point, Pickett even compared his writing process to Paul Schrader's in "Taxi Driver" because they both contemplated suicide while writing their respective pieces.
READ MORE: Why 'Guardians Of The Galaxy' Is So Successful
Madsen's casting was defining for the movie. As the casting director told Payne after watching Madsen's audition clip, Madsen's eyes were able to communicate authentic feelings for her character, Maya, a divorced waitress who has complicated feelings for Miles. Adding to her mythology that made her Maya was Virginia's hard work and passion for the part. In
Both Madsen and Pickett expressed their gratitude toward Payne for taking a big risk in choosing an unpopular novel as his original source and bringing a touching and "human" story onto the movie screen. Besides the intense melodrama, the movie is surprisingly hilarious as well. Many questions addressed that an interesting aspect of this movie is how Payne has combined the humanistic drama with almost slapstick comedy. In his response, Payne explains that he is "always making comedy" because he believes that movies should be "charming and entertaining." The smart humor is also a way to save Miles, whom we irrevocably identify with, from his despair. The fact that the movie ended in a positive note also tells us that Payne wanted the audience to leave the theatre with hope.
A lot of the attendees of the event were huge fans of Payne's work; among them was an old classmate from UCLA graduate film school, Joseph Smith. They reunited over the session and discussed how the excellence Payne has consistently displayed in filmmaking is a genuine passion for movies and filmmaking. Payne told all of us at the start of the discussion, "film is a piece of art for your whole life" and that he would watch the same film repeatedly for a whole month. "How do you do that?" Someone asked. "That's what film people do!" Payne answered plainly.
Reach Staff Reporter Matthew Leung here.