Opinion
The L.A. Commute: Why Drivers Should Sweat It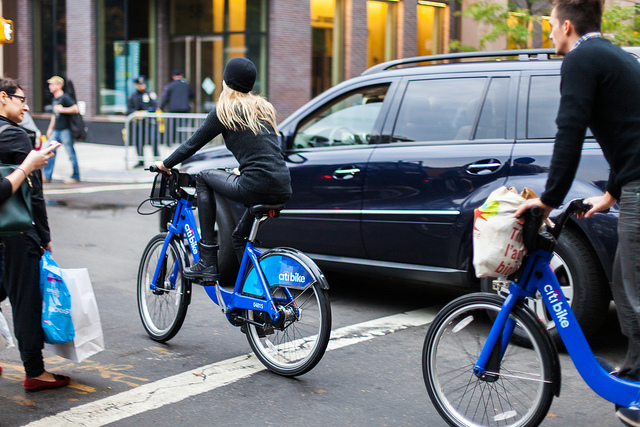 Nobody walks in L.A. That's the saying. But a new study published in Preventative Medicine presents data that makes it clear that everyone should walk to work—or skate or ride—especially in L.A.
The study, conducted by the University of East Anglia in Britain, surveyed 18,000 individuals over a span of 18 years. After looking at responses to questions centered about emotional well-being and regular commute habits, the study found that an active commute—one involving aerobic activity—improved emotional health.
Essentially, the findings showed that the more time individuals spend (virtually parked) in their cars, the more emotionally imbalanced they are likely to be. The study suggested that driving be a last resort—even if it meant replacing a 10-minute drive with a 60-minute walk.
Los Angeles could do well to promote a sharp increase in active commuters and support them with more biker and pedestrian-friendly routes between communities and the downtown Los Angeles area.
While we like to give Oscars and other awards here in the City of Angels, we also receive some unique trophies. And some of them are not so pretty.
Publications like Time and Forbes have bestowed upon Los Angeles the honors of being listed as the most stressful, most traffic-congested city in the United States in addition to Weather.com listing us as having the worst air quality in the Nation.
These three factors are intertwined. Forbes included traffic congestion in the data analyzed to determine which cities were the most stressful. It also included air pollution. So, if Los Angelenos need to be less stressed, the state would like to reduce emissions and traffic congestion works against both of these desires, it would seem to make sense that the city find a way to make active commuting more plausible and desirable for commuters.
READ MORE: Taking Cycling And Public Transit Mainstream With Maria Sipin
Beyond the University of East Anglia study, data released by the American Psychological Association in 2012 reported that although 41 percent of Americans realize that physical activity can be a helpful tool in managing stress, 33 percent say that work and other obligations keep them from being able to devote time to combat stress with exercise.
While some companies provide incentives to employees if they take public transportation to work instead of driving, the University of East Anglia study indicates only a slight increase in emotional well-being manifests when one switches from driving to taking public transportation in comparison to a more physically active commute.
Why not take incentives for non-drivers a step further then and offer them to employees if they choose to bike, walk or run?
This past summer I decided to try biking to my workplace in Los Angeles from Long Beach. 75 percent of the time I took the LA Metro rail, while the other 25 percent I rode my bike the 25 miles one-way. A few times I actually rode round-trip, melting away 50 miles worth of calories, but more importantly, what felt like pounds of stress.
The few times that I did drive to work, I noticed that my one solace was being able to sing in my car—a therapeutic action for me. But even amidst howling to Sia's "Chandelier," I found myself constantly checking my speed, irritated by other drivers, stressing out about how other peoples' generosity of lack thereof would affect my getting into the next lane.
On the Metro rail, while I couldn't burst into song whenever a good tune came on Pandora, there was a certain element of relaxation and in the least, an aspect of entertainment to watching the people who entered the train. A walk to and from the station allowed me time in the air and in the sun, which was nice.
However, by far the most rewarding experience was biking to and from Los Angeles. For the most part, instead of being at the mercy of other drivers or the public transportation schedule, the road was mine. I came to appreciate the strength of my own body and eventually discovered that I didn't need to sacrifice the feeling that I got from my car concerts. I could have belted out portions of the songs that I wanted to while biking, but most of the time didn't feel the need because I was already feeling the same exhausting relief in aerobic activity that I felt in taking in a deep breath and holding a music note.
READ MORE: This Bicycle Kills Patriarchy
The real take-away from adopting a part-time self-powered commute is that I was the one in control. When at work we perform for others in order to reach deadlines that we are given, arrive at a time dictated to us and depend on work for a paycheck. There was something liberating about knowing that my commute was something that no one could affect or control except for me. If I was late, it was because I left too late; not because of the way others were driving, or an accident affecting the train's schedule. And unlike being in traffic or stuck on a train listening to someone's rap music loudly playing from a cellphone speaker, there was never a thing to be irritated by on the bike path.
Then again, it is difficult to find negativity in a pastel sherbet sky in the mornings and the warm orange light of sunset creating silhouettes and golden ripples along the L.A. River.
But a physically-demanding commute does provide some unique challenges that would need to be addressed.
Beyond expanding the bike trail system and adding routes for increased accessibility in communities not presently served, companies should accommodate active commuters by providing access to an appropriate space to shower, store or iron clothing, and keep bikes. In the interim, however, while businesses learn to adjust, other solutions are available. Don't be discouraged.
As a woman, my largest battle was finding a way to make my hair appear presentable for work after a 25-mile ride in a helmet. Most of the time I opted out of a helmet, to be honest, but when I used one I put my hair in a loose, messy bun because that is what I prefer. A tightly pulled back bun would have been a less-casual alternative had it been necessary.
The next challenge was in finding light, non-bulky clothing and shoes that I could quickly change into. For me, this meant finding dresses that did not wrinkle easily and that I could roll around a pair of ballet flats and fit into my riding pack. Because showering was not feasible at my job, I brought baby wipes to "rinse" off. And I avoided make up on the days that I would ride.
But it could be well worth it for companies to provide access to in-house or nearby facilities for active commuters to clean up before work. A physical commute, the new study indicated, could yield increases in employee productivity by easing stress-levels.
Harvard Men's Health Watch explains that regular physical exercise decreases the level of stress-inducing chemicals in the body and promotes the release of endorphins which make us—you guessed it—happy. These endorphins alter mood and promote self-confidence. The discipline acquired in establishing a regular routine with visible effects on a body then stretch into other life goals—perhaps goals like getting that raise at work.
Taking the state I grew up in as an example, Colorado has an excellent bike path system with routes easily accessible from several cities outside of the Denver metro area. The state has a population of bike commuters that is four times higher than the National average, and in addition to being ranked as one of the top ten happiest states it is also listed as one of the healthiest, and one of the most active. It also takes the number 15 spot for lowest unemployment rate.
Looking at the data, it is not difficult to see that physically active commutes can benefit not only the individual worker, but could also improve the livelihood of business and the city as a whole. Perhaps even the state.
California Governor Jerry Brown recently signed bills promoting bike paths, according to a Sept. 20 article in the L.A. Times. One bill, SB 1183, was proposed by Sen. Mark DeSaulnier after reading a study that showed that the more bike lanes provided per square mile, the more commuters chose to bike. Another bill, AB 1193 would make it easier to expand the biking infrastructure by loosening construction standards for them.
The bills, if approved by a two thirds vote by local residents, would increase vehicle registration fees by $5 in those districts in order to expand local bikeways.
If the news of these measures makes you happy and you know it, vote kick stands. General election day lands on Tuesday, Nov. 4. When that day comes, I urge you to get a move on it. Ride, run, skate, or jump down to your polling place and take action. Like the studies show, you'll be happier you did.
Contact Contributor Marisa Zocco here; or follow her on Twitter here.