California
What If Ebola Came To L.A.?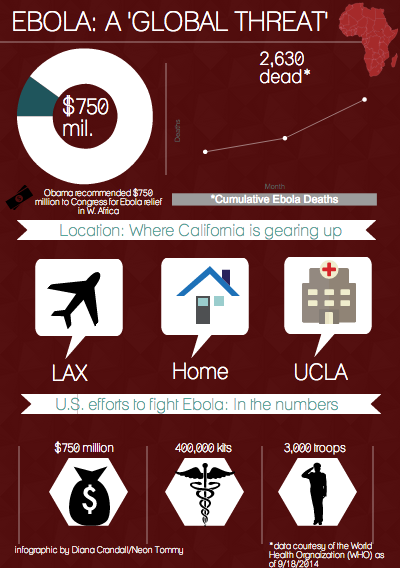 The fight against Ebola has only just begun.
The deadly virus continues to pepper headlines as it makes its way across West Africa. As the days pass, more families are ripped apart as healthcare providers voraciously battle the illness and the body count rises.
The Centers for Disease Control and Prevention (CDC) have one goal: stop the spread of infection.
Experts like the World Health Organization (WHO) are calling the epidemic unparalleled in modern times as they scramble to contain the virus, and keep it from breaching U.S. borders.
A quarantine station set up in the Tom Bradley International Terminal at Los Angeles International Airport (LAX) aims to do just that. CDC officers stationed there are working around the clock to identify any travelers arriving in Los Angeles that exhibit possible symptoms of Ebola.
READ MORE: Obama To Send Troops And Medical Aid To Fight Ebola
Symptoms include a fever greater than 101 degrees, severe headache, muscle pain, diarrhea, vomiting and abdominal pain. These symptoms can manifest anywhere between two and 21 days after exposure to the virus, but usually are identifiable between one and two weeks after exposure. Neon Tommy reached out to the quarantine station at LAX, but authorities there declined to comment.
The Los Angeles County Department of Public Health has a plan of action in the case that a patient does somehow slip through the cracks, and begins to exhibit signs of Ebola.
"The Department's plan of action is to first confirm if the diagnosis is correct," said Dr. Jeffrey Gunzenhauser, Interim Health Officer at the L.A. Department of Public Health, in an interview Thursday.
"If confirmed, [the plan is] to provide assistance in assuring protection for all who have contact with the patient. The Department's Public Health Laboratory has been approved to perform testing for Ebola virus, and so we can confirm the diagnosis right here in the county," Dr. Gunzenhauser said. "We have provided information about the diagnosis and management of suspected cases of Ebola to health care providers and all hospitals [in Los Angeles County].
READ MORE: Ebola Vaccine Tested On Two Women
For experts looking at Ebola on a worldwide scale, the epidemic is of immediate importance to address, and affects every corner of the globe.
"If we don't act now to stop Ebola, we could be dealing with it for years to come," said Dr. Beth Bell, a top CDC expert, in an address on Tuesday on Capitol Hill.
The sinister reality is that, according to WHO, Ebola cases "could double every three weeks," and major cities across the world are gearing up to stifle an outbreak before it occurs. This week, President Obama called Ebola a "threat to global security."
"It's spiraling out of control, it is getting worse, it's spreading faster, and exponentially," President Obama said. "If the outbreak is not stopped now, we could be looking at…profound political and economical and security implications for all of us." President Obama ordered approximately 400,000 home health and treatment kits to be distributed in Liberia. He also ordered 3,000 troops to be sent to West Africa to assist in the battle against the virus.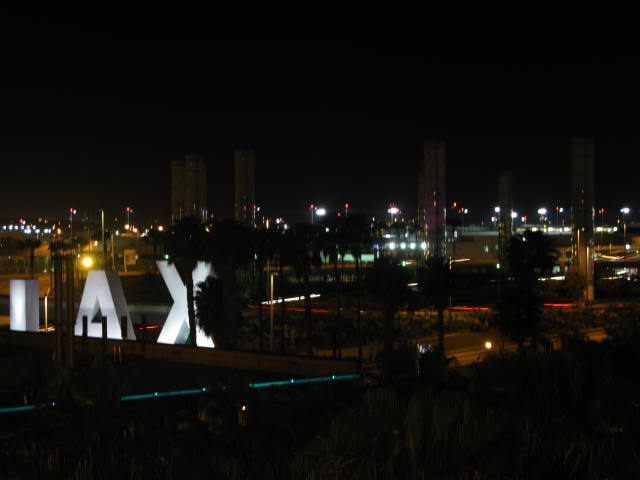 L.A. County and the greater state of California are working to stifle the threat of the virus before it can even arise. In addition to the LAX quarantine station, The California Department of Public Health (CDPH) has aggregated information and made it available to the public regarding how the virus is spread.
As of now, current science shows that individuals cannot be infected with Ebola through air, food, or water. Ebola is transmitted "through contact with the blood or bodily fluids of an infected symptomatic person," or through exposure to contaminated objects like needles.
Those most likely to be infected by Ebola include family and friends close to the infected person. Healthcare providers working diligently to aid patients are also at an extreme risk for contamination.
READ MORE: Sierra Leone Will Do Three Day Lockdown To Combat Ebola
The CDPH and the Health and Human Services Agency of the State of California have made a case report that can be filled out online by people who suspect that a person has been infected with Ebola. The "Viral Hemorrhagic Fever" case report asks questions that range from race and symptoms to travel history and exposure risk.
The CDPH stresses the importance of early diagnosis and intervention, which is supported by expert analysis on the topic.
Research conducted on epidemic outbreaks published in the textbook Epidemics, Vol. 8 strongly supports a stance of early intervention to curb an epidemic.
"Success…in reducing the number of subsequent infections is directly linked with how timely it is implemented and how complete the implementation coverage is," the study reads. "The higher its coverage, the more effective the intervention is."
Medical experts and infectious disease specialists at UCLA have also created 'Ebola kits' that consist of various protective gear to assist healthcare providers in the case that someone arrives at a UCLA medical center exhibiting possible symptoms of Ebola. 25 of the kits are at the Ronald Reagan UCLA Medical Center and 25 are at the UCLA Medical Center, Santa Monica.
Infected patients coming from West Africa, however, are not likely to be seen in Los Angeles, Dr. Gunzenhauser said. "There are 20 quarantine stations [in U.S. airports], including San Diego and San Francisco, as well as LAX. Of note, there are no direct flights from West Africa to California, so travelers would not be arriving directly in California from any of the countries in which cases of Ebola are currently occurring."
Contact Associate News Editor Diana Crandall here. Follow her on Twitter here.