Los Angeles
Condoms In California Prisons Could Reduce HIV And Cut Costs
Sex in prison is illegal, but people and legislators alike know that it occurs, whether consensual or forced.
Nonetheless, condoms are not handed out in California prisons and are considered contraband, unless brought in by spouses during overnight visits (only allowed for low-level offenders). Even then, inmates are only permitted 10 condoms, and those are carefully monitored.
Diseases such as HIV are often times spread through this unprotected sexual activity, infecting those behind bars at a high rate. This results in unhealthy inmates and a hefty health care bill for the state.
Oakland Democratic Assembly Member Rob Bonta decided to do something about this. Hoping to curb the infection rate and cost of treatment, he proposed the "Prisoner Protections for Family and Community Health Act" (Bill AB966), which passed in Assembly in January, passed in Senate in August and was enrolled August 25, 2014. This is in spite of the law that bans inmates from having sex with one another.
This bill is very similar to AB999, also titled Prisoner Protections for Family and Community Health Act. AB999 had homologous language and end goals. However, it was vetoed on Oct. 12, 2013 by Gov. Jerry Brown. The new bill is hoping to avoid a similar fate.
"[AB966 has] been voted on and approved," said Joe Orlando, Public Information Officer at the California Department of Corrections and Rehabilitation (CDCR). The CDCR operates all state adult prisons, to which this bill will eventually apply. "It's just waiting for the governor's signature, so we should know by the end of September, one way or another, how the governor is going to react to it."
In an Assembly Committee on Public Safety bill analysis on Jan. 14, 2014, it was noted that the legislature had attempted three times in the past to mandate condom distribution in state prisons, but each attempt was vetoed. "AB966 retools those other efforts and brings all stakeholders together, including CDCR, to stand up for the vulnerable communities who are being affected by this devastating disease [HIV/AIDS]."
READ MORE: Fixing California's Flawed Prison System
This bill would require the CDCR to develop a five-year plan to extend the availability of condoms in all California prisons, AB966 states. Condoms will reach all of the state's 33 adult prisons by 2020.
"If the governor signs off on it, we would go back to the plan that we had five years ago from fall of 2008 to 2009. It was a plan that was a one-year pilot program at California State Prison, Solano. It was paid for by a non-profit state health agency," said Orlando.
He explained that the program put a number of dispensing machines in one section of that prison, which had about 800 inmates, over a one-year period. Inmates were allowed one condom at a time. This initiative resulted in tremendous savings.
"It was $1.39 per condom, whereas if you compare that to sexually transmitted diseases or HIV, that could cost anywhere up to $40,000 per inmate to treat them. They found that in the long haul, it was quite a savings to just make these available," Orlando explained.
"From what I understand, it's being proactive rather than reactive. If this [bill] sees the light of day, that's what the logic is; just the fact that it's better to take precaution than to have to pay that much more down the road."
READ MORE: L.A. Youth Groups Condemn California's 'Incarceration Problem'
Orlando said that the CDCR would work in cooperation with the Federal Receiver's Office. That office oversees all health care issues within the state prison system. CDCR would be working closely with that organization to oversee the implementation of this plan over a five-year period.
The HIV/AIDS Research Centers' June 2013 Policy Brief reinforces that this plan will save the state money. Its findings depict that this proposal will reduce correctional facility costs for California inmate health care.
These are presently more than 124,000 individuals in California prisons on any given day and 95% of them are males. That length of stay for these inmates is 22 months and close to 60% return within two years of release (CDCR 2011), according to the policy brief.
None of these individuals currently have access to condoms, a public health/HIV/STD prevention tool that the World Health Organization and United Nations Programs on HIV/AIDS recommend be made accessible in custody settings.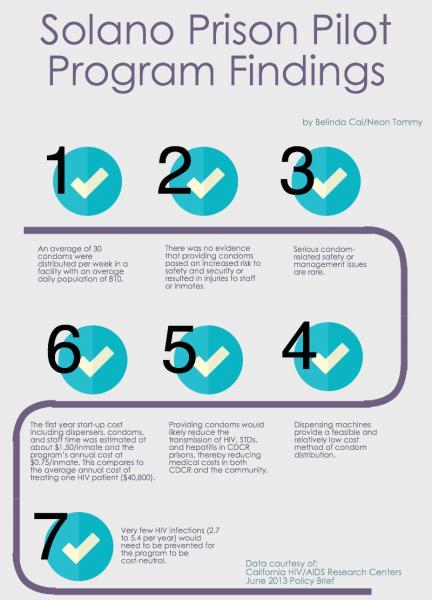 Based on this and two other condom distribution programs—one in San Francisco (since 2007) and one in Los Angeles (2001, 2007)— there are known benefits to condom distribution in prison settings.
The San Francisco jail system, since implementing condom distribution, has seen improvements. For example, the availability of condom dispensing machines increased the prisoners' awareness of access to condoms and likelihood of obtaining them. This was especially the case with those who were HIV-infected. Sexual activity did not increase and custody operations were not impeded.
"A lot of the health agencies and those that deal with sexually transmitted diseases would like to see something like this implemented because of health reasons," Orlando said. "I think it would be really popular for organizations like that to see something like this through, depending what the governor decides to do with it."
If the governor signs the bill, California will be the second U.S. state, after Vermont, to provide condoms for prisoners. Other countries around the world that have executed something similar include Australia, Brazil, Canada, most of the European Union, Indonesia and South Africa.
Reach Web Producer Belinda Cai here and follow her on Twitter here.