Los Angeles
L.A. Youth Groups Condemn California's 'Incarceration Problem'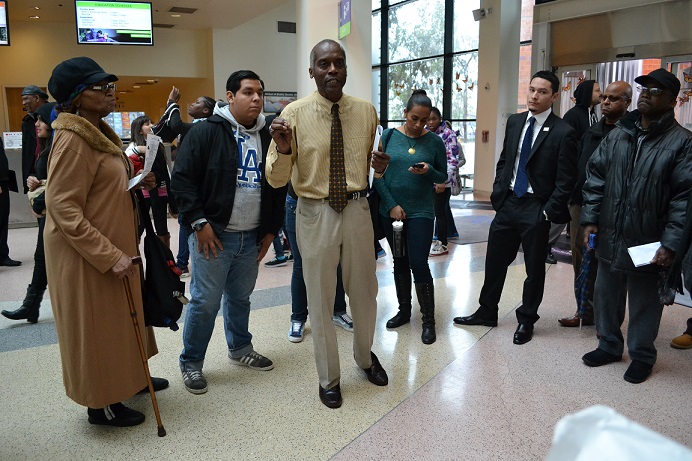 "Stop jail expansion and invest in the community instead," repeated members and allies of the South Los Angeles Reintegration Council during a news conference last Friday.
A group of 20 men and women gathered inside the California Science Center to talk about the various issues surrounding how Los Angeles and California's mass incarceration affects youth. The meeting took place an hour before Assemblymember Reggie Jones-Sawyer held a hearing on justice reinvestment.
"It's ridiculous that at a time when young people and their families are showing record drops in crime, that media continues to paint youth as villains and predators in need of harsh policing," said Kim McGill, an organizer for the Youth Justice Coalition (YJC).
McGill called for an immediate disinvestment in what she called "our addiction to incarceration," and a reduction of one percent of L.A. County's law enforcement budget. According to McGill, a reduction of just one percent would give near $100 million a year for young people.
General Dogon, a former inmate who was first incarcerated at age 18, spoke of his time in state prison and the human rights violations he witnessed and experienced. During his prison time from 1981 to 2003, Dogon alleged he was beat by guards and denied healthcare among other offenses.
He also called out the current approach to crime and its lack of efficacy.
"[LA Police] Chief Beck said crime has been going down for the past 10 to 15 years, so why the hell are we investing money in building new prisons?" Dogon asked, referring to the $500 million in jail construction funds that was approved in January by California's Board of State and Community Corrections. "Studies show people would do better in community-based organizations. We need that money in the community."
As of last year, California ranks 11th in the nation in youth incarceration despite downward state and national trends in incarceration, with approximately 271 incarcerated for every 100,000 young people.
According to national data from the Office for Civil Rights, there was a significant disparity in arrests of African American students compared to their white counterparts. The Washington post summarized data collected from 2009-10, which revealed 96,000 arrested students and 242,000 students who were referred to law enforcement by their schools:
"In a more focused analysis of school systems with more than 50,000 students enrolled, the data showed that African American students represented 24 percent of enrollment but 35 percent of arrests. White students accounted for 31 percent of enrollment and 21 percent of arrests. For Hispanic students, there was less of a disparity in arrests. They accounted for 34 percent of enrollment and 37 percent of arrests."
Besides the lack of funding for youth programs, McGill cited the comparable numbers of camps, or youth prison, and community colleges in Los Angeles. She also said Los Angeles was the only major county in the country not to have a department of youth development.
"The community has a lot of resources politicians are not tapping into," said South Los Angeles Reintegration Council member Nyabingi Kuti, who led the meeting.
Kuti referred to groups like the YJC, in addition to churches and nonprofits, who are already providing services to the community but lack additional funding.
Beyond solutions to and alternatives of incarceration, Rahab Mitchell spoke about the benefits of working collaboratively with institutions to provide services and resources for people prior to getting released.
"Why drop them off at the curb?" Mitchell asked. "We want to offer training and build life skills six months ahead to help equip people when they come out."
Mitchell also talked about the need for family resources so that those who leave institutions can reconnect with their communities instead of become alienated. She stressed the need for culturally relevant services beyond just those geared toward blacks and Latinos.
"It's not a color issue, it's a poor people's issue," Mitchell said. "Jails are not a solution to poverty in America."
Reach Staff Contributor Sophia Li here.