Arts+Culture
Blank Walls and Bathroom Stalls: The Art Of Grafitti?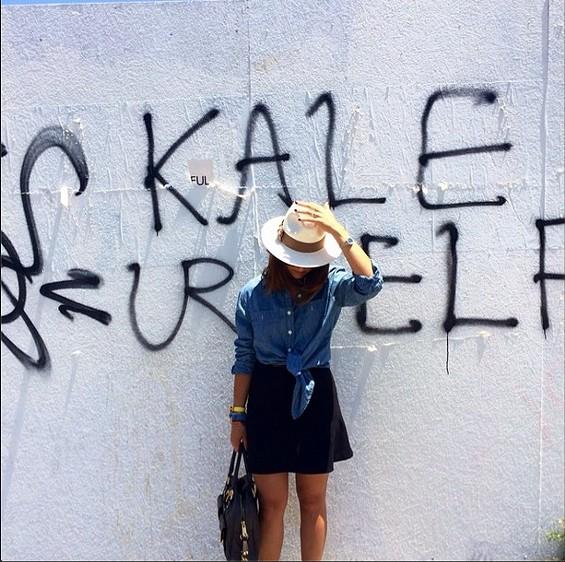 One unemployed comedy writer has found the best self-publishing platform around: the streets of L.A. Carlos Herrera is the writer-turned-street-artist behind the "Kale Urself" graffiti, a work that appeals to the humor and eating habits of fellow Los Angelenos. The spray-painted phrase is getting a huge audience, too, namely the thousands of people who drive down Beverly Boulevard every day.
As the Instagram posts of the "Kale Urself" scribble multiplies, it starts to bring into question whether Herrera's witty phrases around L.A. can be considered art. I'm not talking about the elaborate murals that adorn L.A.'s Arts District or the impressive typography of L.A. gang tags around the concrete walls of the L.A. River. I'm not talking about San Francisco's colorful Mission District or New York's former 5Pointz graffiti mecca. I'm talking about the simple writing on the wall. The spray-painted phrases that grab the attention of passerby's.
READ MORE: Google Culture Project Adds Street Art to Database
Google "graffiti quotes" and you'll see what I'm talking about. Everything from the inspirational to the smart-ass. Banksy, a world-renowned street artist behind the documentary "Exit Through the Gift Shop," once poked fun at his own work by writing these words on a wall in London: "If graffiti changed anything- it would be illegal."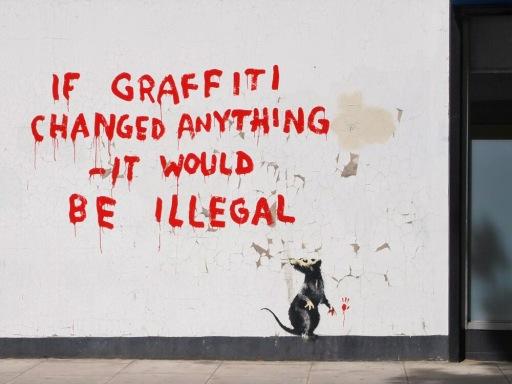 And really, that's what defines art. Not the legality, but the ability it has to change the audience. Art changes the way that the audience perceives a concept, an object, a feeling. And I believe that some of the image-based street art in the major cities around the world does meet that expectation. That's why street artists have exhibits in MOCA and the Museum of the City of New York.
READ MORE: Watch L.A. Street Artist PUSH Create a Graffiti Masterpiece in 8 Seconds
However, Herrera's work is a different breed. The art is supposed to be in the words, and while "Kale Urself" fits in right at home in L.A., it's not like it hasn't existed in the Twitter and Tumblr spheres long before that. Herrera has also put up some other phrases in the middle of the night, punny expressions like "vision bored" and "Lorde help me." Those words might make people crack a smile, and in my book, that isn't enough to be considered art. Otherwise, every other person you follow on Twitter might be considered an artist, and that's a disturbing thought.
Also, Herrera and the other text-based street artists like him, are anonymous, and that makes it difficult for people to see their body of work as a whole. Perhaps all these random phrases do change something when they are viewed as a small part of a collection, but props to the casual passerby who will do some handwriting analysis next time they see another spray-painted scribble.
Most likely, these phrases aren't even part of something bigger. Musician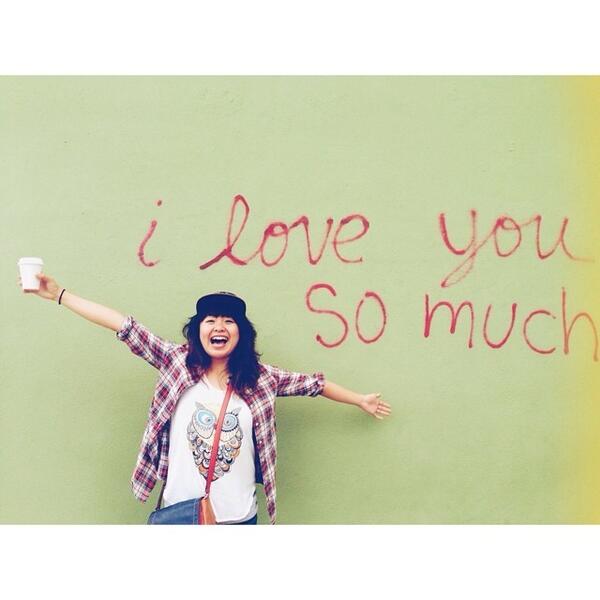 Amy Cook spray painted a famous "I love you so much." that has made plenty of cameo's in movies and wedding photos. The reason? She just wanted to brighten the day of her then-girlfriend. And while there's nothing wrong with that, it doesn't make this iconic Austin wall writing a piece of art.
Image-based graffiti is often anonymous, too, but the many aspects of style and skill that go into that art gives city dwellers a much more comprehensive portrait of the artist and a better understanding of their meaning.
That's the difference between reading the Sharpie-poetry that is graffiti-ed onto bathroom stalls and bare walls and the ones in poetry books. Herrera can go on selling his "Kale Urself" shirts and Los Angeles residents can go on smiling about it. But it doesn't change anything. It's just writing on a wall.
Contact Staff Reporter Meghan Coyle here.