NFL
Stricter NFL Domestic Violence Policy Imposed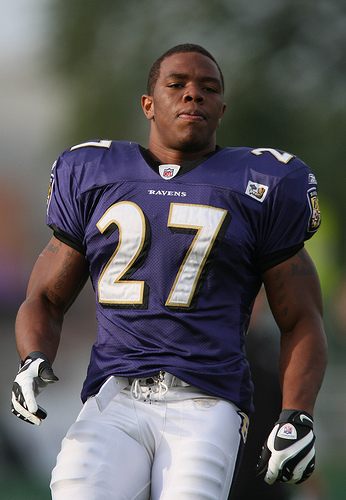 Effective immediately, a new discipline policy on domestic violence will be enforced in the NFL.
The policy requires that players charged with assault, battery, domestic violence or sexual assault will be suspended for six consecutive games on a first offense. A second offense will get the player banned from the league, though they will be able to apply for reinstatement after just one year, according to NBC Sports. NFL commissioner Roger Goodell laid out these changes in a letter sent to all 32 NFL owners.
This change was prompted by the public backlash to the slap-on-the-wrist penalty Baltimore Ravens' star running back Ray Rice received for dragging his then-girlfriend (and now-wife)'s unconscious body out of an elevator.
SEE ALSO: In The NFL, Domestic Violence is ⅛ As Bad As Smoking Pot
In his letter, Goodell noted the league "fell short of our goals" in response to the Rice incident, adding the league "lost an important opportunity to emphasize our strong stance on a critical issue."
The new policy will not affect Ray Rice's suspension.
Reach Associate News Editor Cassie Paton here. Follow her on Twitter here.