MLB
MLB Trade Deadline: Winners And Losers
Midsummer days are not very fun for a sports fan. As basketball season concludes, neither football nor futbol season can arrive soon enough, and though baseball hosts the boys of summer, the drag of games 121 to 162 can sometimes get a little unappealing (unless Clayton Kershaw is on the mound).
Nevertheless, the trade deadline comes at the perfect time. And what could be more exciting than the MLB Trade Deadline? Rumors everywhere, fake twitter accounts, players being taken out in the middle of games, #hugwatch and, of course, the trades themselves having to be completed before 1 PM! Ah, the drama.
After yesterday's showcase, any sporting event not involving actual gameplay will have a tough time topping the transaction madness we experienced. So, as the dust settles from the player-swapping bonanza, let's see who won the deadline and who let the deadline beat them.
Winners
Detroit Tigers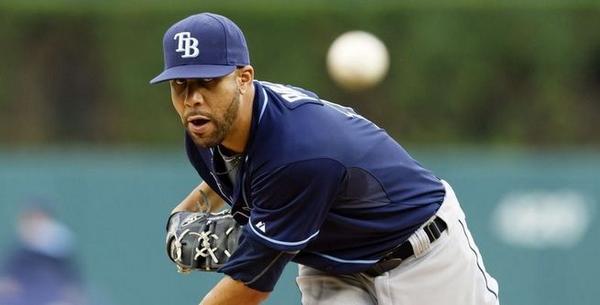 When you somehow pull off what many deemed to be impossible and get the Tampa Bay Rays to trade you David Price, their most prized posession and arguably the best pitcher in the American League, you win not only the day, but you may just win the season. Price and the Rays had been playing their best baseball of the year, but were still six games back in the wild card, meaning it would take a miracle run to make the postseason. Detroit, on the other hand, holds a comfortable four game lead in the Central Division over the Royals (more on them later) and made this move with a World Series run in mind. In Price, they get a guy who has been dominant since the break, boasting a 2.35 ERA and 25 strikeouts in 23 innings, and one who will now headline a ridiculous rotation of three former Cy Young Award winners. The price for Price was not as steep as many believed, as the Tigers only gave up Austin Jackson, Drew Smyly and a shortstop prospect in the three-team trade with the Mariners. But whatever the price was going to be, the Tigers knew they needed to make this move because...
Oakland Athletics
Earlier in the day, the A's pulled off a foreshadowing blockbuster of a trade with the Boston Red Sox to get Jon Lester (and Jonny Gomes). Perhaps more surprising was the fact that to get him, they included multi-talented, power-hitting outfielder Yoenis Cespedes. The A's sacrificed hitting, but as a result of this trade and the earlier Jeff Samardzija aquisition, their rotation is just as scary as the Tigers. Oakland is a winner because this year has been theirs to lose from the start. They've been the best team in baseball and everything is finally breaking their way. Billy Beane uncharacteristically going after big names can only mean that he feels this is their best chance to finally make their Moneyball dream a reality and a true championship success. To get there, they'll probably have to face their nemesis, the Tigers, but this time Billy and the A's are prepared for an even match and one heck of a pitching series.
St. Louis Cardinals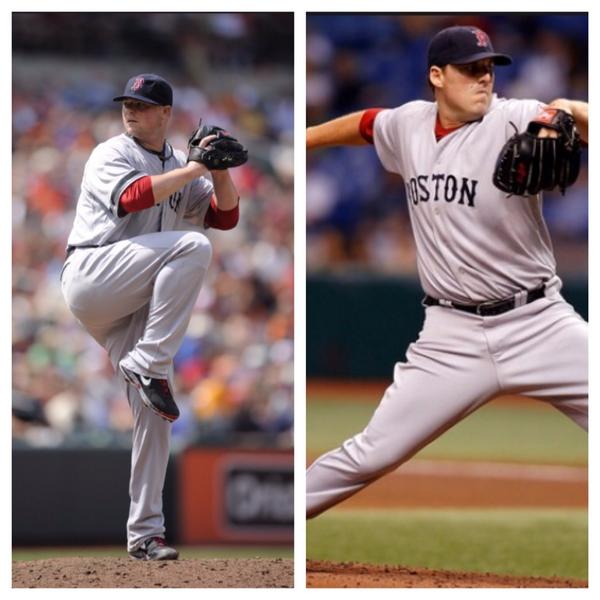 The World Series runner-ups are not messing around either. By trading for Justin Masterson earlier this season and John Lackey yesterday, and giving up only fringe players, they've successfully bolstered their relatively depleted rotation in anticipation of yet another deep run. Masterson and Lackey bring solid pitching to help out Wainwright and attempt to best the pitching staff of anyone in the National League. The Cards are in the tough Central Division and getting to the playoffs will be a battle, but they were the only ones in their division to make moves at the deadline so that makes them favorites to win the Central and likely the National League once again. It's World Series or bust for the Cardinals again, and they knew that to get past a team like the Dodgers, adding pitching was crucial, so they did just that.
Boston Red Sox and New York Yankees
I realize that I am committing some sort of baseball cardinal sin by pairing these two together, but after they traded with each other yesterday, I am not sure what to believe in anymore. These two are trade deadline winners for different reasons. The Yankees are still fighting for a playoff spot, if only to reward Derek Jeter on his final season, but they lacked the prospects and talent to go after big fish like Price. Instead, they spent almost nothing and got substantially better at third and second base, picking up Martin Prado from the Diamondbacks and Stephen Drew from the Red Sox. Prado brings an added bat to a lineup that desperately needs it, and even though their rotation is still a huge question mark, they certainly did not make any bad moves while improving their defense en route to what they hope is a playoff run.
Meanwhile, the Red Sox did some very interesting things. They traded almost all of their starting pitching rotation away, but in return they got a much-needed power hitting outfielder and some decent young players. Besides Cespedes, their moves were more for rejuvenization than immediate improvement. This year has gone down the drain, so selling high on Lester and Lackey was smart. With plenty of young talent coming up and some already there, the Red Sox are not rebuilding, but rather re-tooling. They won the day because they put themselves in a great position by acquiring major league players ready to start in the likes of Joe Kelly, Allen Craig and Cespedes. Combine them with all the young talent they possess, add one or two pitchers and maybe even re-sign Lester, and they'll be contenders once again in 2015.
Losers
Pittsburgh Pirates, Kansas City Royals, Toronto Blue Jays
These three teams fall under this category, not because they did something wrong, but rather because they failed to do anything remotely good. Given that all three are in the middle of playoff division races, their lack of agressiveness could really come back to haunt them later this season. What they also have in common is that they are underdogs, looking up at their division leaders; but those teams aren't unreachable and their chances to catch them were far from dead. The problem is that the Pirates are looking up at the Cardinals, who made various pitching moves. The Royals are looking up at the Tigers who made the move. The Blue Jays are looking up at the Orioles, who, despite not pulling off a big move, still improved their bullpen by adding Andrew Miller from Boston. There's something to be said for continuity and cohseiveness, especially in a baseball clubhouse, but with these teams all having a good shot at making the playoffs, especially via the Wild Card, it's puzzling to see them not make any trades to help them do just that. Their leading rivals got better, while they remained the same; all they can do now is hope what they do have is enough to surpass them.
Philadelphia Phillies
Oh, the Phillies. They are in a category all by themselves. It's 2014 and they are still reeling from the huge contracts of Ryan Howard and Cliff Lee, and even though they had a chance to finally clear salary space and maybe move some of them to other ballclubs, they didn't. They had other players of value such as Cole Hamels, A.J. Burnett, Marlon Byrd, Chase Utley, and Jonathan Papelbon, but they remained in Philadelphia just as their incompetence in future years will as well. Maybe they wanted too much for what they were offering, maybe they wanted to keep some of these players for some unknown reason or maybe they were crazy enough to think they could still make a run in a relatively weak NL East. Whatever the case, the Phillies are quickly becoming the laughingstock of sports in the City of Brotherly Love. At least the Sixers have a rebuilding plan in mind, because from the looks of it, the Phillies certainly don't.
Los Angeles Dodgers and Los Angeles Angels
Now, hear me out: The Dodgers and the Angels are both in prime position to make the playoffs. They're arguably two of the top three teams in baseball this season and have a promising playoff run in their respective futures. They aren't losers in the same breath that the Phillies are, but if their goal was a World Series, they certainly didn't show it.
The Angels watched the deadline pass and saw their division rival A's get incredibly better by adding pitching. They only added a reliever a couple weeks ago in Jason Grilli, and one of their starters may have gotten hurt last night, adding to this label. Somehow, the Angels had played well enough that beating out the A's for the division crown was completely plausible, but instead of pulling anything off to help their chances, they watched the A's do just that and pull ahead of them. Now, they'll probably be stuck in the play-in Wild Card game where anything and everything can happen.
The Dodgers watched the deadline pass and saw the team that beat them last year's NLCS get much better by adding pitching as well. Granted, it is being said that the Dodgers went after Lester, Price, and even reliever Miller, but they struck out on all three. Mostly due to their unwilingness to part with top prospects that certainly would have included Joc Pederson among others, the Dodgers stood pat and didn't trade Matt Kemp or make a move for anyone else, hoping that what they have now is enough. A look at the roster that may prove true, as Kershaw and the whole pitching staff continue an amazing year, while Yasiel Puig and Dee Gordon are among the best young players in the bigs. But it is exactly that fact, which should have motivated them to go hard after another pitching star, or any impact player for that matter. With Kershaw having a dominant MVP-worthy campaign and the team firing on all cylinders, why not go all-in on this season? Similar to St. Louis, this year is World Series or bust for the Dodgers and they had a chance to make sure their ticket there was all but in their hands. Only time will tell if the lack of aqcusitions will work to their advantage or be their downfall.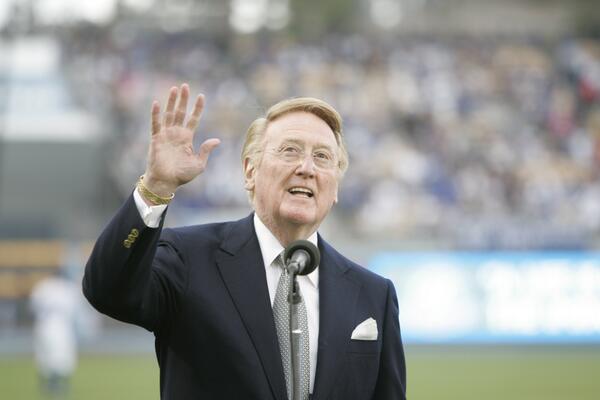 The Dodgers may not have won this trade deadline, however, they did receive probably the best news of the summer so far: Vin Scully announced, on Tuesday, that he is officially coming back to announce games next year for his sixty-sixth season. So, in that sense, they are winners indeed.
Congrats, Vin!