Nation and World
Terrorists Attack World Cup Watch Center In Nigeria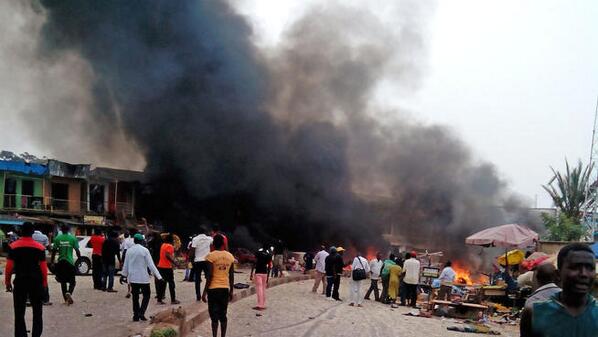 The World Cup is the most watched sporting event in the world. Whether it's Americans sitting on their living
room couch in front of their 60-inch flat screens, or people in Ghana
rationing and saving electricity
just to watch their team play, once the ball begins to roll, just about everyone is watching.
The sport's tremendous popularity has sparked the recent growth of viewing parties or watch centers. Not only do these viewing opportunities inspire national pride and camaraderie, they also help make the game available to citizens in countries where a television may be an expensive luxury.
In America, they provide people with the opportunity to watch the matches with their friends and experience something other than a typical at-home gathering. In other nations, however, these centers for watching the world's most popular sport mean so much more. They are scenes for perennial pride and patriotism; scenes of extreme excitement and enjoyment.
But on Tuesday in Nigeria, such enjoyment was tainted by yet another despicable act.
READ MORE: Over 48 Killed During Kenyan World Cup Screening

A suicide bomber detonated an explosive-filled tricycle taxi at the outdoor area where the viewing center was located in Damaturu, a town in northern Nigeria. It is believed the terrorist act is the work of an Islamic extremist group, who have been known to target such locations and crowds before, according to the Associated Press.
The viewing center certainly must have been highly populated, given that the detonation reportedly occurred minutes after the start of the Brazil-Mexico match. The blast caused a total of fourteen deaths as well as twenty-six others being injured.
The town of Damaturu happens to be about three hours away from the town of Chibok where the Nigerian girls were captured by the Boko Haram terrorist group in April. That same group is believed to be responsible for this attack as well, and have forced the Northern Nigerian region to be put on an emergency alert.
The viewing center quickly transformed from an enjoyable gathering place to watch the games, into a deadly crime scene. Fears of a second detonation kept others away from the viewing center; even authorities and medical help wary of rushing to the rescue.
READ MORE: 11 Tweets That Will Permanently Alter How You See The World Cup

Unfortunately, this is not the first of these types of incidents. Another similar terrorist attack occurred in Kenya, where just a day ago, forty eight people were murdered by another Islamic extremist group.
Clearly, these World Cup viewing centers are an easy target for Islamic terrorist groups who claim football is "Un-Islamic". But the violent attacks must be stopped. A site for watching the beautiful game that serves to unify a country cannot continue being the tragic scene where innocent human lives are taken.
Contact Staff Reporter Paolo Uggetti here, or follow him on Twitter here.