Nation and World
U.S. Takes A Stance Against Homophobic Laws In Uganda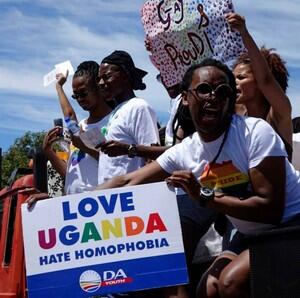 While Americans are rapidly coming to accept same sex marriage (
even the Presbyterian Church now approves of it
) incredibly conservative attitudes towards sexuality remain in place throughout much of the world.
On Thursday, however, the United States took a stance against Uganda's Anti-Homosexuality Act of 2014, that threatens Ugandans with lengthy prison sentences for any same-sex relations, domestically or aboard.
The White House cut aid to Uganda, implemented visa restrictions and canceled a regional military exercise in order to "reinforce our support for human rights of all Ugandans regardless of sexual orientation or gender identity."
READ MORE: Gay Marriage Takes A Back Seat At Discussion On Global Sexuality
The hotly-contested law imposes life-long prison sentences for homosexual sex with a minor or while HIV-positive, makes it a illegal to help others engage in homosexual acts and criminalizes lesbianism for the first time.
"We think it is simply a blackmail," said Ugandan governmental spokesman, Ofwono Opondo. "We have said it before, homosexuality is not a fundamental human right. In our own constitution, it is not guaranteed as a fundamental right."
Contact Deputy Editor Sara Newman here. Follow her on Twitter here.