Nation and World
Gay Marriage Takes A Back Seat At Discussion On Global Sexuality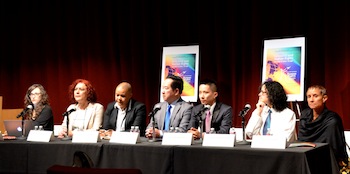 While the popular media in the United States widely limits its discussion of LGBT issues to which state most recently extended—or revoked—the right to same sex marriage, the seven speakers who partook in Wednesday night's Human Rights speakers series chose to discuss more far-reaching reforms.
Human rights activists from as far away as South Africa, Brazil, Venezuela and China joined West Hollywood Mayor Pro Tempore, John Heilman, in a panel discussing the international politics of sexuality and promoting the need for increased tolerance for people of all genders and sexual identities.
Despite their different cultural, sexual and political backgrounds, the panelists appeared to agree that the issues that lay at the heart of the LGBT community are the ones that mainstream media often ignores. Throughout the night, panelist emphasized the need to combat bullying, fight for workplace equality, increase the dissemination of information, create wider access to healthcare and build greater tolerance for the LGBT community—especially within their own families.
"One of the big challenges we are facing is figuring out how to have the states and the U.N. system catch up to where social movements are," said Rothschild remaining carefully optimistic. Despite the seemingly slow gains in the movement, Rothschild reminded panelists that in her 20 years of activism, "we've seen things that we probably never thought would come in our lifetime."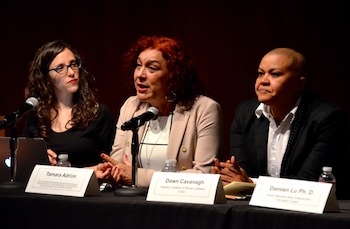 Gay marriage, a favorite topic in the United States, hardly even made an appearance in the night's discussion, as the complex intersections of gender and sexuality were instead thrust into the spotlight. The "intersectionality of various kinds of oppression," as Dawn Cavanagh put it, became the focus for the night.
READ MORE: Los Angeles Gay Community Concerned After Meningitis Deaths
After facing rejection from feminists for distracting from more prominent women's issues and feeling voiceless among the men who were running the LGBT movement in South Africa, Cavanagh and other women joined forces to form the Coalition of African Lesbians (CAL).
"Many Chinese lesbian activists are facing the same dilemma," said Chinese activist Damien Lu, affirming that even when issues of sexuality are fought within countries, a profound universality of experience remains.
China's political and social conservatism has had "tragic and horrible results" as insufficient medical care for members of the trans community leads many people to "self medicate in dangerous conditions," according to Lu.
"We cannot use media to advertise; we must go by word of mouth," said Lu, explaining that even the sense of community that many LGBTQ activists find so rewarding is difficult to come by in China. Such a disjointed movement has led to a "crisis regarding a direction of the [LGBTQ] movement" said fellow Chinese activist, Guo Zinyang.
READ MORE: Anti-Homosexuality Laws: Is Our Society Really That Progressive?
But the isolated actions of Chinese activists in China and African activists in Africa are not enough to resolve such complex issues. Sonia Corrêa, a research associate with ABIA and co-chair of the sexuality policy watch emphasized the invaluable benefits of "constant and sustained friendship among people across national lines."
"We must set agendas that are about freedom, not just equality," said Corrêa, emphasizing that interrelated nature of the fight for freedom for LGBT issues, abortion rights, gender politics, family freedom and sexual education.
Yet, Tamara Adrián, a Venezuelan activist and lawyer remained wary of using LGBTQ as a blanket label that makes the process of "othering" people who defy heterosexual normativity easier.
"Transphobia is mostly related to the appearance of trans people during transformation…homophobia is much more related to religious hate," said Adrián who identifies with both the gay and trans communities.
While the panelists examined various issues related to HIV and AIDS, gender hierarchies and sexual stigmas, they saw one another as fellow activists fighting for the expansion of freedom.
"The more inward we look the more we weaken our struggles," said Corrêa. In order to continue to push the envelope, Corrêa, like many of the other panelists, expressed the invaluable need for "constant and sustained friendship among people across national lines."
Contact Deputy Editor Sara Newman here. Follow her on Twitter here.