California
Teachers Left Feeling Undervalued After Vergara v. California Ruling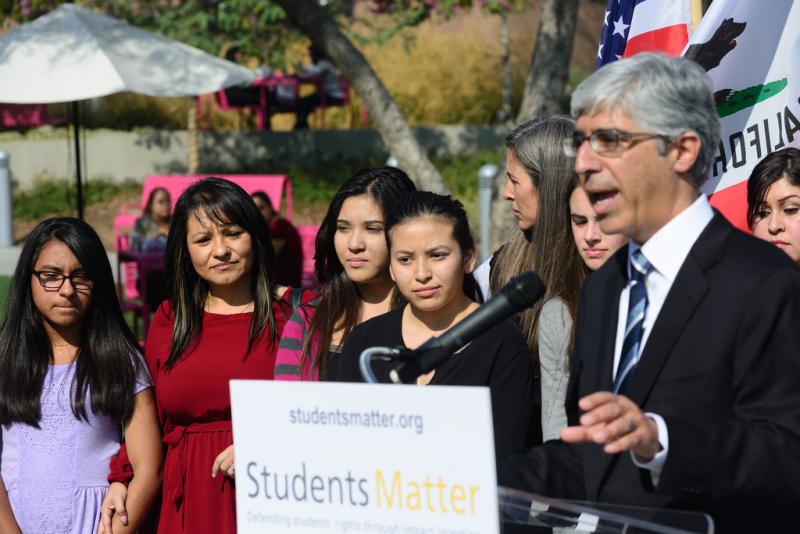 In a landmark case speculated to incite legal changes in school districts across the country, the courtroom battle between Vergara v. California came to close on June 10 with a stunning victory for students across the state of California.
On Tuesday, Los Angeles Superior Court Judge Rolf M. Treu ruled California teacher protections are unconstitutional.
"Clearly it's a victory for parents and students," said Peter DeMarco, communications director for the Senate Republican Caucus. "There were some serious flaws in the system that were not providing an ideal education for kids. There are many great teachers who are a vital piece to furthering education for California school kids. However, there are a few who don't provide what's necessary for a good education. The law stepped in. "
Under the entrenched teacher tenure system, terminating teachers has been historically difficult in California, even when there is a demonstrable need. In 2010, due to job protection rules, teacher Dina Holder of the Brentwood Union School District was transferred to another school after she ripped a 5-year-old special needs student from his chair and kicked him repeatedly as he lay on the ground.
READ MORE: California's Teacher Tenure System On Trial
Though a legal settlement was eventually reached and Holder fired, the arduous and expensive process of firing a tenured teacher has dissuaded school districts in less extreme cases.
According to the Los Angeles Unified School District's Chief Labor and Employment Counsel Alex Molina, a mere 130 cases were heard between 2003 and 2012. Only 82 of the cases ended in dismissal over the nine-year period.
Judge Rolf wrote in his 16-page ruling, "Based on the evidence before this court, it finds the current system required by the dismissal statutes to be so complex, time consuming and expensive as to make an effective, efficient yet fair dismissal of a grossly ineffective teacher illusory."
Rolf's ruling means that California students and parents will no longer endure ineffective teachers as the byproduct of what many argue is an egregious bureaucratic process.
Along with finding dismissal statutes too costly and time consuming, Vergara v. California found tenure is granted in too little time, and should take years to evaluate, not a number of months. Finally, the "last-in, first out" (LIFO) statute that requires districts to fire the most recently hired teachers—despite that they may be top educators—was also struck down. This means that teachers will be evaluated based on the quality of their work, not how long they have been teaching.
Some teachers argued the ruling cheapens their value and exploits them. In an interview with Southern California Public Radio (KPCC), teachers expressed their distress:
"At this point, to see a ruling like this makes me feel like my contributions are not valued, what I bring to students is not recognized," said Bodin Adler, an 8th grade teacher at South Gate Middle School.
Silvio Vidal, another 8th grade teacher, echoed this sentiment.
"We're not treated as professionals anymore," Vidal said. "We are treated as scapegoats for the problems that exist within our district and within our society."
READ MORE: Teachers Unions Intervene In Lawsuit That Challenges Teacher Seniority
Not every member of the educational community agrees. LAUSD Board member Tamar Galatzan believes this is the beginning of a positive trend in California's public school systems.
"The Vergara ruling is the first step toward being able to guarantee that we have great teachers in every LAUSD classroom and other classrooms around the state," said Galatzan in a statement. " t is now up to the Legislature to pass laws that provide equal opportunity and provide equal access to a high-quality education."
Students also believe that the ruling will have positive repercussions, both in the classroom and in future legal arenas.
"With this case, we have shown that students have a voice and can demand change when we stand together," said plaintiff and high school freshman Julia Macias, in a statement to Students Matter. "I am incredibly thankful to the judge for giving me and my fellow Plaintiffs the opportunity to present our case."
Reach contributor Diana Crandall here.