California
California's Teacher Tenure System On Trial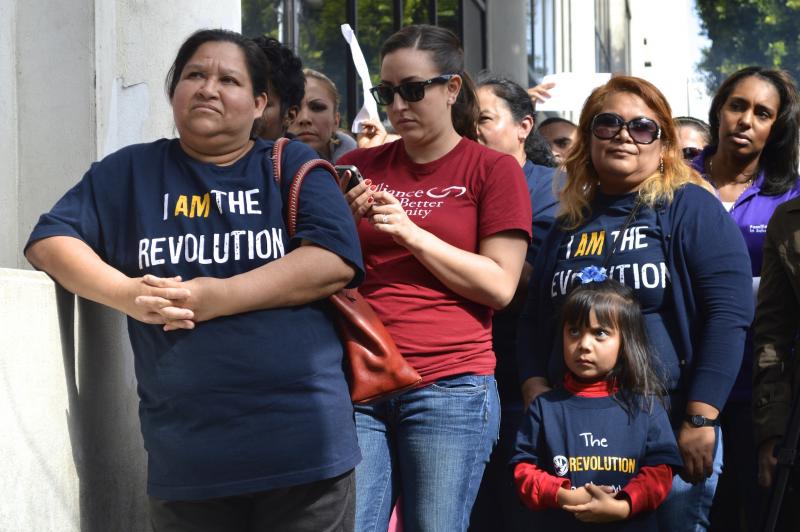 A monumental legal case spurred by nine California public school students that could redefine the role teachers play in the nation's public school system gets underway today in a Los Angeles courtroom.
Almost two years ago, the students representing several local public school districts filed a lawsuit accusing California's tenure system of robbing students of their constitutional right to quality teachers. L.A. Unified 10th grader Beatriz Vergara is the main plaintiff named in the case.
At its core the suit, Vergara v. California, poses the question: should it be easier for a public school to fire teachers? The lawsuit challenges five statutes of California's tenure law including whether teachers should even be eligible for tenure after just 18 months on the job. The suit also challenges the current dismissal procedure and the controversial "'Last-In, First-Out' Layoff Statute."
The defendants include Governor Jerry Brown, State Superintendent of Public Education Tom Torlakson, and the two largest teachers unions in the state — the California Teachers Association (CTA) and the California Federation of Teachers (CFT). The defendants say the case "demonizes teachers unions" and unfairly singles out tenured teachers for problems that exist within a vast and complex system.
"This meritless lawsuit ignores the biggest challenges facing public education, including a severe lack of funding, inadequate resources, overcrowded classrooms, economic inequality, and student poverty," said the CTA in a statement.
The non-profit group, Students Matter, founded by 53-year-old Silicon Valley technology mogul David Welch, is sponsoring the nine students and paying the tab for a high-profile legal team from the well known L.A.-based firm Gibson, Dunn & Crutcher who defended companies like Apple and Walmart.
Over a 100 potential witnesses have been lined up to testify in the month-long case, which also highlights systemic problems within the Los Angeles Unified School District — the nation's second largest school district: LA Unified board member Monica Garcia is on the student's side and LA Unified Board member Steve Zimmer on the unions' side. Deasy and other top-local educators are named on lists for both sides.
For the past several years, tensions between teachers unions and a burgeoning school reform movement led by parent activist groups and high profile business and political leaders have been mounting over issues like charter schools, teacher evaluations and the controversial parent trigger law.
The unions, which represent over 400,000 educators, contend that if the plaintiffs win, the state will have a much more difficult time attracting and retaining teachers. Furthermore, they say the school system would fall apart without the safeguards offered by a proper tenure system.
"Although we had hoped this would not make it as far as trial, we do see this as an opportunity to show that teachers and laws that protect basic due process, fairness, and the right for employees to be heard are not the problem with California schools," said Frank Wells, a CTA spokesman in a statement. "This lawsuit does nothing to address poverty, other social issues, and ongoing lack of social and capital investment in a strong public school system.
SEE ALSO: Teachers Unions Intervene In Lawsuit That Challenges Teacher Seniority
L.A. District Superintendent John Deasy, who has clashed at times with the unions and members of his board, will play an important role in the trial. Deasy is scheduled to testify on behalf of the nine students in the first two days of the 20-day trial.
Deasy has often been pitted as a member of the school reform camp, and almost resigned from his position last October after many of his proposed reforms were shot down by a pro-union school board.
Raj Chetty, a Harvard economist who recently published a data-driven report on effective teachers, will also deliver key testimony on behalf of the plaintiffs.
Many of California's public schools suffer from a lack of resources, and students test far below the national average. The state ranks 40th in per-pupil-spending, according to a statistical report from the National Education Association. However, as of 2013, the state's average teacher salary was the fifth highest in the nation.
From 2008 to 2012 L.A. Unified laid off more than 8,000 employees due to sever budget cuts. And because of the "Last In, First Out" rule, most of those laid off were new teachers.
In the past, Deasy has pushed for new legislation that would make granting tenure more difficult and which would loosen the bureaucratic red tape surrounding teacher dismissals. Deasy has complained that it takes years and can cost up to $5,000 to fire a single tenured teacher.
"To my dismay, we have lost thousands of our best and hardest-working classroom instructors through the last hired, first fired rule. When forced to reduce our teaching staff through budget cuts, we are compelled through state law and union rules to base these difficult decisions primarily on seniority," Deasy said in 2012 when the case was filed.
SEE ALSO: L.A. Unified Supt. John Deasy Here To Stay
Education policy expert Dr. Katharine Strunk, an assistant professor at USC's Rossier School of Education, noted that tenured teachers cost the district a lof of money:
"The more senior you are as a teacher, the more expensive you are to the district," Strunk said. "So in effect when you have a 'Last In, First Out' policy like you have in California, what you're doing is requiring more teachers to be let go, because you're letting go of the cheapest teachers.
Students Matter stresses that students' civil rights are being violated and that those students who attend public schools in predominantly lower-income and minority neighborhoods are disproportionately affected, as they have a higher percentage of "grossly ineffective teachers."
Wells said the case is "just one more well-funded corporate 'reformer' attack on public schools and teachers that fails to address the real problems facing California students."
However, the core issue facing the nation's public school system, and the real issue of the argument remains to be discussed: how do school systems effectively and fairly evaluate a teacher's performance so that educators deemed "ineffective" can be fired?
Reach Editor-in-Chief Brianna Sacks here