Film and TV
Nerdfighteria Beyond 'The Fault In Our Stars'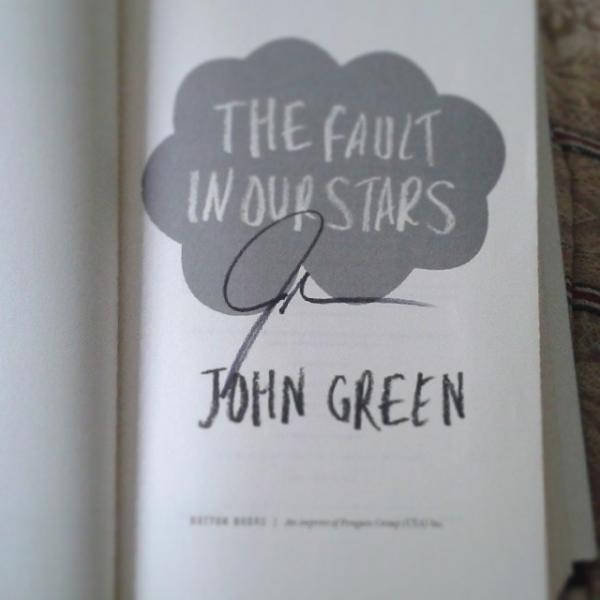 "Wow," I said to myself as I sat in a movie theater surrounded by middle schoolers on the opening day of "The Fault In Our Stars" (TFIOS). I've been telling myself, "Wow" this entire week, actually.
"Wow." The movie adaptation of a book that left me emotionally wrecked when I was 17 set box office records and fans' emotional reactions were all over social media.
"Wow." So many articles were analyzing the young adult genre.
"Wow." I was uncertain what all of this meant for Nerdfighteria.
Nerdfighteria is the collective community of those who identify themselves as Nerdfighters, people who "fight for nerds" and aim to decrease "world suck." The community started with Hank Green and John Green, known as the Vlogbrothers on Youtube and the latter of whom is responsible for the phenomenon that is TFIOS.
READ MORE: John Green At The L.A. Times Festival Of Books
I became a Nerdfigher when I stumbled across a video on Youtube in 2011. The Vlogbrothers have been around since 2006, and I was definitely not an old-school Nerdfighter, but I was hooked. I liked that the Green brothers were able to make their audience of 12 to 20-year-olds not only feel understood, despite the complexities of their lives (often done by relating their own awkward stories of growing up), but also understand the complexities of the people around them (often demonstrated by explaining major current events and through "Thoughts From Places").
I liked the idea that Nerdfighters were people who read books and spent a significant part of their lives watching Youtube videos. I liked that they believed in celebrating human experiences. I liked that I could tell other Nerdfighters, "DFTBA," and they would say it back with a smile, as if we were part of a not-so-secret club.
To me, being a Nerdfighter meant being part of a community that dealt with and helped each other deal with the same awkwardness and joys of living life. To Nerdfighteria, the Green brothers were our role models and the providers of the confirmation that yes, this is normal. Yes, we all have the capability to decrease "world-suck." Your voice matters, despite the hundreds of other voices that might tell you otherwise. Granted, not all of Nerdfighteria is awesome, an explanation that requires its own article, but I digress.
John and Hank Green provide other content that Nerdfighters (and even non-Nerdfighters) enjoy. Just to name a few, the work of the Green brothers include a record label, a science channel, a trivia channel, a channel frequented by procrastinating AP students, web adaptations of novels by Jane Austen (one of which won an Emmy), a charity that raises hundreds of dollars every year, and Vidcon, which is a conference completely dedicated to web video and related media.
When John announced the title of TFIOS in 2011, the news was exciting….to Nerdfighters and to the few John Green fans who didn't identify as Nerdfighters. John, after all, published three other books and devoted many videos to talking about them on the vlogbrothers channel. It almost felt like a special book just for Nerdfighters, especially for those who were around when Esther Earl, the girl who was part of the inspiration for TFIOS and a friend of John's, was alive. In the months leading up to the release Nerdfighters followed John's process as he signed all the pre-ordered copies of TFIOS (yes, ALL of them) and fangirled when he devoted two videos to reading the first two chapters of the novel.
When the book was released, all of Nerdfighteria fell in love. We enjoyed Hazel's humor and borderline snarkiness and we saw ourselves in Augustus Waters' desire to leave a lasting impression on the world. Most importantly, we were taken through lessons such as the indignity of dying, the danger of idolizing heroes, the meaning of the phrase, "meaningful life" and the joy and the pain that comes with love.
In that first year of 2012, when all the Nerdfighters cried our hearts out and were finally able to climb out of our mountains of tissues, we went to the people we loved the most and told them, "Listen. You HAVE to read this book. I swear, it just changed my life."
And thus the TFIOS phenomenon began.
READ MORE: Book By Girl Who Inspired John Green To Benefit Cancer Foundation
Seeing John Green's name everywhere was exciting. While every fandom has snobs who make it a point to let people know that they liked something before it was cool, I was excited because I thought this would mean that more people would join Nerdfighteria. More people donating to charity, more people watching vlogbrothers-related content, more people trying to not forget to be awesome. I thought that surely everyone would see the genius of John Green and be willing to explore all the work created by him and his brother.
I got my reality check about a year after TFIOS published. When I found out that I was accepted to the University of Southern California, one of my first questions posted on the Facebook admit group was, "Anyone here a Nerdfighter?"One girl commented, "More like a John Green fan." That comment got five likes, and three other comments agreed with her.
In the time since then, I saw just how much the work of not only John, but also Hank touch people who never heard of Esther Grace or DFTBA Records or saw one of Hank's joke videos or even knew that the Vlogbrothers channel existed. And it's a little overwhelming to be in the midst of the TFIOS craze when news outlets are finally giving some attention to Nerdfighters but somehow lack the ability to adequately in describe us and our world (though this Wall Street Journal profile on John does a good job).
In an age where an increasing number of analyses on young adult fiction often extends to an analyses of today's young adults, where does Nerdfighteria, as a community of mostly young adults, fit into this picture?
READ MORE: Veronica Roth: YA Novels Aren't Frivolous Teen Fiction
Maybe it means nothing, that all that will happen now is an increase in the Nerdfighter ranks, a step towards being part of the global mainstream, maybe even a sitting President who can actually say "DFTBA" correctly (though Obama's attempt was still pretty cool).
Part of me is hopeful. As journalists from NPR and Daily Dot have realized, the appeal of young adult fiction lies in the recognition that real life isn't simpler than the complicated tales on the young adult shelves. We live in a world where revolutions and conflicts happen every second of the day and even people well into their adult lives are less and less certain about their future…much like how young adults feel every single day as we try to sort out our place in the world and find meaning in daily life.
While our elders may roll their eyes at those of us who stand hours in line just to catch a glimpse of celebrities or cry over yet another fictional character, Nerdfighters have already proven that young adults are more than just hormonal adolescents. We are composed of Olympians and scientists and writers and video producers. We run charities and businesses and still find time for school. We don't make any sense and we also make sense plenty of times.
We frequently hear that we are the ones carrying the future of the world on our backs, that we are the ones who will have to fix this generation's messes when our time comes, but too often it feels like adults dismiss the emotions and passions of youth and instead focuses on what the youth will eventually be able to do.
John and Hank Green are different. They recognize the importance of understanding and validating the hopes and fears of young adults, and they know that while a lot of young adults need maturinng, there are just as many who prove that age is but a number. Nerdfighters learn that our time has already come, and that cleaning up the world's messes is not a legacy to be inherited from older generations but rather an effort to be taken by everyone.
So while people may be entranced by the phenomenon of TFIOS and writers may produce article after criticizing article on the young adult craze and the fangirls who fuel it, Nerdfighteria continues to decrease world-suck in the ways we know how, whether running charities or simply saying, "French the Llama!"
And of course, we don't forget to be awesome.
Contact Contributor Heidi Carreon here and follow her on Twitter here.