Entertainment News
John Green At The L.A. Times Festival Of Books
The Los Angeles Times Festival of Books is one of the busiest and most chaotic weekends at the University of the Southern California (USC)—drawing book lovers from all over Southern California. In previous years USC has been host to Margaret Atwood and other prolific authors. A slew of young adult authors, including Sarah Dessen and Cassandra Clare have also appeared before adoring fans at the Festival of Books. This year's line-up is no different; B.J. Novak,Veronica Roth, Ann Brashares and many others will be gracing the downtown campus on April 12th and 13th to interact with their fans and mingle with fellow writers.
Recipient of the 2013 Innovator's Award and one of the festival's most highly anticipated authors, John Green elicited squeals of audience excitement as he appeared in Bovard Auditorium Saturday afternoon. A well-known YouTube star-turned-author, John Green has written a handful of young adult novels, with numerous books reaching the NY Times Bestseller list, including "The Fault in Our Stars."
The book's reputation has reached far and wide, turning international audiences into die-hard fans of Green's unique brand of quirk. Oh, and there's a highly anticipated movie adaptation set to come out this June as well.
READ MORE: L.A. Times Festival Of Books: Must See, Do And Taste
As groups of John Green fan-girls and boys waited for the 36-year-old author to grace the stage, expectations filled the air. Though Green has attended the festival in the past as a panelist, this year he returned as a literary superstar.
It seemed that his purpose at the panel on Saturday was clear: discuss "The Fault in Our Stars" movie, an obvious formula followed by Cassandra Clare and other authors with upcoming film adaptation in years past. His combined literary and cinematic importance seemed to be the biggest reason Green received the headlining spot, and so it appeared only logical that the discussion would also revolve around Green's newfound Hollywood fame.
Waiting in line for hours to get seats in the over packed auditorium, hundreds of fans wondered aloud how Green would handle talking about the movie adaptation of his wildly successful novel.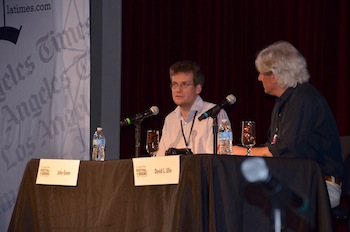 In our intensively media-driven age, audiences have begun to asses the success of books partially based on their ability to be adapted for film. There are many authors, like Nicholas Sparks, who specifically write their books with adaptability in mind; and there are many novels that receive little recognition until a team of producers select them to grace the silver screen.
Is John Green, the goofy and prominent voice of the young adult book genre, this kind of author?
READ MORE: Here's How The Festival Of Books Kicked Off
The short answer: absolutely not.
"It's not fair of me to say, 'movies suck,'" Green said. "I've said it before and I've regretted it." While he's since softened his stance on book-to-movie adaptations, Green continues to believe that movie adaptations could endanger the credibility of a novel.
As an artist of the literary persuasion, Green recognizes that—for better or for worse—visuals have a power that books simply do not, and that they too can create a unique and powerful experience. "The visuals [of film] are so powerful," remarked Green. "That they can overwhelm the reading experience or change it."
His most important point, however, was that although he is excited by the upcoming movie adaptation of "The Fault in Our Stars," it is a project that he feels is wildly separate from his book.
He continued to explain, "it's their movie, not my movie," highlighting that while it may be his story, the movie is an artistic expression separate from the literary "Fault in Our Stars" phenomenon. "If it's good, the reason that it's good is because Shailene Woodley and Ansel Elgort really cared about these characters."
READ MORE: The Fault In Our Stars' Trailer Released
Even more important than Green's explicit statements about literary movie-making was his way of steering the conversation away from the highly anticipated movie. During the interview, Green and David L. Ulin spoke extensively about classic American authors, the advantages of writing within genre confines, Green's personal writing process, Green's independent YouTube projects and the NerdFighters nation. By comparison, Green and Ulin hardly touched on the movie.
Resembling more of a loose conversation with the author than a true question-and-answer interview, Green discussed the power of his community, and expressed how proud he was to have built such a following. He made several genuinely chuckle-worthy and self-indulgent jokes. He even went on a little rant about Holden Caulfield, vehemently stating that though the current teen generation feels Holden is a whiny character with "rich-kid problems," Holden's story is even more relevant than ever. Those same kids complaining about Holden's attitude have those same rich-kid problems, problems that are not made irrelevant or less important by the circumstances in which they occur.
He even humbly explained that his job, as an author, is not to reinvent a genre or to be particularly innovative—ironic given his acceptance of the Innovator Award the previous evening—but to repackage tropes and stories that have been created by a huge network over thousands of years.
"I love star-crossed love stories," said Green. "And [with "The Fault in Our Stars], I wanted to write mine."
Green spoke affectionately of writing "within the confines of [his] genre," as a young adult author who dares to put traditionally "adult" material like cancer and blow jobs in his novels for teenagers.
It was nuggets like these that made Green's panel worth hearing. While many fans may have come for the movie hype, Green seamlessly managed to spend the hour discussing what felt truly important to him.
Reach Staff Writer Ashley Seruya here or follow her on Twitter here.
Reach Senior News Editor Sara Newman here or follow her on Twitter here.