NBA
NBA Finals Game 3: Basketball Perfection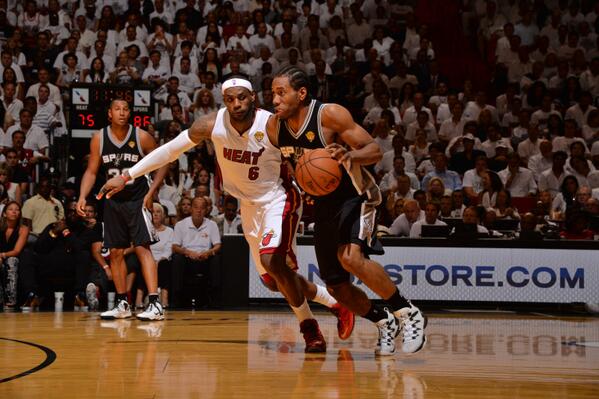 In basketball, winning comes down to a matter of execution. Talent is powerful, coaching is exemplary, but execution is necessary.
No team is better at execution than the San Antonio Spurs.
The first half of last night's game showed what the Spurs are truly capable of:
Perfection. Or at least something pretty close to it.
In the the first 12 minutes of the game they shot an outrageous, unprecedented 87-percent from the field, and 100-percent from behind 3-point line. Making 19 of their first 21 shots, they finished the half with 72 points, and a ridiculous, NBA Finals record-breaking 76-percent field goal percentage.
They didnt miss a shot in 10 minutes. They scored 55 points in 19 minutes. Talk about offensive efficiency. But it wasn't like Miami was breaking down defensively and leaving them with wide-open shots. The shots they were taking were contested and well-guarded in most cases. They just simply could not miss. Probably even if they wanted to.
This was more than just your typical Spurs basketball clinic. This was a record-breaking domination session.
The most impressive fact about their first half explosion was that its main detonator was Kawhi Leonard. Coming off a disappointing, foul-ridden performance in the Spurs' Game 2 loss, Leonard more than redeemed himself. He wisely stayed out of foul trouble and had a career night, racking up 29 points, with 16 of them coming in the first quarter. The 22-year-old is known for his incredible athleticism and defense as much as he is unknown due to his quiet manner and strictly business-like play. But in Game 3, his fearlessness and aggressiveness finally shone through at the perfect time.
The Spurs methodically sound system works on the premise of the focus being placed on the team as a whole and rarely on solely the player. Leonard is a young player with huge star potential and talent, but he has willingly conformed to the Spurs' mantra and both learned and grown through it. In certain ways you might even say the Spurs' system limits him. Not in a negative fashion, but rather in beneficial ways that make him shift his focus from his game and his stats, to instead on how the team as a whole performs. It's a culture of winning instituted by the Spurs franchise that places selflessness above stardom, and teamwork above individual recognition. Every player has bought into it, and it has reaped them great, long-standing results.
Thankfully though, we get these kind of nights once in a while. Where the beautiful basketball San Antonio plays allows a player as talented as Leonard to essentially go off when it's simply his night.
And man, was it ever his night.
Leonard made his first five shots and buried his first three shots from behind the arc. At one point in the quarter, he scored 12 straight points. Yet, it wasn't like the Spurs threw aside their system in lieu of letting Leonard go berserk. Rather they wisely utilized his hot streak to their advantage by both placing him a position to score and allowing him to place others in that same position as well.
It's a beauty, yet such a rarity nowadays, to see talent so flawlessly married alongside fundamentals. But that's what the Spurs pride themselves on doing. Whether it's Parker, Ginobli, Duncan, or like tonight, Leonard, the Spurs' style enables and empowers players and most importantly, the whole team, to do incredible things. In Game 3, such feats came in the form of career nights being set, records being broken, and history being made. Oh, and a 19-point win that gives them momentary control of the series as well.
But back to the record books.
41 points in a quarter is no small feat. In fact, it was the most points scored in an NBA Finals quarter in the last 47 years. To put that into some kind of relative perspective, the Indiana Pacers had 33 points in an entire HALF against this same Heat team earlier during these playoffs.
Their night was so impressive early that despite flaming out in the third quarter and only scoring 15 points, they had the luxury and innate ability to weather Miami's runs and effectively halt their comeback efforts.
They didn't panic. They knew their insane 75-percent shooting would stop at some point, but they had the composure to still execute their game plan, and use their defense to retain the lead when their absurd shooting finally wore off. Simply put, they find every way to beat you. That is what a complete team does.
I've said that LeBron is the most complete player in the league, and in this series. But the Spurs have shown time and time again that they are far and away the most complete team.
For one, this team represents a standard of basketball that demands sheer perfection. Nothing less. Yes, sometimes, like in Game 2, that perfection is not so apparent. Their ability to recover, however, rivals and equals their ability to succeed. It's that ability to succeed despite their age, despite the odds and despite what they've been through, that truly makes them a complete team. Moreover, they showed once again tonight how they are the perfect, epitomized combination of talent, coaching and, above all, execution.
Perfection in baseball is attainable in the form of a perfect game, or a perfect night at the plate. In basketball however, a perfect shooting night never really happens. There are far too many other factors and just basic bad luck that might make a shot rattle out and easily spoil perfection.
Last night, the Spurs flirted with perfection. They came surprisingly close in the first quarter, but didn't quite achieve it. In my mind though, they played the most perfect game of basketball. They shot the lights out in the first half with their offense, and then shut the lights down in the second half with their defense.
"That'll never happen again," said Popovich in an interview afterwards.
He's right. These ridiculous numbers probably never will. That's why they are now records. But the simple, undeniable truth is that right now, there is no higher level of basketball than that being played by the San Antonio Spurs, and Game 3 was another testament to that fact. How to combat, overcome, or even keep up with what the Spurs did last night, and can do on a nightly basis, is a mystery that will have to be solved in a valiant attempt to beat them.
Your move, Miami.
You can reach Staff Writer Paolo Uggetti here. And follow him on Twitter here.